Steve Cook didn't originally set out to work for a large, international firm like Stantec, but it certainly works for him.
His first official landscape architecture job was at a small one-office firm called The Pekarek Group. He then moved to Crosby Mead Benton & Associates. That firm sold to The Keith Companies, which Stantec subsequently acquired.
"I kept my desk and chair," he quips, "and changed the company name on my business card."
Stantec provides a wide variety of architecture and engineering services from offices throughout North America, including its original office in Edmonton, Alberta, Canada. Now a project manager in Stantec's Southern California region, Steve says he wouldn't choose any other career path. His positive daily experience is enhanced by his colleagues' inherent availability and professional diversity. "You can simply walk over to a civil engineer and discuss the project," he says. "There's no big process. If you need to move a sidewalk for a project, you have a quick, informative conversation and move the sidewalk."
"At a large company, there are so many professional resources to draw from," he continues. "In the Irvine office alone, there are building architects; surveyors; GIS and mapping specialists; hydrology and hydraulic specialists; civil engineers who specialize in retail, community development, and transportation; as well as an amazing team of marketing professionals. This mix allows us to create opportunities to put our vision to work for our communities' future."
Digging In
Steve was a hands-on designer from day one. At age 14, he began helping his father design the family yard in Mission Viejo, California. "We started with what were, essentially, undesirable areas," he says. "I'd do a design, fill areas with plants – many that I grew from cuttings – and make them desirable."
By the time he started college, he'd been running a "mow and blow" gardening business with a high school friend for several years. "We got hold of some mowers and edgers, and started making money. It was enough to pay for gas to and from the beach, anyway."
"Southern California is an arid area, where water is a valuable resource. As a region, we were essentially wasting it and using more than we should have been [before the innovations discussed above]. We all know now that water is a limited resource and we need to conserve for the future – for our children's children."
He began working for a general contractor "with a shovel, wheelbarrow, and jackhammer" during his coursework at Cal Poly San Luis Obispo. Eventually, he obtained his landscape contracting license and started a business called Ritz Landscaping, which saw him creating and implementing his own plans. "We had masonry, irrigation, hardscape, and lighting crews," he says. "We worked all over North County San Diego."
Soon married with two children, Steve saw the need for change. "My family moved me from contracting to design," he says. "I was running a business and missing out on time with them. Weekdays and weekends went to the business. There was no time for coaching and barely enough time to make it to their games."
Steve reprioritized. Putting his family first, he entered an apprenticeship with a San Diego landscape architect. "I had to be an apprentice for four years before I qualified for the test," he recalls. "I was making less money, but I knew it would be worth it."
He passed his LA qualification exam on the first try. A year later, he was designing sites for a civil engineering firm.
True to His Calling
Steve is an observably outspoken champion of environmentally responsible and regionally appropriate landscape design. "Southern California's plant palette has changed significantly," he explains. "As a California-native enthusiast, I've seen a lot more community acceptance, with nurseries supplying the plants needed [for drought-tolerant design]. Now, we have access to shrubs and trees that are more appropriate to the regional climate."
This movement has hinged on a change in social consciousness, he says. "It took a while to convince homeowners and the community-at-large to accept something other than green lawns and hedges. Some communities have accepted the change faster than others."
Innovations in irrigation design have also factored heavily. "We've seen so many technological advances and efficiencies," Steve explains. "When I started, it seems the hardware was 'archaic.' Now, we have smart controllers, as well as matched precipitation rates of rotors, rotators, and spray heads."
Steve describes this phenomenon as both economically and socially driven, emphasizing the importance of educating a public that "historically didn't seem to care about irrigation, as much as having a green lawn.
"Southern California is an arid area, where water is a valuable resource," he continues. "As a region, we were essentially wasting it and using more than we should have been [before the innovations discussed above]. We all know now that water is a limited resource and we need to conserve for the future – for our children's children."
Steve's design philosophy also accounts for some often-overlooked Southern California residents. "Maintaining habitat for native wildlife is important," he says. "When I have the opportunity to design from a clean palate, I design for birds and butterflies, using natives, as well as some non-natives, that the butterflies can use on their migration path.
"Designers who work with me share that philosophy," he says. "A lot of the tenets of being good stewards of land are ingrained in landscape architects. We want to learn the best possible techniques so we can be better stewards of the land and then put those techniques into practice. It's exciting to help make it better for future generations."
From Paper to Monitor
"As a contractor, I did everything on tracing paper using straight edges and T-squares," Steve recalls. "My brother, a civil engineer, told me about this new thing called AutoCAD. It came on 5.25-inch floppy disks. When I saw it, I knew it was an opportunity to get my foot in the door because landscape architects were not using it yet."
He began teaching himself AutoCAD and LandCAD in 1987. Soon, he was training companies in CAD design.
This early embrace of CAD technology led to Stantec's early adoption of CAD and, eventually, Land F/X. "Stantec was the second company to get a Land F/X license, and I helped make that happen," he says.
Steve admits he harbored some initial skepticism upon meeting Land F/X CEO and developer Jeremiah Farmer at the Land F/X booth at a 2004 conference. "I'd already been well exposed to CAD as a landscape design tool," he says. "I was excited, but not positive it would stay around. After talking with Dave (Farmer's father and company co-owner), I learned he was a Cal Poly graduate. I realized, here's an actual landscape architect running the company, with his son, who's a tech head." He describes Jeremiah as "one of the most interesting people I know."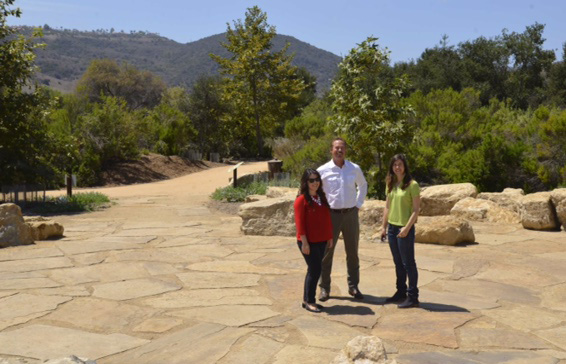 Implementing the software was easy, Steve says. "We were the landscaping department back then, so we controlled our budget. I thought, 'This is going to save some time, make some money, and get a one-up on the competition.'"
Regardless, the prospect of other firms adopting the software was also attractive. "I've been in the industry a long time," he says. "I know many landscape architects and irrigation designers. I figure the bigger base a software company has, the better it gets. That's been the case with Land F/X."
The software soon revealed its value. "It paid for itself on the first few projects," he says. "Now, I can't imagine designing without it. It's such an integral tool. I used to 'count water' manually – memorizing the GPM for each Rain Bird head, for example. I haven't counted water for years."
As Land F/X grew into the industry standard, Steve became a welcome ambassador for the company. "Almost everyone I know is using it. I like to think it's because they've heard me talk about it so much," he laughs. "I get calls from people in Maine or Minnesota asking about it and saying, 'Someone gave me your number.'"
Steve's natural ability as a technology ambassador extends to his own company, where he serves as the organization's de facto Land F/X guru. It's a perfect mix – his laidback and endlessly optimistic personality, combined with a sprawling international corporation that can often take a while to implement changes. But with 57 licenses in 16 offices throughout 3 countries, it certainly seems to be catching on. And what a kindred combination: On the wall in every Stantec office lobby is the impressive timeline showing how Don Stanley grew his one-man engineering company into a world-class firm with more than 15,000 employees.
See the Stantec website for more information:
www.stantec.com/en
–Jason Hilford