According to Jeff Hutchins, landscape architects tend to fall into two categories: design-oriented and technical-oriented. A principal at Mia Lehrer + Associates (MLA), Hutchins sees himself as the latter – in his words, the one who is "just trying to make sure the project gets built well."
Being a technical-minded designer has perhaps made Hutchins an ideal candidate to test Land F/X at the Los Angeles–based firm. He started using CAD in the early 1990s. "It was pretty easy," he says. In the '90s and early 2000s, he began to create smart blocks for irrigation heads and plants, but "at the elementary level."
Then, in 2006 or 2007, he recalls, an interviewee for a job in his office told him about Land F/X. "I'd seen it in the trade magazines before that, but I thought it was another bell-and-whistle kind of thing."
When he tested the software, it appeared to be a perfect match for his workflow. "I noticed immediately that it took care of the mundane stuff," he says. "It flows with my thought process with how to put together drawings and think ahead to the finished product."
"It was a lot for me to learn at first, but the learning curve leveled out rather quickly," he says. "It has so many options and things to do. I learned it first and taught it to everyone else in the office."
"It flows with my thought process with how to put together drawings and think ahead to the finished product."
Land F/X did away with the tedium of drawing and editing individual plants and irrigation equipment, Hutchins says. "When I'm going through schematic design and design development, I'm already using it. By the time I get to the construction documents, I'm finished – no need go back and redraw everything." These days, he uses Land F/X for everything – planting, irrigation, construction, demo, and water use calculations. The software allows a more seamless flow between the design and construction phases of a project.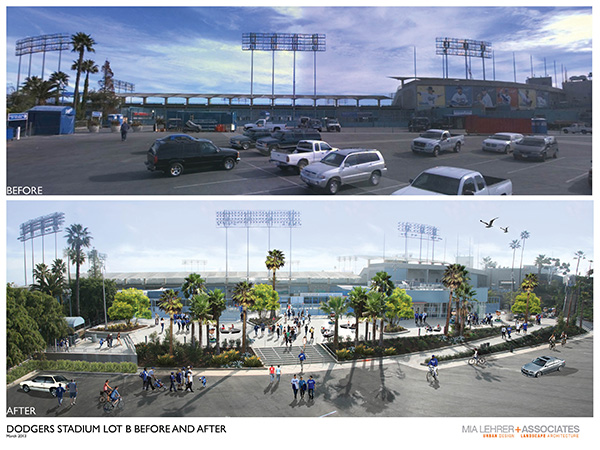 When asked to name his favorite feature of the software, Hutchins admits that he has yet to use them all. He then mentions the Nuke drawing-cleanup tool. "We made it an AutoCAD standard here," he says.
"That's music to our ears," says Land F/X CEO and developer Jeremiah Farmer, who developed the tool to automate the cleanup process in response to the glut of tech-support calls that originate from corrupt CAD drawings.
Musical Scales to Drawing Scales
Hutchins first encountered landscape architecture while attending Cal State Northridge. He'd entered college to study music. He continues to play bass and tuba to this day. His credits include the soundtrack for the videogame Falling Elephants (free download). His music major required him to enroll in an art class, so he enrolled in architectural drafting. "I never knew what landscape architecture was until I took that class," he says. He transferred to Cal Poly Pomona, where he could major in landscape architecture.
His practical nature soon took over. By the time he graduated in 1990, he'd already worked at a small design-build firm for two years. He earned a C-27 landscaping contractor's license and set out completing installations for a variety of clients.
The client connections Hutchins built as a contractor set the tone for what evolved into his relationship-based approach to navigating the industry. "I've never had to make a portfolio or resume," he says. "I've done it all through talking to people and knowing people."
Hutchins' propensity to build connections also helped him weather the various downturns his industry has faced in recent decades. "I've survived some of the recessions just by talking to people," he says, adding that working in an office that takes on a diverse range of projects didn't hurt either. Although he wishes his industry could do more to embrace the relationship between irrigation and landscape design, Hutchins says he's happy that landscape architects have become more integral to the design and construction processes. "In school, we learned about using drought-tolerant, native plants and responsible stormwater management long before this drought or recent requirements that stormwater be managed on site. Now those things are required by code."
Construction Ahead
Hutchins' intent focus on bringing design into the construction phase is well suited for the large-scale projects he oversees for Mia Lehrer + Associates. Examples include the proposed professional football stadium in Inglewood, the South Los Angeles Wetland, and Vista Hermosa Park – Los Angeles' first new park in a century. (Keep reading for detailed descriptions of these projects.)
Hutchins credits Vista Hermosa as the impetus that helped him land his current position. He'd spent much of the 1990s contracting for a handful of other landscape architects, including Mia Lehrer, who at the time ran a much smaller-scale firm than today's Mia Lehrer + Associates.
The project was taking place on Los Angeles Unified School District grounds and required review by the notoriously stringent Division of the State Architect (DSA). A mutual acquaintance suggested that Lehrer hire Hutchins to assist with the logistical elements of the site. Lehrer agreed, and Hutchins was on the job. Hutchins landed the job – and continued on as a full-time employee – largely because he had enough experience to "finish the drawings, handle the permitting, and get it built," he says.
"I distinctly remember presenting Land F/X to Mia Lehrer + Associates in May 2007," says Land F/X CEO Jeremiah Farmer. "They had a great group of very energetic designers, and the reception was very warm and inviting. Particularly, they were just beginning work on a very large park project and were looking to Land F/X for assistance on it. They had heard of Land F/X from one of their designers who had come from Disney. I remember their desire to make this park as good as possible, and they had some interesting ideas. The park was was on the grounds of a former military base, so it really struck a chord with me. I really felt their energy in that this is the really the height of landscape architecture here in America – there are just not very many opportunities for such a historic moment, something that will be enjoyed by generations of families, but also emblematic of investing in our communities instead of our military. And I remember several things they brought up at that presentation, that Land F/X still couldn't do. But I assured them that this park meant a lot to me, and anything they needed in the software would get engineered."
Here are a few flagship projects Jeff Hutchins has managed or helped design for Mia Lehrer + Associates (MLA):
Proposed NFL Stadium in Inglewood, CA
This project epitomizes the need for Hutchins' brand of pragmatism. The landowner is Stan Kroenke, the majority owner of the Los Angeles Rams of the National Football League (NFL). Kroenke appears to have designs on developing a facility that will accommodate his teams return to the West Coast from its former home in St. Louis, Missouri. (The team had previously moved to St. Louis from its former home in Anaheim, just down the road, in 1994.) Hutchins' employer, MLA, is in charge of the project's sizable landscape architecture component.
The 237-acre space, formerly the site of Hollywood Park, includes plans for streetscapes, parks, and now the stadium itself. Hutchins recalls when the project morphed all but overnight from a comparatively simple development project into the current incarnation when Kroenke purchased the site in 2014. The land lies within the flight path of Los Angeles International Airport. To meet the Federal Aviation Administration's height requirements, the addition of an NFL-caliber stadium suddenly required a 100-foot excavation.
"We were already involved in the development on the site," Hutchins says matter-of-factly. "Then the land sold, and we started over."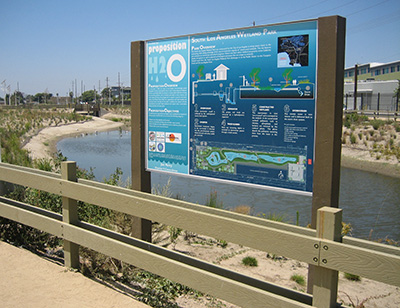 South Los Angeles Wetland Park
Previously a municipal bus yard, this 9-acre green space in the city of Los Angeles combines an urban park with a manmade wetland and a stormwater treatment facility. MLA designed a site that allows for wildlife habitat and public access while also treating storm runoff from a 525-acre watershed. The constructed wetland collects urban runoff from an adjacent parking lot, treats the runoff, and then releases it back to the storm drain system, clean.
Vista Hermosa Park
The first new park in Los Angeles in a century, Vista Hermosa occupies the site of an abandoned oilfield in Downtown Los Angeles. It's designed to mimic the wildlife habitat in the nearby Santa Monica Mountains. MLA's design features a stormwater system that captures 95% of runoff through recharge or irrigation. The system irrigates turf in the park from below while cleaning stormwater and recharging the local groundwater supply with leftover water.
See Mia Lehrer's website for more information:
mlagreen.com
–Jason Hilford