At the very least, Monique Anderson must be one of very few landscape architects who have had a truly "floating office" (her words).

Each summer, she spends the bulk of her time traversing the aquatic reaches of the Last Frontier. Along with her husband, Blain, she runs a charter sailboat company that transports visitors to familiar and remote destinations along the Alaskan coast. Charter season runs from May to mid-September, essentially splitting her year between sailing between ports and designing landscapes.

The charter business was the eventual by-product of a conversation the couple had more than a decade ago in Anchorage, where they met. "We were talking about one of my old bosses, who had sailed around the world," she recalls. "At one point, we looked at each other and said, 'Let's go sailing!'"

They bought a 33-foot pilot house sailboat and essentially learned on the fly. "We knew a little, but that's when we taught ourselves to sail," she says. Monique had quit what she describes as a "perfectly great" job as Anchorage Parks Superintendent, so she was ready for the next adventure. "We sailed all over the Pacific Northwest, British Columbia, and Southeast Alaska."

Those initial voyages gave the pair a taste of what Monique describes as "not knowing where you'll end up" (in both the literal and employment senses). Still, the realities of the Alaskan economy had already prepared her for a piecemeal living. "Most people in southeast Alaska do several different jobs," she says. "I work with a structural engineer who's also a salmon troller."
Balancing Act
"Of course I am inspired by the natural world, and I take every opportunity to explore the wilds of Alaska," Monique says. "Practicing landscape architecture allows me to give back some of the feelings I experience in the wilds by incorporating them in everyday experiences. I am also very practical and design spaces and places that function for both people and natural processes."

"I fell into landscape architecture because I was dissatisfied with my chosen forestry major at Colorado State University," she says. "I was wandering the natural resource college halls and discovered beautiful drawings tacked up outside a door. I went inside to talk with the professor and felt like I had won the lottery. This is all really ironic since I was sensitive about getting Cs in art class growing up and then to choose a profession that involves drawing!"
Overall, Monique says, the sailing lifestyle fits naturally with the sensibility of a landscape architect. "They're both for people who love the outdoors and are independent."

In fact, it was the maritime life that led her to start her design and planning business in the first place. "We ended up in Sitka on the boat, and we liked it, but we weren't sure if we'd stay. After a winter here, we saw that there just weren't that many job opportunities. So I launched my sole proprietorship."

It just made sense to start her own business – it would provide a living while giving her the flexibility to keep sailing. "My clients have some understanding that I have some limitations in summer," she says. "I can usually squeeze in some light-duty stuff to keep the ball rolling."

This winter, the couple has plans to take their charter vessel – a roomy Catalina/Morgan 50-foot sailboat named BOB – to the Seattle area for maintenance. There, Monique will keep designing as if she's back home in Sitka. "I'll have a portable office again," she says. "I'll just use my phone as a Wi-Fi hotspot and crank away."
Monique Anderson describes herself as "the least egotistical designer I know. My approach for all projects is to listen, listen, listen. I love collaborating with other professions and artists as well. I'm also attracted to projects for the greater good. My designs are functional and subtle – never super flash. It works for Alaskans."
Back to Reality
It wasn't long after starting her business that Monique came to know the horror that many contemporary landscape architects will recognize: She'd have to start using AutoCAD again. Although she already had her license and had logged 14 years as a landscape architect – her first job upon moving to Anchorage – she hadn't used AutoCAD in nearly a decade.

"My experience with CAD had been creating my own blocks and doing everything the manual way," she says. "One of my first assignments as a professional was to start using CAD; I hadn't used it in college. Back then, we had to share drawings in the office by moving floppy disks from computer to computer."

She came across the Land F/X booth by chance at the 2011 ASLA conference and thought that maybe the software could help ease her reentry into CAD. "I didn't know what I was getting, but I knew this was what I wanted," she says.

It wasn't long before she began to understand what she'd gotten into. "I saw pretty quickly how it automates a lot of the mundane things you used to have to do with traditional CAD projects," she recalls. "I realized, 'All I have to do is start drawing, and it will fit on my sheet!'"

Land F/X has turned out to be a great solution for Monique's somewhat sporadic design schedule. "Some people probably use CAD every day. I'm a more intermittent CAD user. I only take on a few projects a year. It's nice for me because there are so many things that make it easy – I can drop it for a month and pick it back up."
The software proved particularly helpful in helping her establish how her designs would look in general – the often-dreaded office standards. "When starting a design business, one of the first questions you ask yourself is, 'What are my standards going to be?'" she says. "With Land F/X, I was able to just start out with default, straight out of the box. Once I got more comfortable with it, I started to make tweaks: I'll make my leaders look like this, for example."

Besides the automatic plant scheduling and all the other "automated stuff," Monique has found considerable value in the detail system. "Managing the details and automatic scaling is awesome," she says. "I just place a detail template and draw my detail. I don't have to figure out all the scaling calculations."

She also appreciates the fact that Land F/X technical support is just a phone call away. "This is a huge deal, when you are working all alone," she says. "It makes me feel like I am part of a larger office."

More recently, she's gotten into presentation features such as color rendering and the SketchUp Connection, which she describes as "powerful" in its ability to translate a simple CAD drawing into a 3D model in SketchUp.

As an example, she cites a project she completed for a group of clients who were in their 90s. "They would never understand a plan-view drawing," she says. Using the SketchUp Connection, she created a quick initial rendering to show them. They loved it. "It was a 20-minute meeting – super easy. They got it right away."

In fact, SketchUp models can be a bit too effective at times, she says with a laugh. "It can be slightly dangerous to show a design in 3D early on. People think you're already done and construction ready."
–Jason Hilford
Projects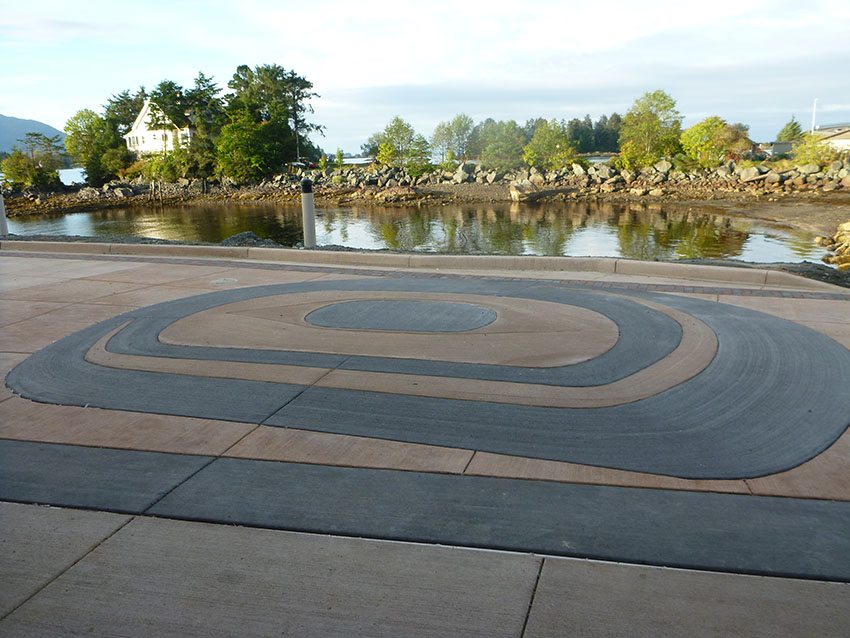 Harrigan Centennial Hall
I was proud to link the Sitka Sea Walk with the Sitka Public Library expansion, creating a flexible outdoor public space along the waterfront for locals and tourists as well as integrating the building expansion with the recently completed parking lot improvements. Other features include detailed paving patterns and amenities that highlight Sitka's rich history. The 'Ovoid' is the basic building shape in Tlingit carving. The form is called 'Salmon Trouthead' and was a collaboration with Master Carver Tommy Joseph. – Monique Anderson
Kodiak Public Library
I was the landscape architect for a new 16,000-square-foot public library situated on a hill overlooking the center of Kodiak. The site features a rain garden, incorporation of a historic agriculture experiment station barn and bicycle shelter. I collaborated with Alaskan native artist Sven Haakanson in placing petroglyph boulders highlighting Kodiak specific histories within the site. I also worked extensively to protect a historically significant spruce tree grove and designed low-impact site drainage. This community-driven project provided collaboration on art and architecture to meet the local desire for a truly Kodiak facility. – Monique Anderson
Sitka Fine Arts Camp
Sheldon Jackson School is a National Historic Landmark. Designed in 1910–11 by Ludlow and Peabody, the site is the only formal campus plan in Alaska. Now more than 100 years later, the Sitka Fine Arts Camp installed the walkways that were never built to match the design intent of the original architects. Extensive historical document and photographic research went into the walkway layout, as well as new features like the outdoor patio that are compatible with the historic character defining features. – Monique Anderson
See the Anderson Land Planning website to view Monique Anderson's portfolio and learn more about her work as a landscape architect.
Learn more about Monique and Blain Anderson's boat chartering service, Sound Sailing.