Stack Rock Group might have the biggest collective personality of any Land F/X client.
Around our headquarters, they're known as a bunch of lovable weirdos who crack jokes during tech support calls, and whose DIY company Christmas card makes us literally laugh out loud each year.
"We started out knowing we wanted to be different," says co-founder and principal landscape architect Will Howard. "We definitely stand out from other architecture and engineering firms."
Will started Stack Rock Group in 2013 with Krisjan Hiner, whom he'd known since his college days at the University of Idaho. In fact, the majority of the workforce attended college together. The result is a familial office culture where "we all hate but love each other at any given time," Will says with a laugh. "We're all big personalities, so sometimes the biggest thing for us to figure out is how to work together."
The firm's hardworking but casual environment takes much of its inspiration from Will's extensive background in landscape construction. "I built projects for different landscape architects," he says. "I saw what I liked and didn't like during that time. I learned a lot about what people our age and younger didn't appreciate in a workplace. At some of those other places, I thought, 'Maybe your office isn't a place where people want to work.'"
Given the opportunity, Will and Krisjan set out to establish a place where people do want to work. Stack Rock Group occupies what Will describes as "one big room with standing desks that we built" in an old industrial building in downtown Boise. The open layout is a fitting match with a casual and collaborative workplace where employees aren't afraid to have fun and express their ideas and opinions.
Living in a place like Boise also helps. The fastest-growing metro area in the United States in 2018 (Forbes magazine confirms it), the city offers recreational opportunities ranging from skiing to lakes to hundreds of miles of mountain bike trails. "It's a crazy place to be right now," Will says. "People are moving here from all over, but it's still a little city, and still safe. It's a great place to live." The firm has also expanded into Salt Lake City, having opened a small satellite office in an environ Will sees as similar in feel and opportunity to Boise.
Will Howard on Land F/X
Back in college, they were teaching us AutoCAD without Land F/X. Our student landscape architecture club reached out to the company, and Jeremiah and Krystal [Land F/X CEO and COO, respectively] came to our campus, bought us pizza, and taught us the software. So we were able to see two different ways to use CAD while we were learning the program. The old way just seemed clunky.
We love how Land F/X allows us to build our own libraries. Once you have your content set, it's all there. You can just take it and run. The tools are all about efficiency and time savings – especially the verification tools and the automatic calculations. It cuts our work time in half.
As for the irrigation tools, they have literally changed how people design irrigation systems. I learned irrigation by working on construction sites, so I memorized what PVC pipes can carry, and I had to know valves, pipe sizes, and wires. I'm an irrigation nerd. Land F/X takes what really is a technical process and makes it simple.
I can't say enough about what Land F/X has done for us. I plan on using it for the rest of my life, as it simplifies everything we do. I do hope, however, that none of my competitors find out about it because I feel it gives us a great advantage when it comes to completing work.
Want to hear Will Howard's take on the challenges you might face in expanding your business into new areas, and the benefits that await you when you do? See Will's guest webinar, The Challenges & Benefits of Growing a Firm Outside Your Comfort Zone.
No Fences
Will grew up on a ranch outside tiny Bruneau, Idaho – no doubt an inspiration for his industrious, hands-on approach to design. He spent 12 years in the field as a landscape laborer, foreman, and project manager before he thought about studying to become a landscape architect – or even knew such a thing existed. "They gave me a pickup truck, so I was rich," he laughs.
Will started down the path to his future career in 2003, when he was overseeing a crew of 10 installing the landscaping at a big-box store. One day, the landscape architect for the project showed up.
"I told him I wanted to change the specification of some of the irrigation equipment," Will recounts. "He looked at me and asked, 'Are you a landscape architect?' I told him no. I was naïve and didn't really understand what that was. I knew he'd drawn the plans, but that was it."
"Well I am," the LA told Will with more than a hint of condescension, "and you need to do what I say."
"I thought, what a [jerk]," Will recalls.
He went home that day, googled "landscape architect," and liked what he saw. He remembers reading that being a great landscape architect doesn't necessarily mean being good at drawing (not exactly his forte, he admits). "I thought, That looks cool – I should try that."
Before long, he was enrolled at the University of Idaho's landscape architecture program – and his prospects were looking promising. "When I started college, the seniors in my major were getting hired several months before grad. They were even getting signing bonuses."
Unfortunately for Will, he graduated in the 2009 economy, where jobs were scarcer. He found employment with a design-build firm but soon realized it wasn't for him. "I loved the build side, but I wanted to get good at design. It's just not possible to do that with only 12 to 15 projects per year. The construction aspect of the job took too much time – the balance wasn't there."
He continued to look for work, enlisting his buddy Krisjan for help. "I was sending out resumes and not getting calls back. I said, 'Sell me, please.'" And sell him Krisjan did, helping procure clients one at a time until 2012, when Will was ready to "make the jump to full-time unemployment," he says, tongue in cheek. He designed sites from a spare bedroom in his house until the pair were able to open their office.
After several years of running a firm, Will still hasn't forgotten his roots. "I still get Facebook memories of me with a new dump truck at work," he says with a laugh.
A Match Made in Boise
According to Will, Krisjan's personality and work style make him the ideal business partner. "He has always known that I'm not the type of guy who wants to cold call people to drum up business. He's 180 degrees away – he loves that kind of thing." Krisjan continues to operate 180 degrees away, handling the firm's business development and marketing while Will heads up operations and project work with partners Trevor Ball, Kiley Gardiner, and Jessen Jene Buster.
Collaboration figures prominently in the firm's design methods. Each project starts with a "concept party," where a handful of designers meet for a 10- or 15-minute brainstorm on how to approach the job. "It's never anyone's idea alone because we'll look at the project from all different angles and bounce ideas off each other. Clients usually have a lot of feedback as well, and the most successful projects are the ones when the client collaborates. We're always listening and taking feedback.
"Having more points of view really helps," he continues. "Two designers will always be better than one. It allows us to critique and work out the kinks before we send it to the client. We have to work together and keep an open mind. Our team members are all individually good, but as soon as we're together, we feed off each other. It's a great way to eliminate bad ideas.
Learn more about the history of Stack Rock Group and pick up some insights on the business side of landscape architecture by watching Stack Rock Group Co-Founder Krisjan Hiner's webinar Marketing Techniques for Landscape Architecture Firms.
"We look at the entire site and see how it all interacts, even if it's just a small residence," he continues. "Our team brings all these different influences on the design of a project. One might focus on strong design intent, while another wants to add a focal element, like a statue. At the end, we may combine all the ideas – a focal element with a strong design.
Collaborative mixed with casual makes for a fun workplace, Will says. "I've always thought, 'As a landscape architect you're always going to have a job. Why focus on that all the time?' Of course, we make sure we meet our deadlines and complete our projects. But we focus on being happy and healthy and enjoying what we do."
– Jason Hilford
See the Stack Rock Group website for more information:
stackrockgroup.com
A Few Stack Rock Group Projects
---
Answering the Call, Tempe, AZ
Answering the Call is a public art installation honoring the City of Tempe's police officers, firefighters and police canines who have given their lives in the line of duty. Stack Rock Group collaborated with Boise artist Benjamin Victor to design the site, providing landscape architecture services.
---
Hewlett-Packard (HP) Inc., Boise Campus, Boise, ID
Stack Rock Group provided the planting plans for the 200-acre HP campus in Boise using Land F/X and SketchUp. The project incorporated irrigated turf grass, active farmland, ponds that double as an irrigation source, hardscape, a 2-mile walking path, and more than 15 acres of prairie. The planting plan included the conversion of 33 acres of Kentucky blue grass to a native seed mix, and more than 5 acres to planters with native and adaptive native shrubs. As a result, annual maintenance costs decreased by 44% on campus, and landscape water usage fell by 81%. Having received a SITES Gold rating from the Sustainable Sites Initiative, the site is the world's first SITES v2 Certified corporate and Idaho's first SITES-certified project.
---
1 Capital Center, Boise, ID
This 14-story high-rise in Downtown Boise is one of Idaho's tallest commercial buildings. Stack Rock Group used Land F/X and SketchUp to create 3D renderings and interior modeling for the project.
---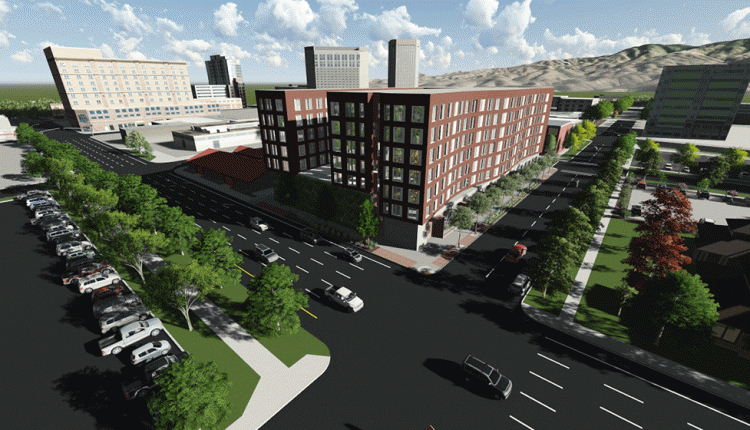 The Roost a.k.a. The Fowler, Boise, ID
Stack Rock Group provided both landscape architecture and 3D renderings for this mixed-use complex in Boise using Land F/X and SketchUp. The project, which the firm predicts "will change and positively impact downtown Boise," incorporates ground-level retail and 159 condos into a seven-story building with a unique curved spline in its upper stories.
---
Additional Info
headshot-url:

https://www.landfx.com/images/elements/misc/will-howard.png