Our Layer Color (LAYERCOLOR) tool allows you to make a quick edit to the layer color of a line in your drawing or one of your Xrefs. This tool saves time by preventing the need to find the layer and change it in the Layer Properties Manager. Instead, Layer Color will change the color in the Layer Properties Manager for you. For Xrefs, the color that's currently assigned to the selected line in the current drawing will be overridden.
Layer Color Overview
Open the Layer Color tool:
F/X Admin ribbon, Layer Color flyout
F/X Admin menu, Layer Color option
or type FX_LAYERCOLOR in the Command line
The cursor will turn into a pickbox.
Select any linework in the layer in the current drawing or attached Xref whose color you want to change. We'll select this rectangle to change the color of all objects on its layer.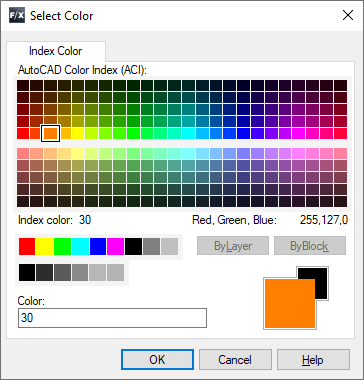 The Select Color dialog box will open. Select or enter the color you'd like to assign to the selected object.
The color you selected will be assigned to all objects on the same layer as the original object you selected.
In our example, all four rectangles are on the same layer, so the color of all four has changed to the color we selected.