Our SuperLayIso command replaces the native AutoCAD LAYISO command, which is effective for isolating layers but has issues isolating Land F/X blocks. SuperLayIso allows you to isolate Land F/X blocks in addition to other objects.
See SuperLayIso in action! Check out our Design F/X Overview webinar. The SuperLayIso demonstration starts at 37:00 in the video.
How to Use SuperLayIso
Open the SuperLayIso tool: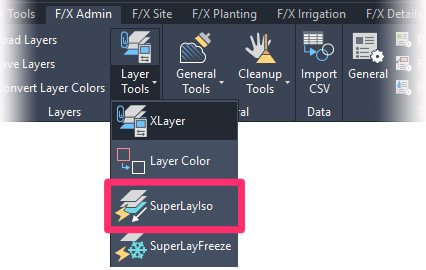 F/X Admin ribbon, SuperLayIso button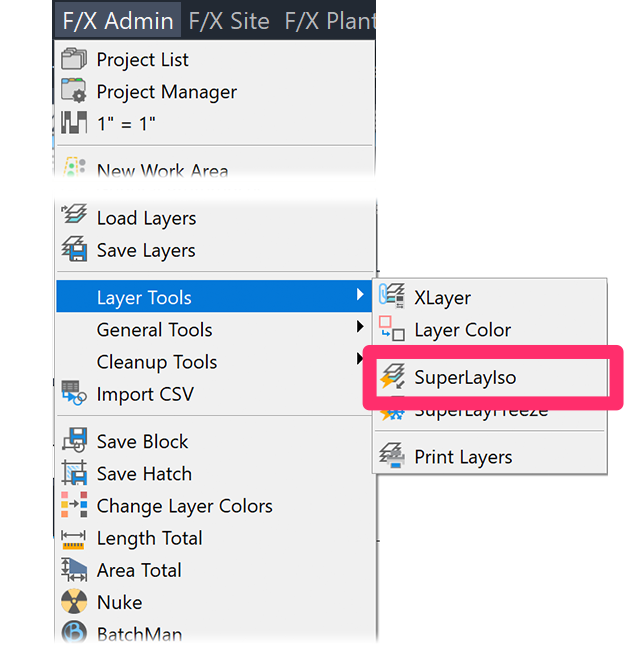 F/X Admin menu, SuperLayIso option
or type FX_LAYISOLATE in the Command line
The cursor will turn into a pickbox, and you'll be prompted to Select object(s) on the layer to be isolated. Use the pickbox to select an object on the layer you want to isolate. The layer will be isolated, meaning all other layers will be frozen from view.
How to Unisolate After Using SuperLayIso
You can easily reverse the SuperLayIso tool and unisolate the layers by using the native AutoCADLayer Previous tool:
Home ribbon, Previous flyout
or type LAYERP in the Command line
The isolated layers will be returned to their previous setting and will no longer be isolated.