Welcome to the Land F/X Planting Challenge. Each of our Planting, Irrigation, and Details challenges is an essential step in learning or designing with our software.
Our Planting tools give you everything you need for creating a planting design, from building your palette to placing and labeling plants, checking for errors, calculating plant quantities and placing schedules, turning your plan into a presentation, and customizing everything to do with planting. The planting tools are available as buttons on our F/X Planting ribbon, pictured below.
This article includes the same resources available in the Land F/X Planting Challenge you can access from CAD using the LANDFX command. Want to learn the software at your own pace? Read on to get started with the Land F/X Planting Challenge.
Want to take the challenge for one of our other sets of tools? Get started on our Land F/X Challenge for:
New to AutoCAD and need some basic training? Our AutoCAD first steps links will help you get started.
Challenge 1: Get Started with the Planting Challenges
Watch each Planting Trainer video for a basic understanding of the resource, tool, or technique it covers.
When completing the challenge for each Trainer section, you can leave the Trainer window open and adjust its size or location.
Open the Welcome screen to start your training: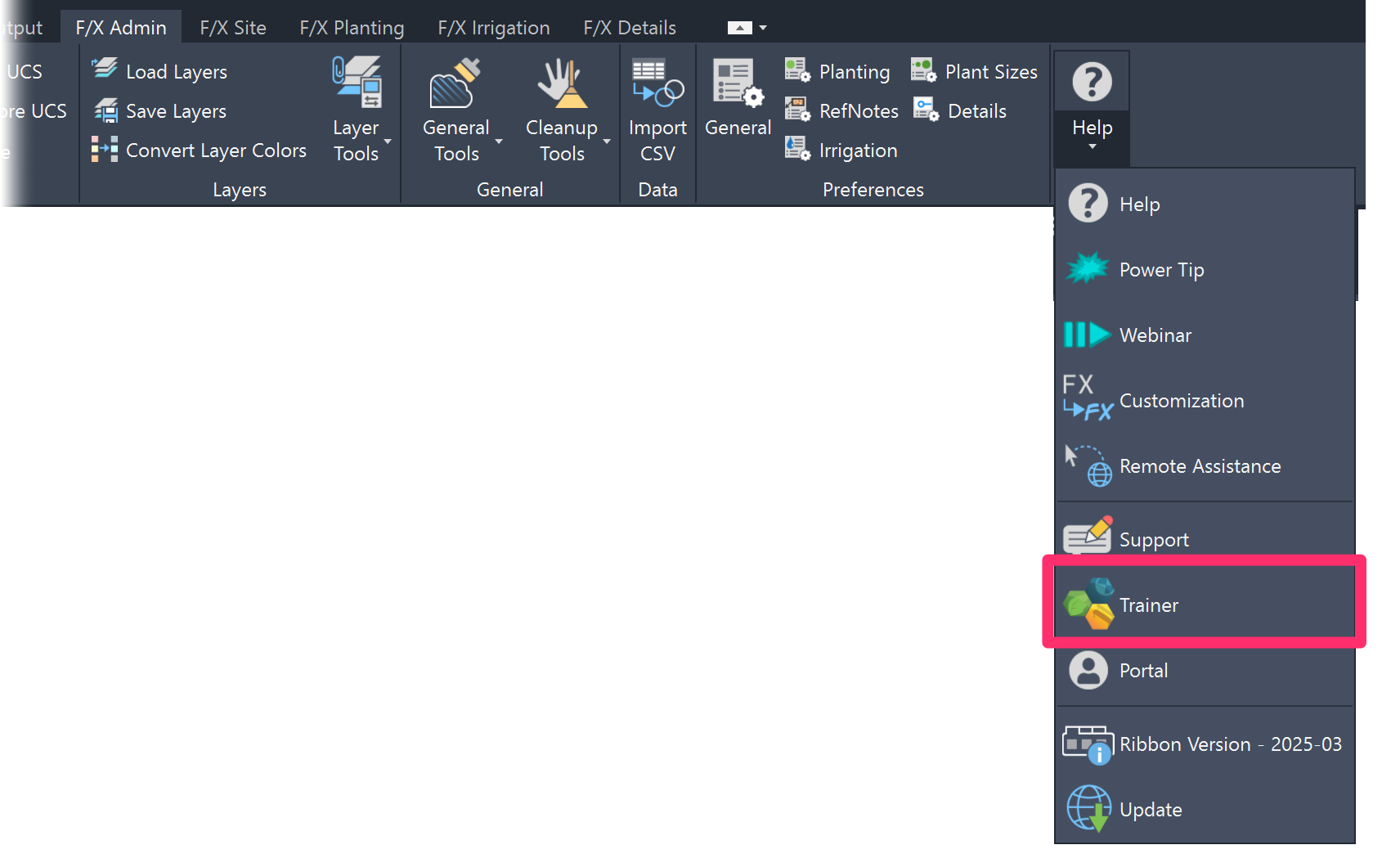 Any of the F/X ribbons (example, F/X Admin), Trainer flyout
F/X Admin pull-down menu
Or type LANDFX in the Command line and press Enter.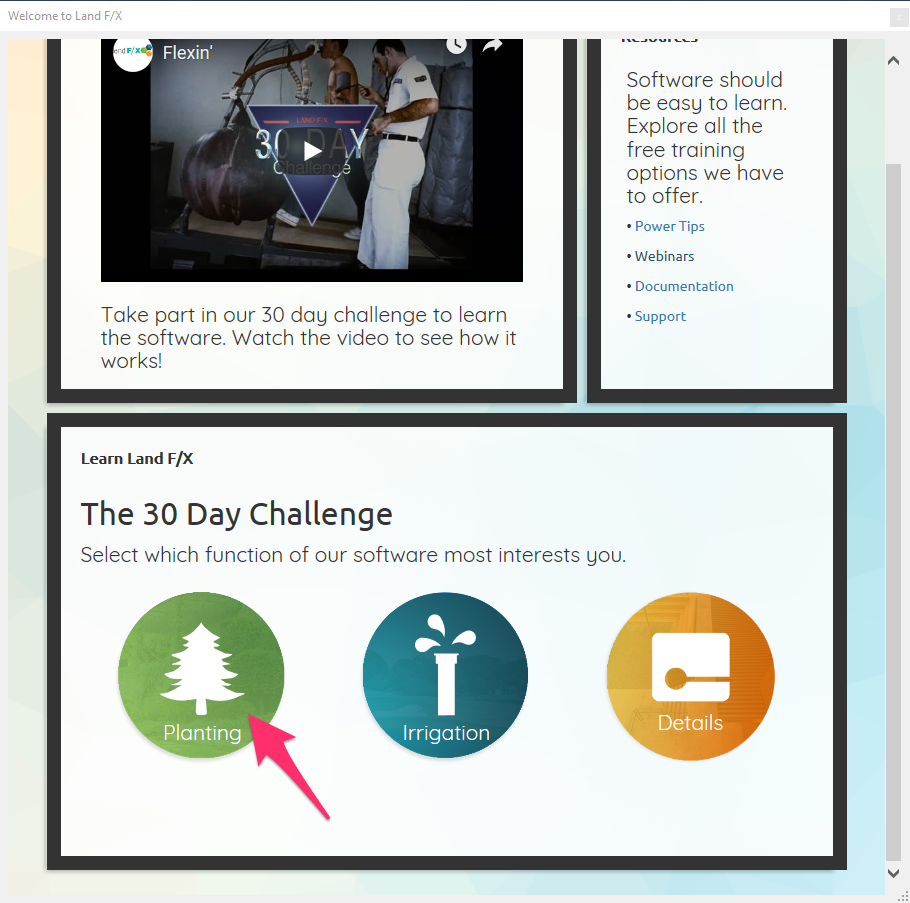 Ready to start the Planting Challenge? Scroll down and click Planting.
You can always come back and go through the other two.
Want to complete the Planting Challenge at your own pace using our documentation and videos? We've laid it all out below in this article.
To go deeper on the information covered in each Trainer section, click the Learn it! button to see our documentation page on that subject.
After completing each challenge, click Completed? Verify it! If you completed the challenge correctly, you can move on to the next challenge.
Challenge 2: Planting Power Tips
These 2- to 3-minute videos give you quick tips and techniques for making the most of our software.
Browse our planting Power Tip videos.
Challenge 3: Set Up a Project & Scale
A Land F/X project is where you'll build your plant palette. Our Scale tool sets up your units and plot scale in seconds.
Start a project, then set your scale.
Challenge 4: Add Trees, Shrubs & Groundcovers
Now it's time to start specifying the plants you'll use in your project, also known as adding plants.
Jump into your project and start building your palette in our Plant Manager.
How to add plants to your Land F/X project
Challenge 5: Place Plants & Explore Keyboard Commands
Now that you've chosen your plants, it's time to start laying out your plan. Grab plants from your palette, and quickly place them in your drawing.
Use our keyboard commands for placing plants even faster. How to place plants and use our keyboard commands
Challenge 6: Edit Plant Information
You can change any plant's symbol, size, and other data at any time, whether or not you've placed it in a drawing.
Jump in and edit a plant. How to edit plant information
Challenge 7: Label Plants
We make it easy to label a single plant or several of the same variety at once.
Start labeling your plan. How to label plants
Challenge 8: Check for Errors
We think you'll use these tools more than any others. Check your plan for mislabeled or unlabeled plants with a click, and correct any errors in seconds. Bask in your plan's accuracy!
How to check for errors using our Verify Labels tool
Challenge 9: Run a Plant Schedule
Our scheduling tool lays out a clear and complete list of all your project plants, with columns of whichever plant data you choose to list.
Place a plant schedule. How to run a Plant Schedule
Challenge 10: Photo Callout
Grab a photo of any plant in your drawing by firing an automatic online images search, or navigating to your locally saved photo of that plant.
Go forth and place a photo callout. How to place a Photo Callout
Challenge 11: Colorization
We give you access to a vast collection of color plant symbols. Use our Color Render tool to assign color blocks and hatches to the plants in your drawing, then switch out your plan for a color presentation. Once you've verified the challenge, you can turn color back off.
How to colorize your planting plan using our Color Render tool
Challenge 12: 3D Connection
Bring your plants between CAD and a 3D model in SketchUp, Rhino, or Revit. Your data and exacts placements will stay the same.
Go ahead and export your design into 3D. How to use our 3D Connection tool
Challenge 13: Revisions – Match Properties
Instantly switch out one plant in your drawing for another, including variety, symbol, and all other data.
Open our Match Properties tool, and turn this into that. How to use Match Properties
Challenge 14: Project Images
Challenge 15: Learning Resources & Sign Up for a Webinar
We offer videos, articles, and printable PDF tutorials for every learning style and attention span.
Get to know our learning resources, and register for our next live webinar.