Welcome to the Land F/X Irrigation Challenge. Each of our Planting, Irrigation, and Details challenges is an essential step in learning or designing with our software.
We recognize the complexities and challenges inherent to irrigation system design. Our Irrigation tools streamline and simplify the entire process by automating the most time-consuming tasks and calculations. The irrigation tools are available as buttons on our F/X Irrigation ribbon, pictured below.
This article includes the same resources available in the Land F/X Irrigation Challenge you can access from CAD using the LANDFX command. Want to learn the software at your own pace? Read on to get started with the Land F/X Irrigation Challenge.
Want to take the challenge for one of our other sets of tools? Get started on our Land F/X Challenge for:
New to AutoCAD and need some basic training? Our AutoCAD first steps links will help you get started.
Challenge 1: Get Started with the Irrigation Challenges
Open the Welcome screen to start your training: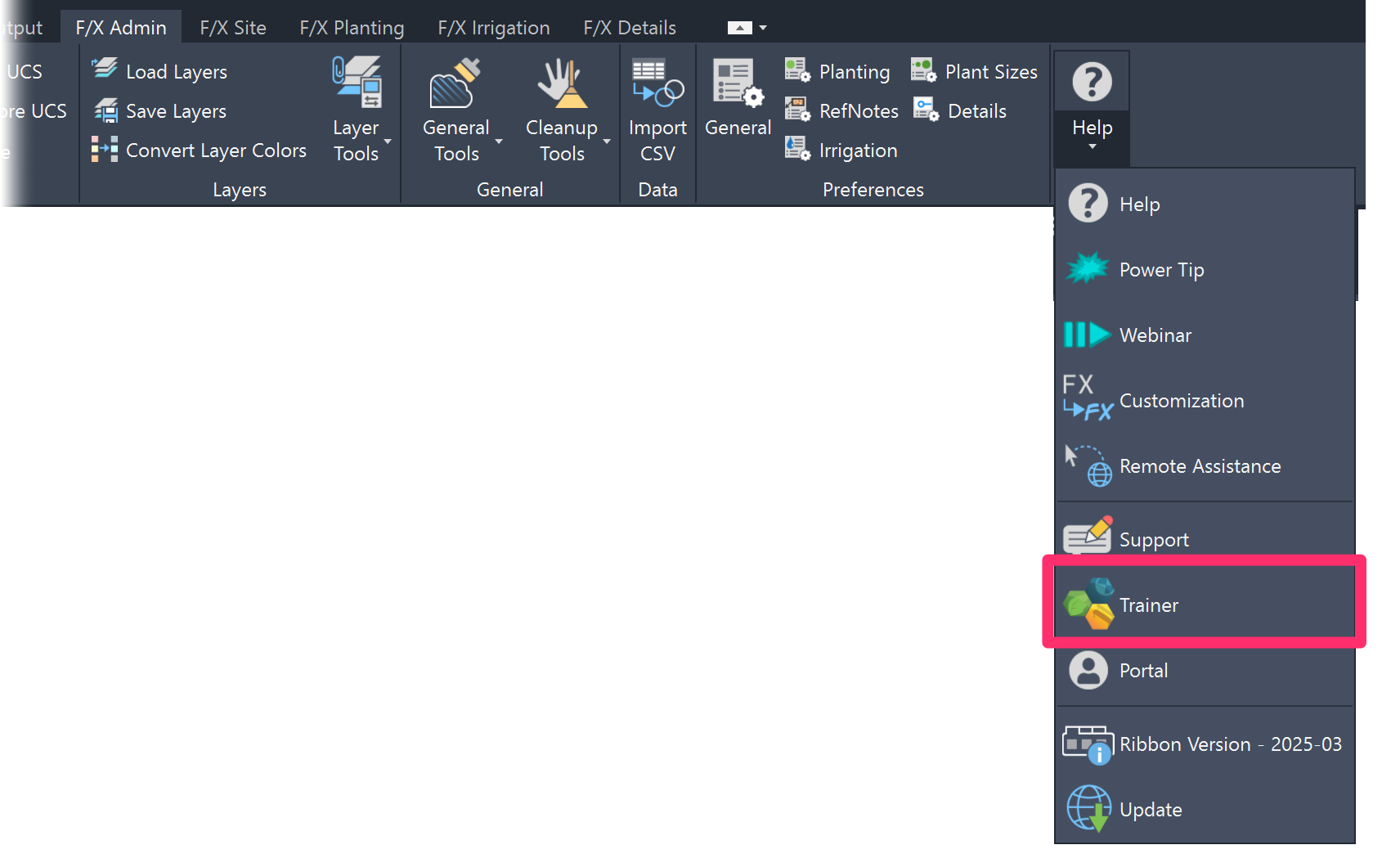 Any of the F/X ribbons (example, F/X Admin), Trainer flyout
F/X Admin pull-down menu
Or type LANDFX in the Command line and press Enter.
Ready to start the Irrigation Challenge? Scroll down and click Irrigation.
You can always come back and go through the other two.
Want to complete the Irrigation Challenge at your own pace using our documentation and videos? We've laid it all out below in this article.
To go deeper on the information covered in each Trainer section, click the Learn it! button to see our documentation page on that subject.
After completing each challenge, click Finished? Verify it! If you completed the challenge correctly, you can move on to the next challenge.
Challenge 2: Irrigation Power Tips
These 2- to 3-minute videos give you quick tips and techniques for making the most of our software.
Browse our irrigation Power Tip videos.
Challenge 3: Set Up a Project & Scale
A Land F/X project is where you'll build your equipment inventory and set your performance data. Our Scale tool sets up your units and plot scale in seconds.
Start a project, then set your scale.
Challenge 4: Add Equipment

We give you access to products and data from real manufacturers' catalogs, directly from CAD. Add (specify) heads, valves, and other equipment.

Add some heads and valves to your project.

Challenge 5: Keyboard Commands
Place your valve, then place your head. While placing the head, press the K key on your keyboard to see all our keyboard commands for placing and spacing heads.
How to use our irrigation keyboard commands
Challenge 6: Match Equipment
With our Match Equipment tool, you can grab an irrigation component in your drawing and place duplicates, including its symbol and all performance data.
Open Match Equipment, select a head, and place some copies. How to use our Match Equipment tool
Challenge 7: Circuit
Quickly group heads into valve stations, or zones. You can tally a station's flow, test for uniformity of coverage, and take a flow total of all head types.
Open our Circuiting tool and group a valve and some heads in your drawing into a zone. How to use our Circuiting tool
Challenge 8: Draw Pipe
With our Lateral Pipe tool, you can quickly draw a line that snaps to each piece of equipment.
Go ahead and pipe a station, connecting a valve with some heads. How to draw lateral pipe
Challenge 9: Highlight Station
Use this tool to ensure that all your heads and valves are piped properly.
Click your valve, and watch all the connected heads and pipes light up. How to use our Highlight Station tool
Challenge 10: Error Check
Our Verify Laterals tool is a fast and foolproof way to detect errors that require attention.
Give it a go – select Verify Laterals and error check your plan. How to use our Verify Laterals tool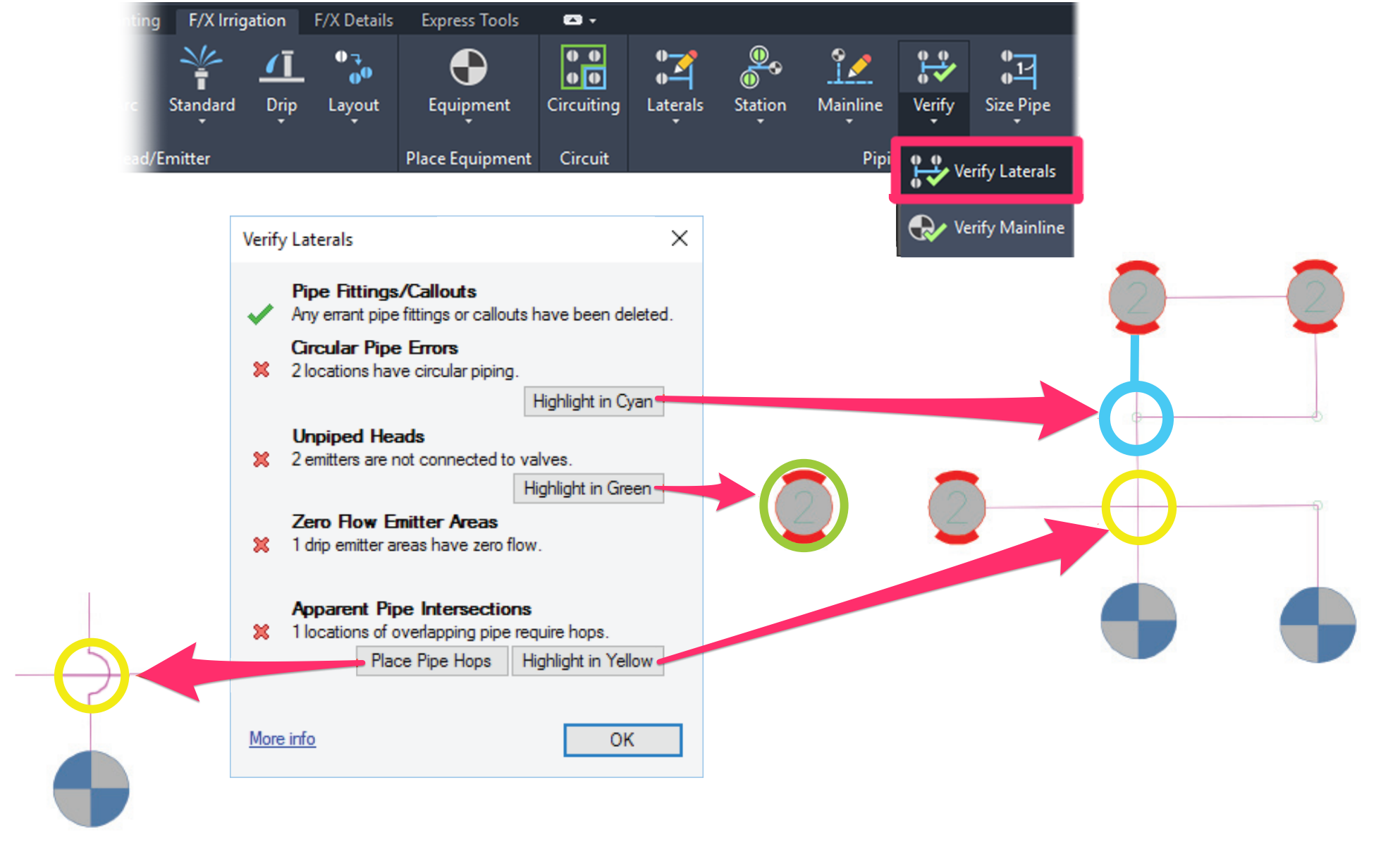 Challenge 11: Valve Callouts
Valve callouts identify information such as the number, flow, and size, of each valve in your system.
Call out a valve. How to use our Valve Callouts tool
Challenge 12: Size Lateral
Our automatic lateral pipe sizing tool assigns diameters to your based on the pressure and flow required by your system.
Size the lateral pipes in a valve station. How to use our Size Lateral Pipe tool
Challenge 13: Pipe Label Cleanup
Pipe size callouts are placed automatically when you size your pipes. Our Pipe Label tool allows you to adjust those labels and place additional ones as needed.
Open Pipe Label and move some of your pipe labels. How to use our Pipe Label tool
Challenge 14: Irrigation Schedule
Generate a clear and logical inventory of all equipment used in your system, complete with symbol, pressure and flow rates, and any other data you choose to include.
Place an Irrigation Schedule. How to place an Irrigation Schedule
Challenge 15: Learning Resources & Sign Up for a Webinar
We offer videos, articles, and printable PDF tutorials for every learning style and attention span.
Get to know our learning resources, and register for our next live webinar.