Welcome to the Land F/X Details Challenge. Each of our Planting, Irrigation, and Details challenges is an essential step in learning or designing with our software.
Our unparalleled detail management system makes it easy to customize, design, save, edit, and organize your details. With our help, you'll never lose a detail again. The details tools are available as buttons on our F/X Details ribbon, pictured below.
This article includes the same resources available in the Land F/X Details Challenge you can access from CAD using the LANDFX command. Want to learn the software at your own pace? Read on to get started with the Land F/X Details Challenge.
Want to take the challenge for one of our other sets of tools? Get started on our Land F/X Challenge for:
New to AutoCAD and need some basic training? Our AutoCAD first steps links will help you get started.
Challenge 1: Get Started with the Details Challenges
Open the Welcome screen to start your training: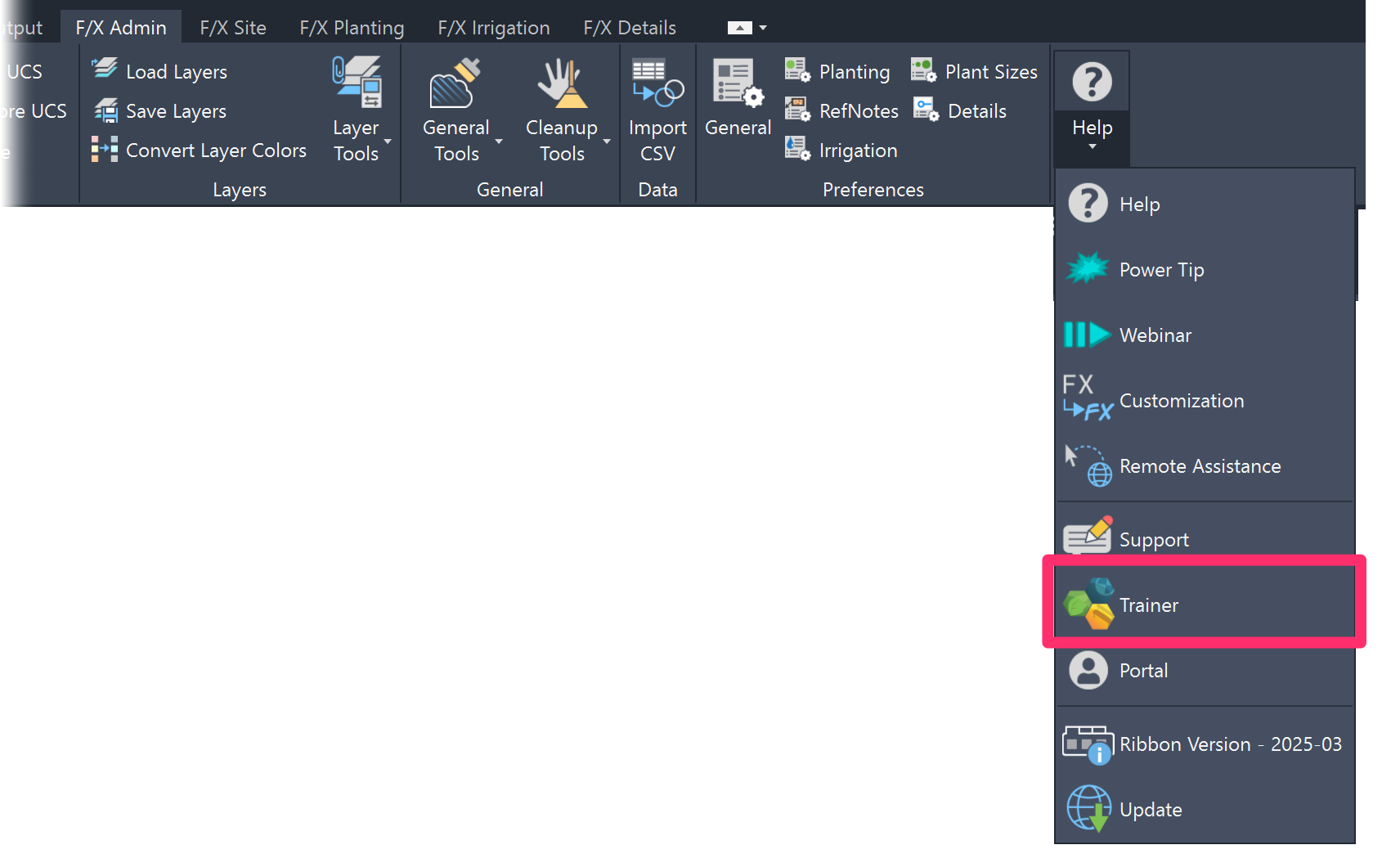 Any of the F/X ribbons (example, F/X Admin), Trainer flyout
F/X Admin pull-down menu
Or type LANDFX in the Command line and press Enter.
Ready to start the Details Challenge? Scroll down and click Details.
You can always come back and go through the other two.
Want to complete the Details Challenge at your own pace using our documentation and videos? We've laid it all out below in this article.
To go deeper on the information covered in each Trainer section, click the Learn it! button to see our documentation page on that subject.
After completing each challenge, click Done? Verify it! If you completed the challenge correctly, you can move on to the next challenge.
Challenge 2: Details Power Tips
These 2- to 4-minute videos give you quick tips and techniques for making the most of our software.
Browse our details Power Tip videos.
Challenge 3: Create a Project
A Land F/X project is where you'll compile all the details you'll use in a design.
Start a project. How to start a Land F/X project
Challenge 4: Units & Detail Layers
Ready to start creating details? Your first steps should be setting your detail units and applying a saved set of layers to your new detail.
Set your units and Load the Details Layer State. How to start creating a detail
Challenge 5: Detail Blocks & Elevation Graphics
We offer vast libraries of detail component blocks, as well as elevation-view blocks ranging from furnishings and other amenities to vehicles and even people.
Place some Detail Blocks and some Elevation Blocks. How to place detail blocks
Challenge 6: Place Detail Templates
A Detail Template gives your details your chosen size and scale. It also includes your detail title block.
Place a Detail Template around the blocks you placed. How to place a Detail Template
Challenge 7: Hatch
Our detail hatch patterns scale automatically to any detail where they're placed.
Add some texture to your detail by placing some detail hatches. How to start creating a detail
Challenge 8: Leaders & Bubble Callouts
Our detail leader tools give you a number of stylistic options for calling out items in your details. Bubble Callouts are especially handy because you can create them for one particular detail but then easily apply them to others.
Place some leaders and some Bubble Callouts in your detail, then place a Bubble Callout Schedule. How to use Detail Bubble Callouts
Challenge 9: Dimensions
With our detail dimensioning tools, you can quickly identify linear lengths, degrees of angles, radius and dimension measurements, and more.
Place some Linear Dimensions measuring the blocks in your detail. How to annotate and add dimensions to your details
Challenge 10: Detail Enlargement
Our Detail Enlargement tools allow you to place a close-up of one portion of your detail contained within a circle or a custom polyline. All dimensions within the enlargements will retain their correct values.
Go into your detail and place an enlargement. How to place a Detail Enlargement
Challenge 11: Save Details
You've drafted and annotated your detail. Now it's time to save it into our detail library for easy access from within CAD.
Open our Save Detail tool and save your detail into our system. How to save details
Challenge 12: Sheet File, Open Project & Place Details
Now that your detail is available within our library, you can use it in your drawings.
Your next challenge is to open a new drawing, select your Land F/X project, and place your detail on a sheet in Paper Space. How to place details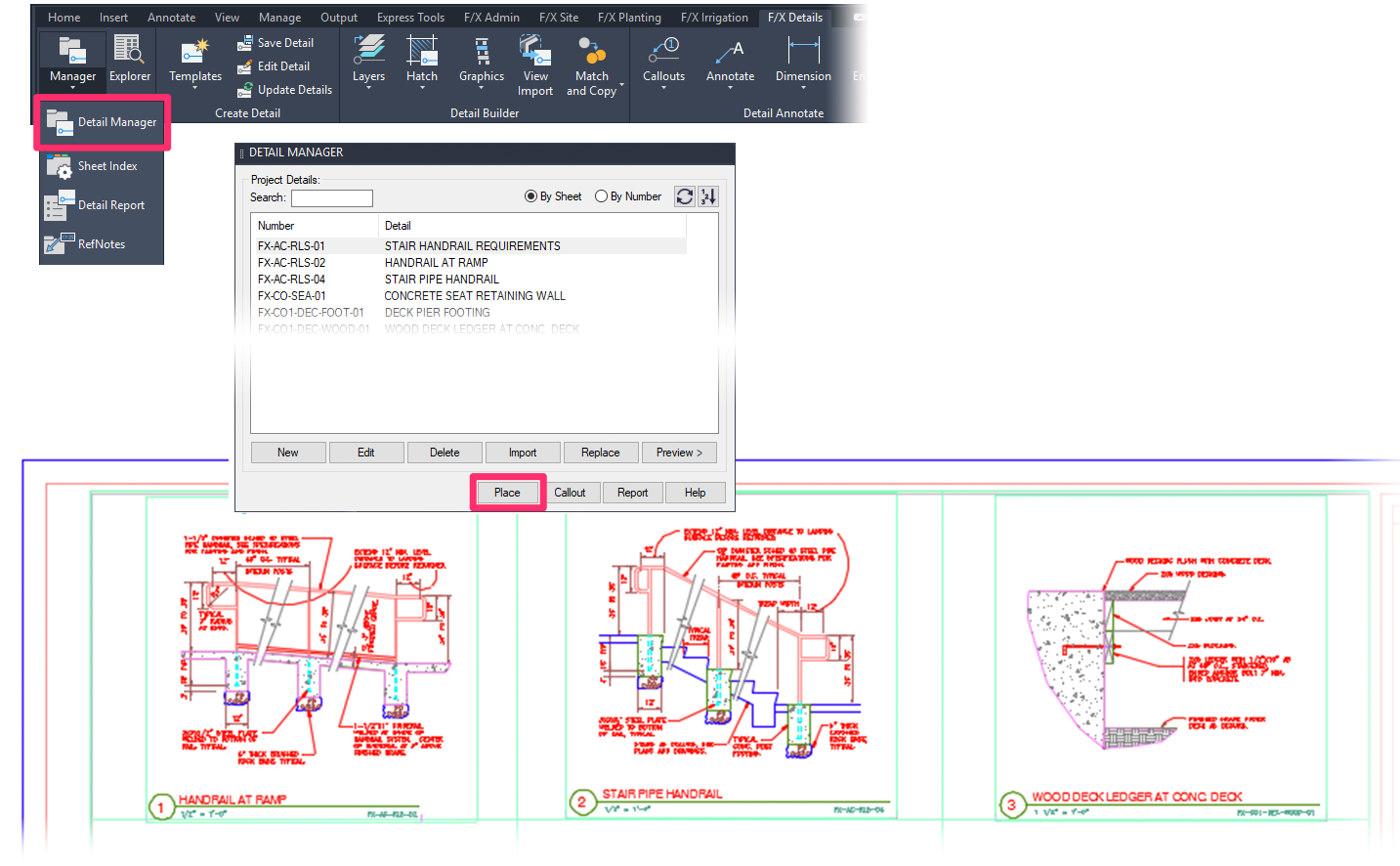 Challenge 13: Place Callouts
Our smart detail callout tools provide everything you need for referencing details within your drawings.
Call out your detail using our Detail Callouts tool. How to place Detail Callouts
Challenge 14: Move Details, Place Again, Update Callouts
Because our detail callouts are smart, they'll be in the know each time you move a detail they're identifying.
Move your detail to a new Paper Space sheet, then use our Update Callouts tool to ensure that detail is still called out correctly.
Challenge 15: Learning Resources & Sign Up for a Webinar
We offer videos, articles, and printable PDF tutorials for every learning style and attention span.
Get to know our learning resources, and register for our next live webinar.