Your installation of our software comes with a comprehensive library of blocks. Each block includes the linework, text, and other components of a distinct object such as a plant or irrigation symbol, site amenity, or callout. When you place any of these objects in your drawing, you're actually importing and placing that block representing that object.
The first time you use one of our default blocks, a DWG file for that block (known as a "source file" or "source block") will automatically download to the Blocks subfolder in your LandFX folder (LandFX/Blocks). You can edit any and all of these source blocks, add your own blocks, and create new folders and subfolders to organize your blocks to your liking.;
If you want to add custom blocks to our block library, or edit one of the existing blocks, you'll use our Save Block tool to save your blocks into our system. You'll also save a source file within the LandFX/Blocks folder.
Blocks Subfolder
When you install our software, the installer automatically creates a folder named LandFX (aka the LandFX folder) on your computer, server, or shared online folder. More information about the LandFX folder >
This folder contains all subfolders and files related to your installation. The subfolder LandFX/Blocks houses our library of blocks, such as plant symbols, site amenities, irrigation equipment symbols, callout blocks, etc.
We now offer our blocks as on-demand downloads. Previously, the blocks were downloaded automatically into the
LandFX/Blocks
folder when you installed Land F/X. Under this new setup, the blocks – and the corresponsing folder structure – will live on our website until you select them. When you select a block for the first time, the the DWG source file for that block will download automatically to the appropriate location in the
Blocks
folder. You'll also notice that the subfolder structure for these source files will also download automatically as you select blocks that belong in those subfolders.
Storing our blocks on the cloud streamlines our installer and allows us to add new blocks dynamically, making them available with a simple software update. For more information, see our Cloud-Based Blocks page.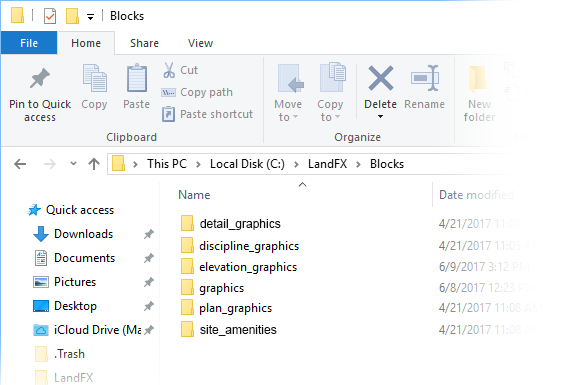 As you continue to use and download blocks from the cloud, the Blocks folder will populate with the following subfolders:
detail_graphics
discipline_graphics
elevation_graphics
graphics
plan_graphics
site_amenities
Each of these folders is itself a separate library of source blocks. To access or edit any of our default blocks, locate and open the DWG file associated with that block (aka the source block).
Detail Builder Blocks
The detail_graphics folder (pictured to the right) contains blocks for objects you would use in building a detail, such as fasteners, gates, fences, bricks, and host of other items. The DWG source files for these blocks are organized into the following subfolders:
General
Concrete
Masonry
Metal
Wood-Plastics
Finishes
Exterior Improvements
Utilities
These subfolders mirror the available categories in the Detail Graphics Manager.
For information on Detail Builder Blocks, see our Detail Builder Blocks page.