Our software includes a system of logical Text Styles. Each Text Style applies a several specifications (including font and point size) to a specific usage of text within planting, site, and irrigation design. By configuring our Text Styles, you can tailor the text in your drawings to meet your office standards – without having to wade through a sea of non-standard styles and fonts.
"Text Style" vs. "Font"
Our Text Styles were originally known as "Fonts." We changed the name to "Text Styles" in the interests of eliminating confusion and standardizing with the AutoCAD versions of these styles, which are also known as "Text Styles." Thus, you can think of ourText Styles as the specific types of text you configure within our system (e.g., Plant Callout and Callout Light), while "font" is simply a generic term for fonts such as Courier, Times New Roman, etc.
How Our Text Styles Work
Each of our Text Styles is assigned to a specific application of text as it appears in your drawings when you use our software.
For example, the Plant Callout Text Style applies to the text within your plant labels. Each time you place a plant label, the text within that label will automatically take on the Specifications currently assigned to the Plant Callout in the Text Manager.
In the example to the right, the Plant Callout style is currently assigned the font Architect Text and a point size of 10. As a result, plant label text will come in as 10-point Architect Text.
For more details on configuring the specifications for the Text Styles, please see our Customize the Default Text Styles documentation page.
Benefits of Our Text Styles System
Our Text Styles system offers the following advantages:
Maintenance of office standards and CAD management of the standard fonts used by your office.
Unique Text Styles that relate to a specific project will be set as active automatically when you open that project.
The project and office standard Text Styles can be changed easily. Any changes made to the text styles will be reflected in future drawings.
Text Styles are sized by point size. They will be scaled automatically for the same output, no matter whether they are entered into Model Space of varying scales, or into Paper Space.
List of Our Text Styles
Each of the Text Styles listed below is included in your installation. You can choose to keep our default settings for each style or edit them to meet your needs.
The most common text styles to review early on in using our software are the Schedule Text and Schedule Title styles, which control the text for Planting, Irrigation, and Reference Notes Schedules.
Callout Light
Applies to:
Callouts, including:
Irrigation equipment symbols, including spray heads and wire bundles
Callout Text
Applies to text associated with:
Irrigation equipment such as decoders, enclosers, and caps
Callout Title
Concept Schedule (Discontinued March 2019)
We've removed the Concept Schedule style as of March 2019. The Schedule Text style will now apply to text in the Concept Plant Schedule.
Want to give your Concept Plant Schedules their own text style, separate from the Schedule Text style? Here's how.
We've discontinued the Concept Schedule Text style to simplify and improve several tools. We recommend updating your office's Preference Set standards in accordance with this change, and only using the solution linked above for past projects.
Detail Text
Dimension Text
Lateral Size
Mainline Size
Applies to mainline pipe labels, as well as mainline equipment such as controllers, master valves, backflow devices, water meters and POCs, flow sensors, flow meters, flush valves, and wire bundles.
Photo Label
Plant Callout
Schedule Text
Applies to text within schedules (not the schedule title), including:
Schedule Title
Applies to titles of schedules, including: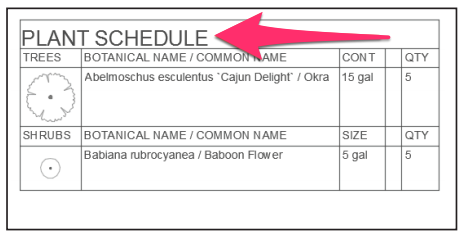 Zone
You can customize these existing text styles by changing the specifications assigned to each style (such as font and point size). You can also create your own Text Styles.
Viewing and Configuring the Text Styles
We provide two methods of viewing and configuring our Text Styles:
The General Preferences
The General Preferences screen includes a list of all available Text Styles.
If you highlight a Text Style (example: Plant Callout) and click Edit, you'll open a version of the Text Manager that only lists the selected Text Style.
You can then change the Specifications of the selected style (such as font and point size) on the right side of the Text Manager.
The Text Tool
Default Fonts
When you install a CAD-based program (such as AutoCAD or F/X CAD) on your computer, you also install a number of SHX font types, as well as a limited number of TrueType fonts. Our database contains a limited number of default fonts, which you can assign to any of the Text Styles.
The easiest way to see a list of all our default fonts is to edit one of the Text Styles and open the Font menu.
Use the scroll bar on the right side of the menu to scroll down and see all available fonts.
In general, we use the standard fonts supplied by AutoCAD – both SHX and TrueType fonts. As a result, if you send a drawing to another AutoCAD user, that user should be able to view and plot your drawing as you intended.
Reload (Update) All Text Styles
Our REAT (Reload All Text Styles) keyboard command updates all text in the current drawing to reflect your Text Style settings in the active Preference Set. Learn more about the REAT command.
We've also added a Text Styles option in our BatchMan batch file processing tool that updates all Text Styles in multiple drawing files to match your default Preference Set.
Troubleshooting
Issue: Text styles not displaying correctly
Issue: Schedule Text or Schedule Title is appearing in the wrong font, point size, etc.
Issue: You need to change or correct the size of existing text in your drawing to match one of your Text Styles
Issue: You want to give your Concept Plant Schedule text its own style or font, separate from the Schedule Text settings