The AutoCAD hatch system is notoriously challenging. We developed our Save Hatch tool to make your hatches infinitely easier to place, scale, and organize.
Saving a hatch into our database makes that hatch accessible directly from CAD. More importantly, it allows you greater control over the hatching process. You can save your hatch patterns into our various hatch libraries, including Groundcover, Site, or Detail. (More on that below.)
Step 1: Save Your Hatches Into CAD
Important notes:
Before you can save your hatch into our system, you'll need to:

Save the hatch into AutoCAD and
Path the hatch within AutoCAD
As you may know, hatches are saved as PAT (.pat) files. We recommend creating a single temporary folder to store copies of all your hatch files. You can place this folder in the location of your choice – even directly on your computer's C drive.
This folder will be a temporary location for your PAT files for the purpose of importing them into CAD. Always keep a backup of your PAT files. You'll want to remove this folder from the Support File Search Path once you have saved all your hatches into our system.
The Support File Search Path
For CAD to be able to read your hatches, you'll first need to place them in what's known as the Support File Search Path. This folder path is available in the AutoCAD Options.
Open the CAD Options dialog box:
Manage ribbon, Options button
or type Options in the Command line
right-clicking in the Command line and selecting Options from the menu
Tools pull-down menu
In the Options dialog box, select the Files tab.
In most cases, Support File Search Path will be the top entry in the list of files.
Expand the Support File Search Path by clicking the plus (+) sign to the left.

The Support File Search Path will expand, and you'll be able to see all folders it currently includes.
Click Add, then click Browse.
Navigate to the folder that contains your custom hatch patterns (example: My Hatches), and click OK.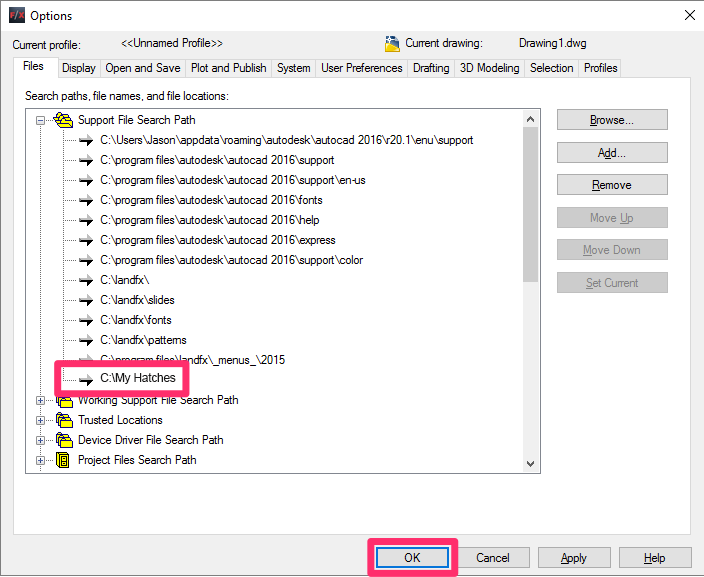 Your folder will now be included in the Support File Search Path.
Click OK to save your changes.
AutoCAD will now be able to read your hatches, allowing you to save them into our database.
Step 2: Run the PRINTHATCHES command
We've created the PRINTHATCHES command to help simplify the following process. Running this command will automatically lay out all of a particular hatch category to display all hatches as they're currently saved into the system. So, for example, if you want to save a site hatch and you've followed Step 1 above to load the site hatches, you simply need to run PRINTHATCHES and click Site. The system will do the rest!
Type PRINTHATCHES in the Command line and press Enter, then select the hatch category where you want to save your hatch. The file for your custom hatch patterns will be created automatically based on the primary hatch category you selected, where you can then modify and save your hatches, and then save the generated DWG into your office standards folder for future reference and adjustments.
The printout includes a number of layout tabs, each of which contains several patterns. Here's an example:
We've also provided a series of downloadable PDFs showing the hatch patterns you'll see when you run PRINTHATCHES. Use the link below to download all these PDF documents (one for each of our hatch pattern types) as a zip file.
Each of the patterns shown above is a different hatch that is available in the Land F/X database. The drawing includes a Title, Scale, Angle, and Pattern name for each hatch.
The Layout tabs are named to reflect our hatch pattern organization system.
To save one of your hatches as a Site hatch, open to the last available page with an available space to copy any previously placed hatch into an available spot. You're of course welcome to add new Layout tabs of your own to this drawing.
To copy a hatch pattern square in the printout, select the hatch and all text pertaining to it, then right-click it and select Copy Selection from the menu.
You'll now have a duplicate version of the hatch you copied. You can then use this hatch as a template for placing your new hatch.
Click the duplicate hatch you just placed.
The hatch will be highlighted, and the Hatch Creation ribbon will open at the top of your AutoCAD interface. The Hatch Creation ribbon includes a Pattern panel that shows thumbnails of all available hatches.
If you followed the steps above to add your hatch folder to the Support File Search Path, your hatches will appear in this list.
Expand the list of thumbnails by clicking the down-facing arrow in the bottom right corner of the Pattern area.
You can now scroll through the available hatch patterns to find and select the hatch you want to add.
The hatch you select will now appear in the place of the hatch you had selected in the drawing.
Note that the hatch will come in at the same scale as the hatch that was originally in that location. Therefore, the new hatch may not look quite right.
Step 3: Select a Scale for the Hatch
You can now adjust the scale of the hatch in the Hatch Editor ribbon to suit your preferences.
As long as the hatch is selected, the Hatch Editor ribbon will remain open. With hatches, scale is a function of density. The larger the scale, the less dense the hatch will appear.
The scale of the hatch that's currently selected is 0.5200 (.52). In this case, we need to make the hatch less dense, so we'll give it a larger scale.
When we change the hatch scale to a larger number, such as .2000 (.4), we can see, as shown below, that the hatch is now less dense.
Here's how our hatch looks with our scale of .4 – not bad.
Now it's time to edit the hatch's text to reflect the new name and scale.
We now have an entry for our hatch with the correct name and scale.
You can also change the angle of your hatch by typing a value in the Angle field, also in the Hatch Editor ribbon.
Play around with the scale and angle of your hatch until it suits your preferences. We also recommend creating a different version of each of your hatches with each scale and/or angle you think you'll use. Make sure to edit the scale and angle of each hatch to reflect the correct value.
You can choose to save each scaled (or angled) hatch into the system once, regardless of the scale. Or you can save different versions of each hatch with different scales and/or angles. Our software allows you to edit the scale of your hatches when you place them. Although you cannot scale your hatches on a global level, you can go through them once, file by file, and set each to the scale you prefer. Once finished, you'll never have to scale your hatches again (unless you want to).
Remember: You're working in Paper Space with no scale. Once you save your hatch into the system, the hatch will be scaled automatically when you use it in either Model Space or Paper Space. Your screen is currently showing the final look of the hatch.
You'll probably want to print each of your hatches before saving them into out F/X database. That way, you'll be sure of what they will look like in an actual printed drawing.
Step 4: Save Your Hatch Into Our System
Now that you have a good idea of what your hatch will look like, it's time to save it into our system.
Why would you want to do this when you already have it saved in CAD? Because you'll find that hatches are simply easier to access and work with, as well as more logically organized, when you've saved them into the system. This process may seem complex, but remember: You only need to complete it once for each of your hatches.
Zoom in quite closely to the pattern, and let it fill the screen. Remember: What you see on your screen will become your small preview thumbnail of the pattern, so avoid zooming too far in or out.
We also recommend setting the drawing file window to a 4:3 ratio.
We've found that 6" tall and 8" wide is a great setup to make the hatch pattern fill the slide properly.