Good sheet setup is imperative. We highly recommend creating a template for each layout size you'll use, as well as a template for the title block that will go into each of those layouts. These templates will allow you to add a new sheet size to a drawing almost instantly, as opposed to creating layout sheets from scratch each time you need them.
You most likely won't need to include a sheet for every possible layout size in every one your drawings. However, you will absolutely want to have the ability to bring in each commonly used layout size, along with the correct title block, in case you need it.
Why Do You Need Different Sheet Sizes?
Landscape architects typically plot on 24-by-36-inch (or A1) sheets, and the majority of your plotting may very well be in this size. However, different disciplines and different stages of the design process will all but inevitably require you to plot at a different size.
For example, engineers and architects often work in 36-by-48-inch (or A0) in order to show a larger area or greater detail on a plotted page. If you ever work with people in these disciplines (which is highly likely), you'll need the ability to plot in this size – and more importantly, maintain the correct scale of your drawing.
Then, later in the design process, you might need to do a change order for a portion of your plan. In this case, it wouldn't make sense to provide a revised version of the entire drawing. Instead, you'd generally provide a printout of just the portion of the plan that required the change order. This is where the 11-by-17 (A3) and 8.5-by-11 (A4) sheet sizes come in handy, allowing you to include a section of your drawing that's still to scale.
Different situations will require different layout sizes. When those situations arise, you'll be happy you have a template for each of the layout sizes. You'll bring in that template, update the title block, and be ready to go.
Creating and Saving a Layout Template
Open a new drawing using your blank drawing template in the appropriate units, and select one of the Layout tabs.
Right-click the same Layout tab. Then select Page Setup Manager from the menu that opens.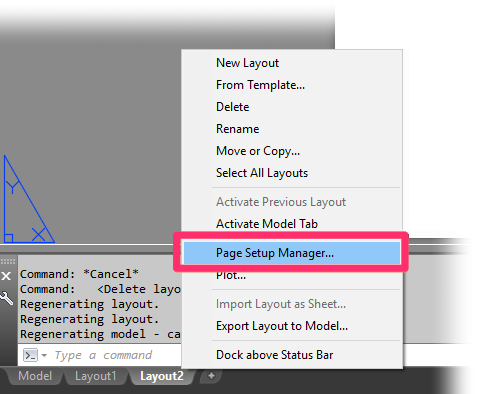 In the Page Setup Manager, click New.
In the New Page Setup dialog box, click OK.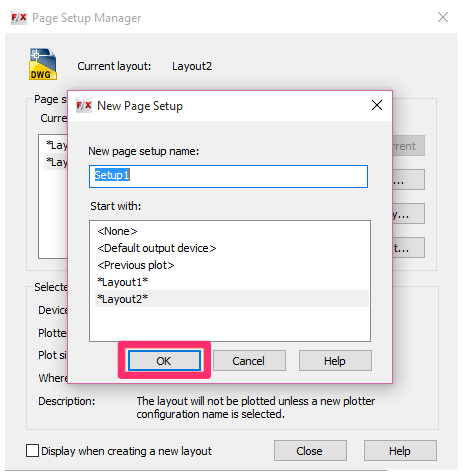 The Page Setup Manager will open.
1. Select a default printer or plotter for the layout style.
2. Select a Paper size for the layout. We'll create a 24-by-36-inch layout in this example.
3. Under What to plot, select Layout.
4. Set the Scale to 1:1, and make sure the fields are set to 1 inches (or millimeters) = 1 unit.
5. Select a Plot style table, such as LFX.ctb.
6. We recommend checking the first four of the five boxes beneath Plot options.
7. Click OK when finished.
You've now created your layout template for the size you selected. Save this file as a DWT, and include the sheet size in the file name. We recommend saving this file in either the folder where you save your AutoCAD templates or your LandFX/Admin folder.
It's now time to bring in the title block template for the same layout size as the layout template you've just created.
Creating a Title Block Template
Each of your layout sizes will need to include a title block that provides information such as firm name, client and project name, date, and sheet title. You'll create your title block template right in the layout drawing you've just created.
Creating or Bringing In a Title Block
At this point, you can either draw your title block into your layout template or bring in an existing one.
If you have a standard title block your office already uses, you can copy and paste it into this layout drawing.
To avoid bringing in unwanted objects, make sure to use the CAD Copy With Base Point command.
Select all elements of the title block you'd like to bring over. With these items selected, right-click and select Clipboard from the menu that opens.
Then select Copy with Base Point from the submenu that opens.
You can then use either the AutoCAD Paste command or press the CTRL+V keys to paste your title block into your layout template.
Don't have your own title block to bring in?
You can also choose to use our standard title block, which we provide in our Discipline Graphics library. You can use our
Discipline Graphics
tool to place one of these blocks in your sheet drawing. The title block is stored in the
User Defined
folder, or you can create your own folder.
In addition, if you have F/X CAD, you can choose to use one of the drawing templates we've included with your installation. These templates include already-created title blocks, which you're free to use.
You can find these templates in the Templates menu on the left side of your screen (under Get Started) when you first open F/X CAD. We offer four templates, depending on the units you plan to use:
LAFX-ARCH-INCHES.dwt (Architectural inches)
LAFX-DECIMAL-FEET.dwt (Decimal feet)
LAFX-DECIMAL-METERS.dwt (meters)
LAFX-DECIMAL-MILLIMETERS.dwt (millimeters)
If one of these templates meets your needs, or at least comes close, you can use it as your template.
When you bring in your title block to each sheet size, make sure you are giving it the proper size margins – 1/2 inch or 1 inch, for example. Click the title block to select it, then drag the pick points at the corners until the title block is the size you want.
If your title block doesn't fit within the layout page borders (the white dotted lines shown above), it won't plot properly.
When creating your title block, we recommend drawing two small intersecting lines on a non-plot layer in one of the corners (see the image to the right).
These lines will provide a point you can snap to when placing the title block in a sheet, ensuring that you are placing it in the correct location each time.
Saving Your Title Block Template
You now have a choice as to how you will create your title block template – and consequently, how you will bring it into drawings in the future.
Option 1: WBLOCK Your Title Block Into Another Drawing File (To Attach as an Xref)
Your first (and, we think, preferable, option) involves using the Write Block (WBLOCK) command to move your title block into its own drawing. You'll then bring it in as an External Reference (Xref) when you need to place it in a sheet. This method takes a little bit more time than the Save Block method (see Option 2 below), but it will save you a lot of time in the future.
With the layout template containing the title block open, type WBLOCK in the Command line.
The Write Block dialog box will open.
Under Source, select the Objects option.
Then click OK.
Click Select Objects when prompted.
The Command line will prompt you to Select Objects. Select the entire title block.
Zoom in to the bottom right corner of the selected title block, and deselect all information that will vary frequently on different sheets where you place your title block. This includes:
Project description
Date
Page number
Sheet description
To deselect these items, hold down the Shift key while clicking them.
Press Enter. The Write Block dialog box will open again.
Click the "..." button to browse to the location where you want to save your title block. We recommend saving it within the same file system where you normally save your CAD drawings.
Your layout template will now contain only the information you deselected, allowing you to change it on your sheet template for each drawing.
Save your layout template again. Now, when you Xref your layout template into a drawing, any changes you make to the information pictured above will be effected on all sheets in that drawing. This is the major advantage to using the Xref method when creating your title block.
Note that once you've WBLOCKed the Paper Space linework out, you'll be able to Xref the resulting file into sheets. If you open the resulting file, you will see that the previously paperspace linework is now in Modelspace. If you want to avoid the WBLOCK step for whatever reason, you'll need to move the Paper Space linework into Model Space. You could Cut/Paste, or use the CHSPACE command (but for that command, the viewport would need to be set to a 1:1 scale).
Yet another method of preparing a file to be a title block Xref is to follow the very first steps in determining the sheet size, then moving just the outer rectangle to Model Space. There, you can confirm (in Paper Space units) that it is the correct size (e.g., 36.0 by 24.0). Then you can complete all editing in Model Space. You can then Xref the file into a sheet file at any time.
Option 2: Saving Your Title Block Using Save Block (To Insert as a Block)
Another option is to use our Save Block tool to save your title block into our system. You can save it into one of the existing folders in the Discipline Graphics library, or create a new subfolder within the folder LandFX/Blocks/discipline_graphics to store your title block files.
If you choose to use this method, you'll use our Discipline Graphics tool to place your title blocks when you need them on your drawing sheets.
Saving your title blocks as DWG blocks in this way requires less time than bringing them in as Xrefs (Option 1 above). However, because the Xref method allows you to make global edits across multiple sheets simultaneously whenever you need to change the information in a title block. If you keep all of your sheets in separate drawings (as we recommend), it's a good idea to use the Xref method when creating your title block template.
To save your title block as a block, open our Save Block tool. You can then select and save your title block as you would any other block.
Save your title block template within the folder Blocks/discipline_graphics within your LandFX folder.
If you want, you can create a new subfolder within discipline_graphics to store your title block templates.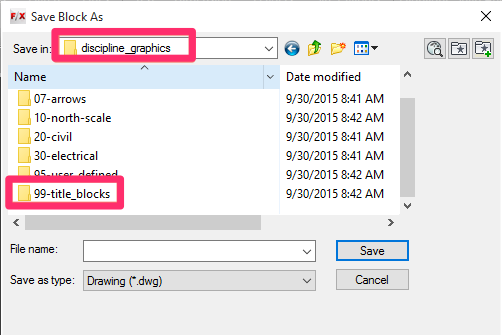 Once you've saved your title block template in this way, you'll use our Discipline Graphics tool to place it in your sheets when you need it.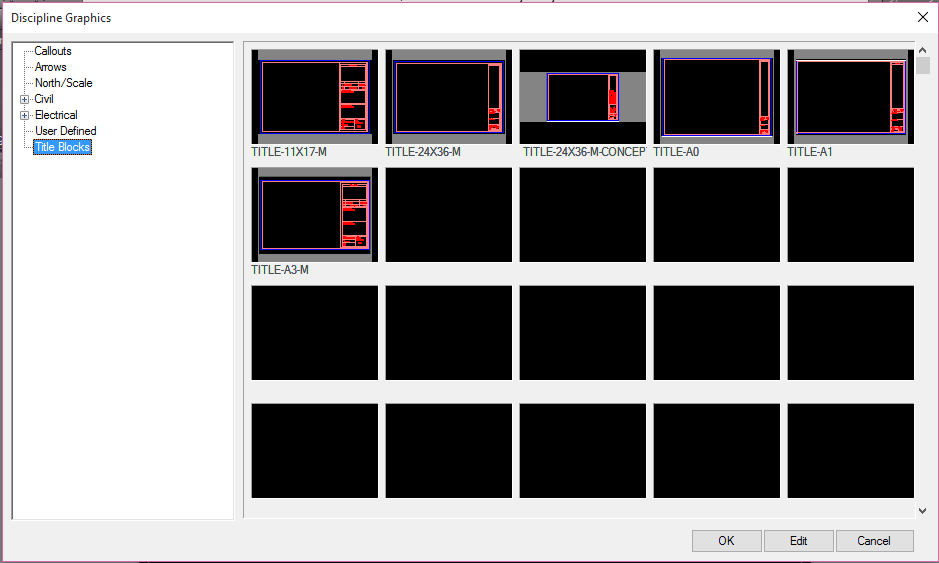 Pros and cons of bringing in your title block as a block:
Pros:
The block method requires less initial setup time than the Xref method.
Blocks can be placed quickly into drawings, and may be sufficient for smaller projects.
No need to worry about Xrefs detaching from a drawing.
You can easily set up one block per paper size, store the blocks within our system, and place them as needed.
Cons:
Once you've placed a title block in a drawing, it only resides there. You'll need to edit each one individually.
If you don't make your block correctly – for example, if the units are set incorrectly – inserting the block will be a nightmare, and it won't look right.
Our conclusion: Although it's initially faster to save your title block template as a block, you'll save yourself time in the long run by saving it as a DWG and Xrefing it into your sheets.
Creating a Template for Each Additional Layout Sheet Size
Now that you've created layout and title block templates for one sheet size, you'll need to repeat the same steps for each other sheet size you anticipate using. It may seem tedious to have to create each of these templates, but keep in mind that you'll only need to do it once. You'll then be able to bring in your templates quickly whenever you need them.
For easy access, we recommend saving the templates of all your sheet sizes into the same drawing.
Using Your Layout Templates in a Drawing
Right-click the plus (+) sign to the right of the existing Layout tabs at the bottom of your drawing.
Select From Template from the menu that opens.
Browse to the drawing template file you've created. Select it and click Open.
Select a sheet size you plan to use (example: 24x36). Click OK.
You'll now have a layout for the sheet size you selected, and can start placing your saved title block templates using our Discipline Graphics tool.
Troubleshooting