Are you accustomed to using an older version of AutoCAD and are now having some trouble locating the icons to turn familiar features like ORTHO and SNAP on and off? Autodesk redesigned the Status Bar, which contains those icons, in 2015.
The Status Bar
In versions AutoCAD prior to 2015, the Status Bar was in the lower left corner of the CAD interface. Users could assign names to each of the icons for easy identification.
Newer installations have the buttons in the lower right corner, and they look a little different.
The Customization Menu
CAD allows you to toggle between making these buttons visible and invisible in the Status Bar. You can do so by clicking the Customization button, otherwise known as the Hamburger Button – the one consisting of three horizontal lines in the far bottom right corner of your CAD interface.
Clicking the Hamburger Button opens a vertical menu listing all possible Status Bar buttons. A check mark next to a menu item indicates that button for that tool will be visible in the Status Bar. If you uncheck an item, its button will no longer be visible in the Status Bar.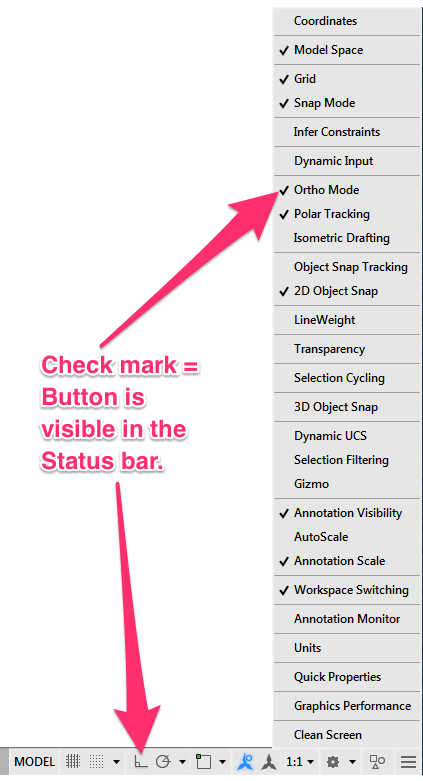 In the example above, we've toggled between making the Ortho button visible.
Turning Commands On and Off in the Status Bar
Once the button is visible in the Status Bar, you'll still need to click it to turn it on or off. Turning a button on will turn its icon blue. Turning it off will turn it black.
When the icon on one of the Status Bar buttons is black, that button's function is turned off.
When the icon is blue, the function is turned on.
In some cases, you might have a function turned on but won't be able to see its button in the Status Bar in order to turn it off. If you click the Hamburger Button to open the menu shown above, you'll see that the menu option for that function is unchecked. Place a check next to the function to make the button visible, then turn the function off. You can then leave the button visible or make it invisible again by unchecking its option in the Customization menu.
In other words, you may need to make a button visible in the Status Bar before you can turn it on or off.
Of course, you can always learn the keyboard commands for all these functions, which we recommend.
MODEL/ PAPER Toggles
The MODEL and PAPER toggles determine whether a sheet is set to Model space or Paper Space.

Toggle set to Model space

Toggle set to Paper Space
If you're having issues such as one of your sheets not being visible in Paper Space, you may need to switch this toggle.