Keynote Callouts are master callouts that you can save and apply to a number of details. The callout's text and its related reference number will be saved in a database for reuse across as many details where you use them.
Keynote Callouts Overview
Open the Keynote Callout tool:
F/X Details ribbon, Keynote Callout button
Detail Builder toolbar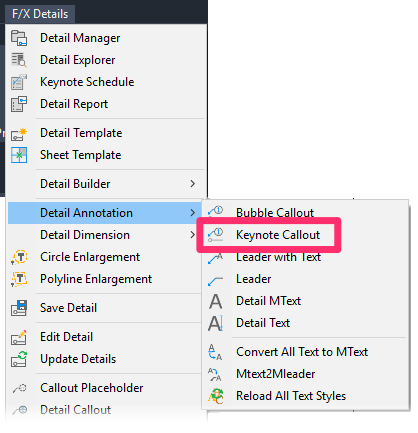 F/X Details menu, Keynote Callout flyout
or type FX_MaterialCallout in the Command line
The Keynote database saves the note with a Division, then a Subdivision, and then a note consisting of up to 256 characters. Our default system of Keynote Callouts is based on Construction Specifications Institute (CSI) classifications. However, you can edit these classifications to fit your needs.
1. Search for a Keynote Division.
2. Click New to create a new Division.
3. Edit a selected Division.
4. Keynotes you create will be listed here.
5. Buttons to:
Create a New Keynote
Edit an existing Keynote
Delete an existing Keynote
6. Additional buttons to:
Place a Keynote Callout
Place a Keynote Schedule
Creating a New Keynote
To create a new Keynote, click New.
1. Type your note here.
2. Each Keynote you create will default to the next available number. You can change the number here if you want.
3. Select a leader type for your Keynote Callout.
Placing a Keynote Callout
To place a Keynote Callout, select it and click Place.
The example Keynote Callout to the left represents CSI Division 03 (Concrete), Subdivision 01, note number 1.
The image to the right shows an example of a detail that has been annotated using Keynote Callouts.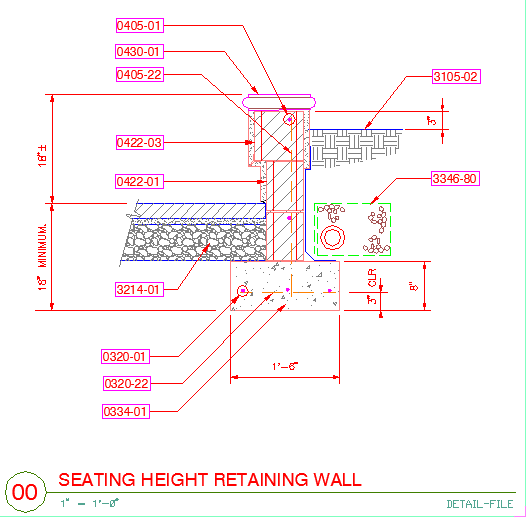 Keynote Schedules
Once you've placed several details in a Paper Space sheet in your drawing, you can run a Keynote Schedule to summarize all the Keynote Callouts within that sheet.
You won't place a Keynote Schedule within a detail. Instead, you'll place it in a drawing sheet that contains details that themselves contain Keynote Callouts. The schedule will list and identify all Keynote Callouts you've used in that sheet.
Open the Keynote Schedule tool:
F/X Details ribbon, Keynote Schedule option
Detail Manager toolbar
Details toolbar
F/X Details menu, Keynote Schedule option
or type FX_MaterialsSchedule
in the Command line
The Keynote Schedule tool will look into every detail you've placed on the sheet you currently have open. The schedule will appear on the same sheet.
Here's an example Keynote Schedule: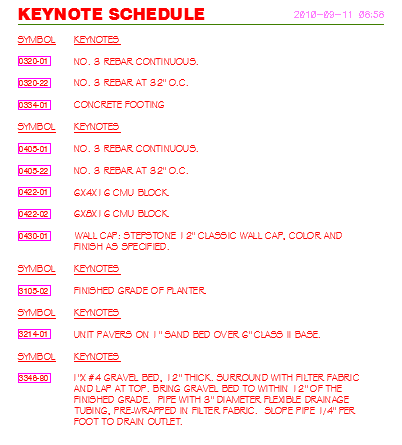 Theory:
Keynote Callouts differ from Bubble Callouts in that the note reference number will always be that specific number for all details where you've placed the same Keynote Callout. They also differ from Bubble Callouts in that the Legend or Schedule is not included on every detail, but is generated one time for all details you've placed on a Paper Space sheet.
Of the three types of text notations for details – plain text, text in a Detail Bubble Callout, and text in a Keynote Callout – the type you use is up to you. It's a good idea to conduct a thorough review of the strengths of each, and how each might best work for the kinds of details your firm creates, as early as possible.