Placing the finishing touches on a detail includes filling certain objects with hatch patterns. Our hatch library includes several hatches designed specifically for building your details.
Detail Hatch Patterns Overview
Open our Detail Hatch tool:

F/X Details ribbon, Hatch button
Detail Builder toolbar
F/X Details menu, Detail Hatch flyout
or type FX_DetailHatch in the Command line
The Hatch dialog box will open with the Detail tab selected.
This dialog box contains thumbnail images of all our Detail hatch patterns. We've designed these hatches for specific uses within details you create.
You can use the scroll bar to scroll down and see additional hatch patterns.
Once you've found the hatch pattern you need, click it to select it. Then click OK to place the hatch.
Our hatch patterns are simply graphic standards for typical materials you can use in the creation of a detail. You can easily add more patterns to this library using our Save Hatch tool.
Editing a Hatch Pattern
To edit one of the hatch patterns as it will appear in your drawing, select it in the Hatch dialog box and click Edit.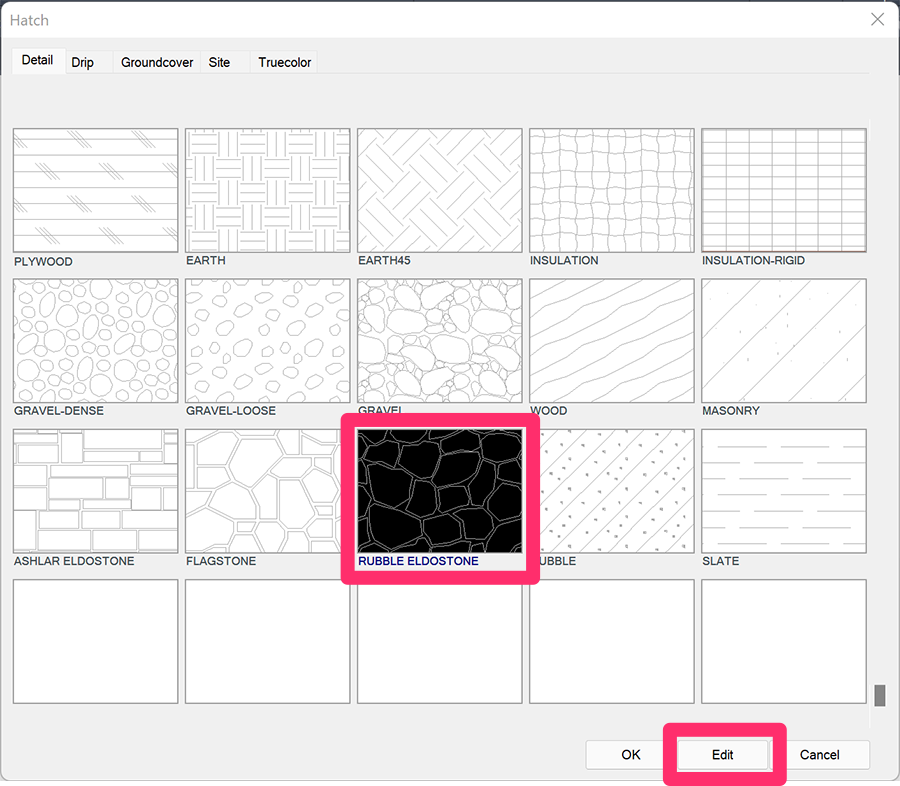 The following dialog box will open when you click View.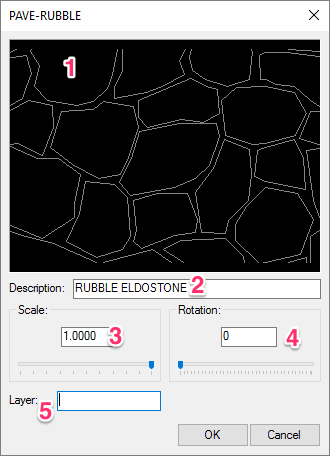 1. Detailed view of the selected hatch pattern
2. If you want, you can change the description of the hatch pattern in this field.
3. This field shows the scale of the selected detail. To change the scale, you can either type a value or use the slider to set a new scale.
4. This field shows the rotation, in degrees, of the selected detail. To change the rotation, you can either type a value or use the slider to set a new rotation.
5. If you want, you can type the name of a layer where the hatch pattern will appear.
Editing a Placed Detail Hatch (Hint: Use Our P-Hatch Tool)
Need to add to or subtract from an existing placed detail hatch?
If so, we recommend using our P-Hatch tool rather than the native CAD Hatch Edit command. Here's why.
Related Webinars
Details for Beginners: Take a full tour of our detail system, where you'll learn how to navigate our detail library, find the details you need, and use them in your drawing set. (1 hr 1 min)
Troubleshooting
Issue: Detail hatches are appearing as solid rather than as patterns
Issue: When you change a detail hatch description when editing that hatch, a new duplicate hatch is being created with the original description
Issue: Colors are displaying incorrectly in Model Space
Issue: While working offline, you are unable to access hatch patterns you've already used. The thumbnail previews in the Hatch dialog box are blank.
Issue: Your hatches are showing up incorrectly, or as random lines or solid colors