You can add various types of irrigation heads to your project from the Irrigation Manager.
The default install does not include all symbols, but many of them will download on demand. If you go to place a head, the symbol should download as necessary.
Adding Heads: Overview
Note that you can add up to two Turf Sprays in a project, and up to four Shrub Sprays.
To add heads to your project, open the Irrigation Manager:
F/X Irrigation ribbon, Irrigation button
F/X Irrigation menu, Irrigation Manager option
Irrigation toolbar
Irrigation Manager toolbar
or type ProjectIrrigation in the Command line
Select the Heads option in the Irrigation Manager.
Click New.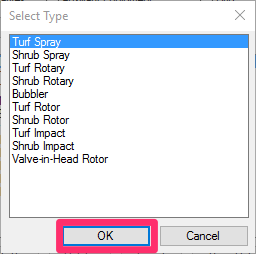 In the Select Type dialog box, select the type of head you want to add (example: Turf Spray).
Click OK to begin adding the head type.
The Select Manufacturer dialog box lists all manufacturers of the selected head type that are included in our database.
Select a manufacturer.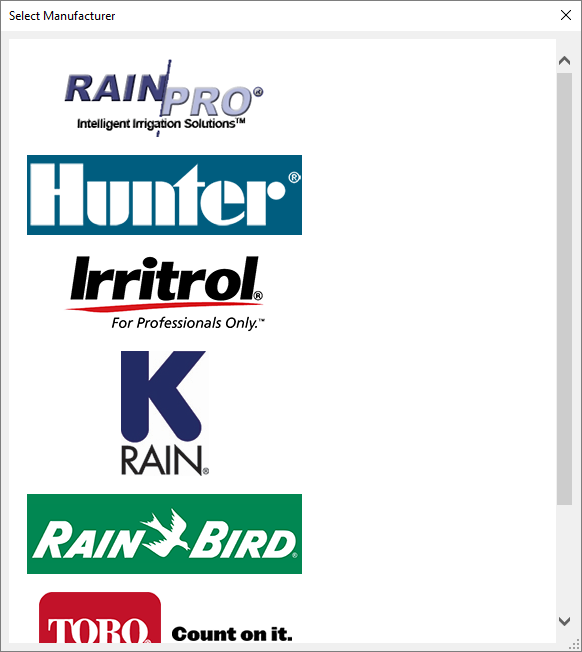 You'll now see a list of the series of the selected head type available in our database from the selected manufacturer in the Select Series dialog box.
Select the series of head you want to add.
Each series entry also includes a More Info link. Click More Info to read more about that series on the manufacturer's website.
The Select Model dialog box will open. Select a model from the series you picked.
Click Add to Project to add the model to your project.
Click View Data to see the manufacturer's Web page for the selected model, where you can see more information.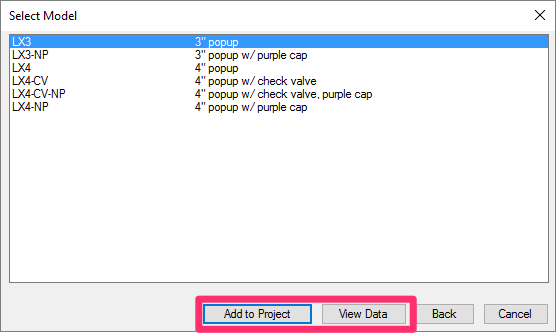 The Pressure Options dialog box will open, allowing you to select your desired pressure and spray radius reduction percentage.
1. You'll have an option for each available design pressure of the head you selected. A spray head's design pressure defaults to the pressure that provides the rated radius coverage for that head type. In this example, 30 psi is the default design pressure. Default pressures are only provided for spray heads. These default pressures result in the optimum performance for the nozzle, so a 12-foot-radius nozzle will provide a 12-foot radius of coverage (according to the manufacturer) with the default pressure. You can also select a different pressure if necessary.
Selecting a lower pressure will result in the corresponding manufacturer's listed radius for that pressure when you place the head in the drawing. Therefore, a 15 Series Rain Bird nozzle with a design pressure of 30 psi will appear with a 15-foot radius when placed in the drawing. If you select 25 psi for the Design Pressure, the radius drawn will be 14 feet, and if you select 20 psi, the radius drawn will be 12 feet – all as indicated on the manufacturer's performance data.
2. View Data: To view the manufacturer's performance data at any time during the selection process, click this button. This feature gives you quick access to the manufacturer's performance requirements to evaluate the suitability of the equipment for the required irrigation tasks. This button is also available within the Irrigation Manager and Equipment Options dialog boxes.
3. Radius %: Use this sliding bar to set the spray radius for the head when placed in your drawing. You may want a certain design pressure – say, 30 psi. You may also want to represent a smaller radius for a head than that listed in the manufacturer performance data – for example, if the project area experiences heavy winds, or if you wish to be more conservative in the radius represented by the head. Many designers prefer the radius on the irrigation plan to be drawn at an 85% to 90% radius reduction from that listed by the manufacturer for a given design pressure. Note that although this slide bar operates in 5% increments, the system will round the result down to the nearest whole number. Thus, a 5-foot spray head will be represented with a 4-foot radius with any radius reduction from 80 to 95%.
4. Click OK to add the head to your project. All nozzle combinations for this body type will be added to the project and be available for use in an irrigation plan
The head you added will now be listed in the Irrigation Manager.
Select the Show Components option to display all nozzles (each with a unique symbol) that have been added automatically with this model.
We've left the Show Components box unchecked as the default setting, mainly because this option results in an excessively long list of components.
Adding Rotor Heads
When you add a rotor to a project, you'll see the Select Symbol dialog box. Here, you can select a symbol to represent the rotor head you're adding.
Select your desired symbol and click OK. Note that we've updated our rotor symbols, offering three symbol types – including two new types that show spray direction. See Updated Rotor Symbols below for more information.
You can add to this symbol library or alter the existing symbols. See our Adding Your Own Spray Symbols page.
Updated Rotor Symbols
We updated our library of rotor symbols in 2019. You now have three options for rotor symbol types: No rotation, Arc Rotates, and Symbol Rotates. (Each type is described below.)
Select the tab for the rotor symbol type you want to use, then make your selection.
When you pick a symbol in one of the two new categories, the system will automatically put in a quarter (Q), half (H), three-quarters (TQ), or full (F) arc indicator based on the degree position of the arc. From there, that arc will be positioned in the direction of the spray.
No Rotation:
These symbols comprise our original default rotor blocks. The symbol will be fixed, and will place with no rotation.
This symbol type does not show spray direction.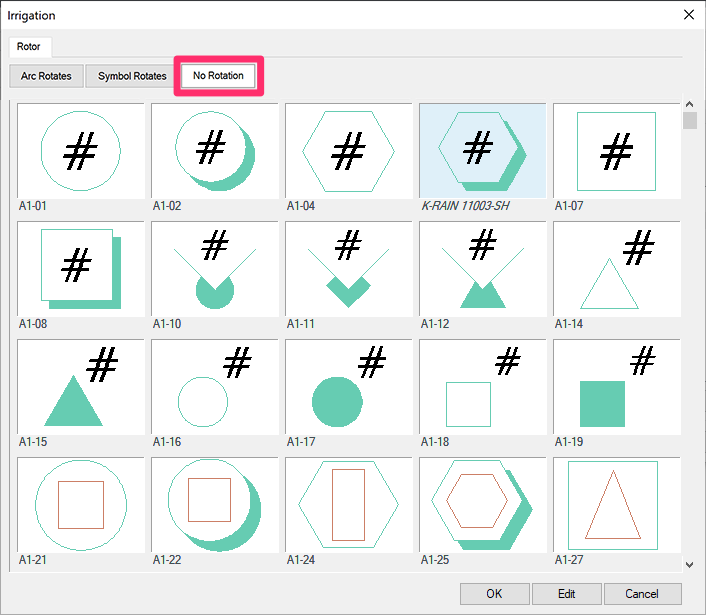 Arc Rotates:
These symbols include an arc that serves as a spray direction indicator. The symbol itself will place as you see it here, and the arc will automatically face in the direction of the spray.
Examples:
Symbol Rotates:
With these symbols, the symbol and arc are fixed, and the entire block – including both the symbol and spray arc – will automatically rotate to face in the direction of the spray.
Examples:
Adding Rotary Heads
When adding a rotary head to a project, you'll see the Select Symbol dialog box, where you can select a symbol family for the rotary head you've added.
With rotary heads, you'll only need to select the symbol family set you want to use in your project. Select your desired symbol family and click OK.
You can choose which symbol family to assign to each rotary manufacturer. Note that:
Symbols in families 1–4 do not include attributes, and symbols in families 5–8 include attributes.
The rotary symbols now include spray arcs to indicate spray direction, which appear automatically when you place a rotor.
Updated Rotary Symbols
We updated our library of rotary symbols in 2020. Rotary blocks are now using symbol families. You can choose from 8 families and create up to 49 of your own custom families.
See Updated Rotary Symbols below for more information on the updates.
You can add to this symbol library or alter the existing symbols. See our Adding Your Own Spray Symbols page.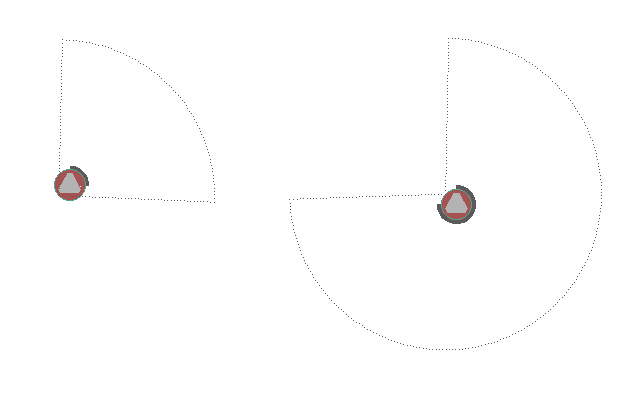 When you place a rotary head in a drawing, its symbol will include a spray arc block indicating the direction of the spray.
The symbol will place as you see it in the symbol selection dialog box, and the arc will automatically face in the direction of the spray.
For more information on the updated symbol blocks and their organization and naming conventions, see our expanded rotary symbols library documentation.
Want to continue using the old default rotary default symbols? Make sure the system variable USERi1 is set to 23 in each irrigation drawing file where you want to use the old symbols. After you've set the variable to this value, you won't be prompted to set a symbol family when adding rotaries in the Irrigation Manager, and the spray arcs will not be included when you place the symbols.
Our master Irrigation Symbols drawing is the best reference to see all rotary family styles together and see details such as naming convention. If you make changes to any of our default rotary symbols, it's a good idea to download the Irrigation Symbols drawing and make the same change there as well, for your reference.
Importing Heads from a Template or Project
If you find yourself adding the same heads to multiple projects, we recommend setting up a project template and then adding your commonly used heads to that template. You can then import individual heads into a new project from that template. This practice can save you immeasurable amounts of time, considering all the data you need to fill out for each head you add. With templates, you only need to add and configure your heads once, then import it – along with all attached data – into the present project.
For instructions on importing heads and other irrigation equipment into a project, see our Importing Irrigation Equipment documentation page.
Take care when importing irrigation equipment from other projects. Remember that a manufacturer could have changed or even discontinued a product line or model since you last used it in a project.
Information on Heads
For general information about sprinkler heads, see our Sprinkler Heads article in our Irrigation Equipment documentation section.
Changing the Symbols for Heads in Your Projects and Drawings
If you've already added a particular head to your project – even if you've already placed that head in a drawing – you may want to change its symbol to another one of our default symbols, or a version you've created. The method of changing out the symbol varies slightly between head types. See our documentation on changing symbols for irrigation heads.
Related Webinars
Troubleshooting
Issue: I want to replace plant symbols with bubbler symbols so that, when I go to pipe the bubblers, the system will recognize them
Issue: CAD is crashing when I try to access a manufacturer's equipment
Question: After I select a head, I don't see any options for selecting a head symbol. Am I missing a library item?
Issue: You received a "No Symbol" message when selecting heads, such as rotors or rotary equipment, to add to a project
Issue: Error accessing equipment data in the project
Issue: When I try to select a head size from the Irrigation Manager, the size of the head doesn't change when I place it
Issue: Error: 'Automation Error. Description was not provided' when placing or resizing heads, or toggling between nozzles
Issue: A head's symbol doesn't match the symbol family assigned to that type of head in your Preference Set
Issue: You received a "That equipment is already in the project" message when adding a head to a project
Issue: Error: You already have the maximum allowed of that type of that equipment in the project (when adding heads to a project)
Issue: You want to mix and match spray bodies and nozzles in order to specify a particular combination of body and nozzle