We've updated our irrigation performance data to port all metric data into its own separate database of values. This change will result in a dramatic improvement in the accuracy of flow and pressure data available to metric users.
Why the Update?
By creating a native database for all metric performance data, we've addressed a common issue faced by metric users: Most irrigation manufacturers operate solely (or largely) in Imperial units and offer very little, if any, metric support.
Prior to this update, our system would gather and display metric performance data values by converting existing Imperial values from manufacturers' performance charts in a single Imperial-based database.
Because conversion between Imperial and metric values is inherently complex (for example, 1 bar = 14.5038 PSI), the metric performance values displayed when a metric user added a particular head to a project could often be inaccurate as a result of the conversion.
Data from different manufacturers could be rounded up or down in different ways, so a head that called for 1.5 bar or pressure might show up as pulling 1.62 bar from one manufacturer and 1.7 from another.
Design pressure dialog box prior to the update
In short, with this separate metric database, we're able to match metric values with the exact values in manufacturers' performance charts, Imperial or otherwise. We haven't changed the way you select heads – they'll just pull accurate metric data instead of converting from Imperial.
Updated Design Pressure Dialog Box
In conjunction with this update, we've also made some extensive changes to the design pressure dialog box seen by users who are adding or editing heads. In the old version of this dialog box, metric users would see values with imprecise decimal numbers. In the new version, metric data will be shown correctly in nominal values.
Example manufacturer performance data chart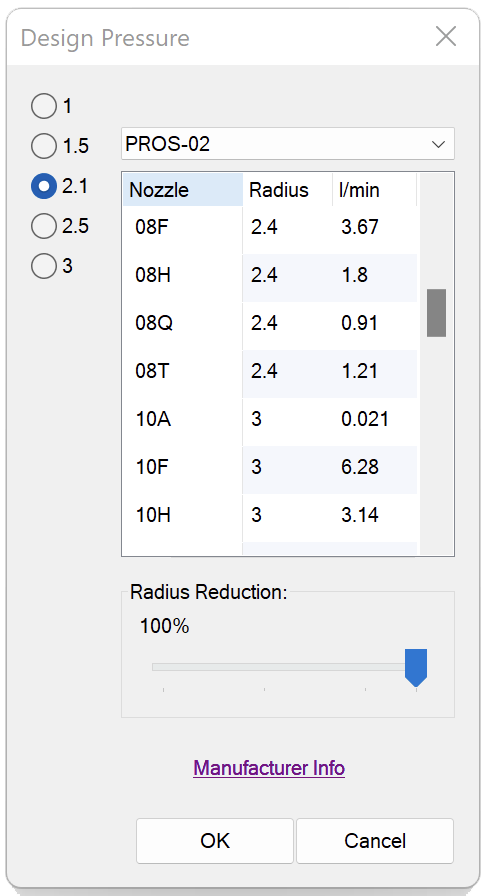 Design pressure dialog box after the update
This updated dialog box offers a number of additional advantages without changing the way you select and configure heads. More information
Possible Issues Metric Users Might Run Into As a Result of This Update
Issue: Your precipitation rates are extremely low after this update.
Solution: You can address this issue by resizing the lateral pipe in your system, which will update the precip rate from inch values to mm values.
Issue: Even after resizing your laterals, the flow and/or pressure for a valve are off by a large amount.
Solution: Use our Replace feature to replace the valve with the same valve model.
Issue: The water source or Schematic Area numbers are excessively off in your project.
Solution: Use our Edit Equipment tool to edit the item causing the issue. In the Equipment Info dialog box, confirm that the values are correct and click OK. The dialog box will be able to correct errant conversions in these cases.