Drip equipment includes the various components to supply water and provide flushing and air relief control.
These items are all placed in a similar fashion – with the use of the Place Equipment tool or from the Irrigation Manager.
Note:
Before placing irrigation equipment into your drawing, you'll need select it from our database and add it to your project. For more information, see our
Add Drip Irrigation Equipment to a Project
documentation page.
The default install does not include all symbols, but many of them will download on demand. If you go to place a head, the symbol should download as necessary. You can also have the system download all irrigation symbols from the
Check for Updates
feature if you'd like.
Placing Drip Equipment Overview
Open our Place Drip Equipment tool:
F/X Irrigation ribbon, Place Drip Equipment flyout
Irrigation toolbar
or type FX_PlaceDripEquip in the Command line
F/X Irrigation menu, Place Drip Equipment option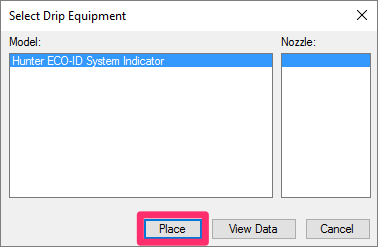 The Select Drip Equipment dialog box will open. This dialog box lists all drip equipment you've added to your project. Select a piece of equipment, then click Place.
If you used the Irrigation Manager to place the equipment, you'll skip this step.
Back in your drawing, click the locations where you want to place the drip equipment.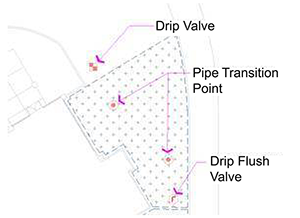 Placing a drip valve, pipe transition point, and drip flush valve within a drip emitter area
Piping the mainline to the drive valve, and piping lateral line to the two pipe transition points
Drip emitters are designed to look for plants in your Xrefs – not in the current drawing. When the software runs through the project to determine the number of plants for which it needs to calculate flow, it will look through the current drawing first. If it finds any reference to plants, it will stop looking. If it does not find any plants, it will then move on to the Xrefs. Therefore, you should always create your drip plan in a separate .dwg from your planting plan and then Xref the planting plan into your drip design. If the drawing containing your drip plan also contains plants, you will need to find and remove those plants. Here's how.
Related Webinars
Troubleshooting
Issue: After I select a piece of drip equipment, I don't see any options for selecting a symbol. Am I missing a library item?
Issue: A Drip Area isn't reading plants in the Xref
Issue: Polyline selected has arc segments – it must consist of only line segments
Issue: Error accessing equipment data in the project
Issue: When I try to select an equipment size from the Irrigation Manager, the size of the equipment doesn't change when I place it
Issue: Drip components in separate areas are connecting or sizing automatically
Issue: Unable to see hatches (including drip emitter or dripline hatches) or colorized plants in a 3D model (AutoCAD or Civil 3D)
Issue: Error Message when placing drip equipment: Lighting – Non-photometric lights: Non-photometric lights are not supported by the current render engine
Issue: When placing a drip emitter or dripline area, you received the following error message: Unable to locate target hatch
Issue: The pressure loss is too high in your drip control valve or drip kit valve
Issue: Your drip hatches are not showing up in Paper Space
Issue: High flow (GPM) calculated in your drip valves
Issue: Outside Limits error message in the Command line / you are unable to place drip equipment / can't see drip equipment in Model Space
<
Issue: You saw a Missing File Error when attempting to place drip equipment
Issue: Error: File ... .dwg Was Created by an Incompatible Version of AutoCAD when placing drip equipment
Issue: Error: "Unhandled exception in dcl-slideview-load ARX" when placing drip equipment
Issue: The drip tubing calculations are incorrect (too high) in an Area for Dripline
Issue: Drip emitter areas in your drawing are showing the incorrect emitter quantity or flow rate
Issue: Your equipment symbols are showing up white and the letters or numbers are not visible within them, or the equipment symbols and the letters or numbers within them are the same color