The Move Piped Equipment tool allows you to move a piece of irrigation equipment, including all connected pipes, as well as any pipe and/or valve callouts. This process helps you avoid having to erase all the objects and re-insert, pipe, size, and call them out, when all that is needed is to move them slightly.
Move Piped Equipment now also allows you to:
Select and move pipe callouts along with your pipes
Move pipes that include pipe hops
Move Piped Equipment Overview
Open the Move Piped Equipment tool:
F/X Irrigation ribbon, Move Piped Equipment flyout
Irrigation Piping toolbar
F/X Irrigation menu, Move Piped Equipment option
or type HeadMove in the Command line
When you select Move Piped Equipment, the AutoCAD Command line will prompt you to Select head, valve, or fitting.
Select the equipment you want to move. Press Enter when finished.
You can now move the equipment to its new location. All connected pipes, callouts, etc., will move correctly with it.
We've built several keyboard commands into the Moved Piped Equipment tool, which will help you work even more efficiently. See the Keyboard Commands section below for details.
In the drawing pictured to the right, several heads need to be moved in order to reflect site changes.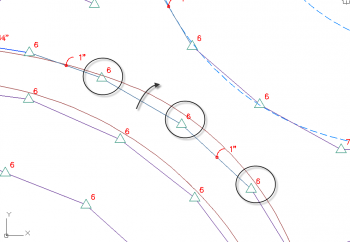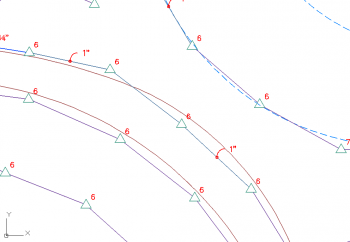 Click the first head, then move it to where you want it.
Click the other heads, then move them.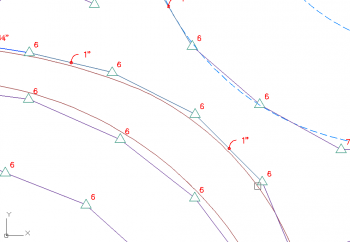 When we move a head, any pipe connected to that head also moves. Any pipe labels connected to the pipe move as well.
A valve needs to be moved to the left.
Moving the valve also moves the pipe, pipe sizes, and valve callout.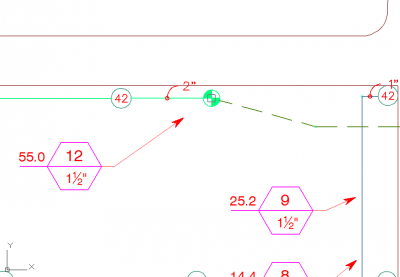 You can either right-click or press the spacebar to return the moved equipment to its original position.
Keyboard Commands
While using Move Piped Equipment, you have the option to use several keyboard commands to work more efficiently. To see a dialog box showing these commands (pictured below), type K in the Command line while the tool is active.
You don't need to type K to use the keyboard commands – it's just a quick way to reference each of the commands and what it does in the dialog box pictured to the right. To use the keyboard commands, just press the corresponding keys on your keyboard.
~`: Set the A and D keys to toggle between spacing or radius.
Q/E: Toggle to the previous/next radius.
W/S: Toggle to the maximum/minimum radius.
A/D: Decrease/increase the spacing or radius (depending on what you've set with the ~ and ` keys).
Spacebar: Restore the moved equipment to its original position.
Get to know our keyoard commands by playing our Drive game.
Error: Pipe Segment Has Missing Connected Entities
You might see the following error when trying to use the Move Piped Equipment tool:
Error: Pipe segment has missing connected entities.
Deleting pipe segment and aborting.
This error pops up when you try to use Move Piped Equipment on one end of a pipe but you're missing a fitting on the other end.
To correct the error, you'll need to redraw the segment or section of pipe connected to the equipment you tried to move. After drawing the pipe, check to ensure that all necessary fittings are present. You should then be able to move your piped equipment without generating the error.
Related Webinars
Troubleshooting
Issue: Error accessing equipment data in the project
Issue: Error: Pipe segment has missing connected entities. Deleting pipe segment and aborting.