Highlight Station is a must-use tool during the piping process that allows you to confirm that heads are connected properly, and that all heads are connected to the valve.
This tool highlights any equipment connected via lateral or mainline pipe so you can find it quickly in your drawing. You can click a valve in your drawing to find out which heads are connected to it. You can also click any piece of lateral pipe or head to find out which objects are connected to it.
Highlight Station is also convenient when generally reviewing a finished irrigation plan. You can use this tool to find out quickly which heads are connected to a selected valve.
Irrigation F/X now allows you to colorize your irrigation equipment using Highlight Station. For more information, see Colorize Components below.
Highlight Station Overview
Open Highlight Station:
F/X Irrigation ribbon, Highlight Station flyout
Irrigation Piping toolbar
Type FX_HighlightStation in the Command line
F/X Irrigation menu, Highlight Station option
You can select Highlight Station at any time during your irrigation design. The cursor will turn into a pickbox, and the Command line will prompt you to Select valve or piped component to highlight.
Use the pickbox to select any portion of pipe, or a piece of equipment such as a head, valve, etc. The system will highlight the component you selected, along with any pipe and equipment connected to that item.
Here's a section of an irrigation drawing prior to highlighting the mainline:
After you click any portion of mainline, lateral pipe, or equipment with the Highlight Station tool active, all pipe and equipment connected to the selected component are highlighted.
Highlight Station works in conjunction with our Verify Mainline tool in error checking mainline piping. For information on verifying the mainline, see our Verify Mainline page.
Selecting Highlighted Entities
After you've highlighted equipment, you'll be prompted in the Command line to Select component to highlight, or [Select highlighted entries.
At this point, you can type S to select all equipment that is currently highlighted.
All highlighted equipment in that station will now be selected.
Highlight Station and Lateral Piping
While piping a few heads, you can verify that all heads are connected. Selecting Highlight Station will open a pickbox. You can then select either a head or length of pipe to review its connections.
The pickbox near a group of heads that have been piped together
After you click a piece of pipe, all connections to it are highlighted.
This process is important during the piping process when you're just starting to learn the system, and when you use commands such as Head Autosnap.
Highlight Station is also critically important after you've piped a group of heads to a valve. It helps ensure that all heads you intended to connect to that valve are in fact connected. Use the pickbox and click the valve to find out what is connected to it.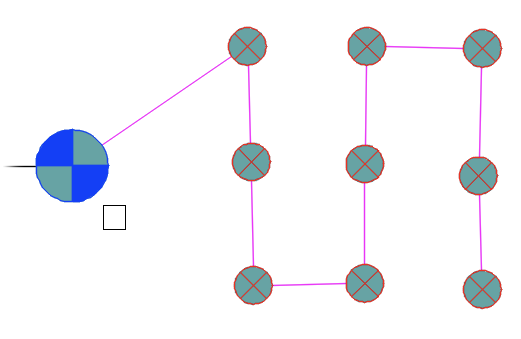 The pickbox is near the valve to be highlighted.
After you click the valve, the station is highlighted.
When you highlight a station, the valve will be highlighted in cyan, and the heads and piping will be highlighted in yellow. This color coding will help you find the source – in this case, a valve – quickly.
Highlight Station works in conjunction with our Verify Laterals and Verify Mainline tools in error checking your lateral lines. For information on verifying your laterals, see our Verify Mainline and Verify Laterals documentation.
Highlight Station and Drip & Schematic Areas
Highlight Station now recognizes valves placed within a drip area or Schematic Irrigation area as being connected to that area – even if the valve hasn't been piped to the area.
For more information, see our instructions for placing valves within a drip area or Schematic area.
Colorize Irrigation Components
In line with the many customization capabilities of our software, the Highlight Station tool includes a colorization feature. You have the option to render the irrigation equipment in the selected station into the color of your choice, adding variety to your drawing while also distinguishing stations from each other. You can also choose which zones to colorize.
Once you've highlighted a station by following the steps above, you'll now notice that the Command line prompts you to Select, [Colorize].
To colorize your components, type C.
For information on selecting colors, see our Selecting Colors documentation.
In our example, we've highlighted the heads and pipes pictured below.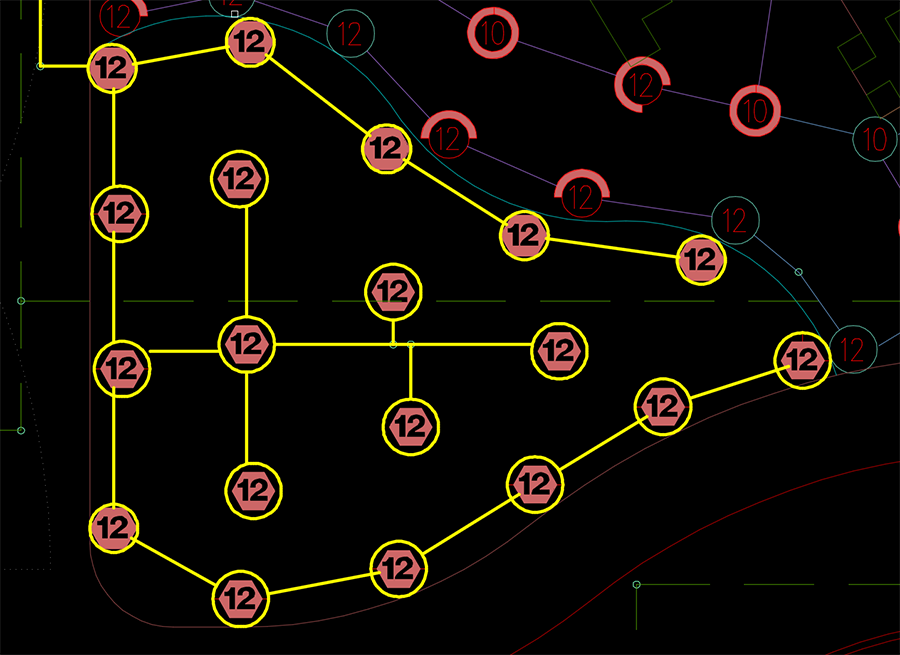 Once we use the Colorize feature, we've rendered the selected heads into the fluorescent green color we selected.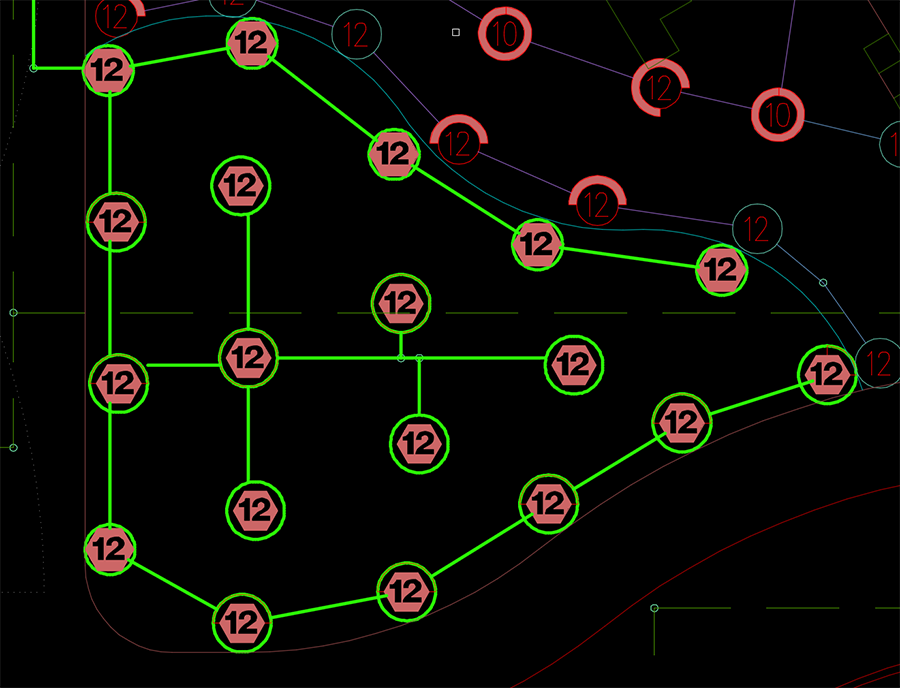 And here's what our colorized station looks like when plotted: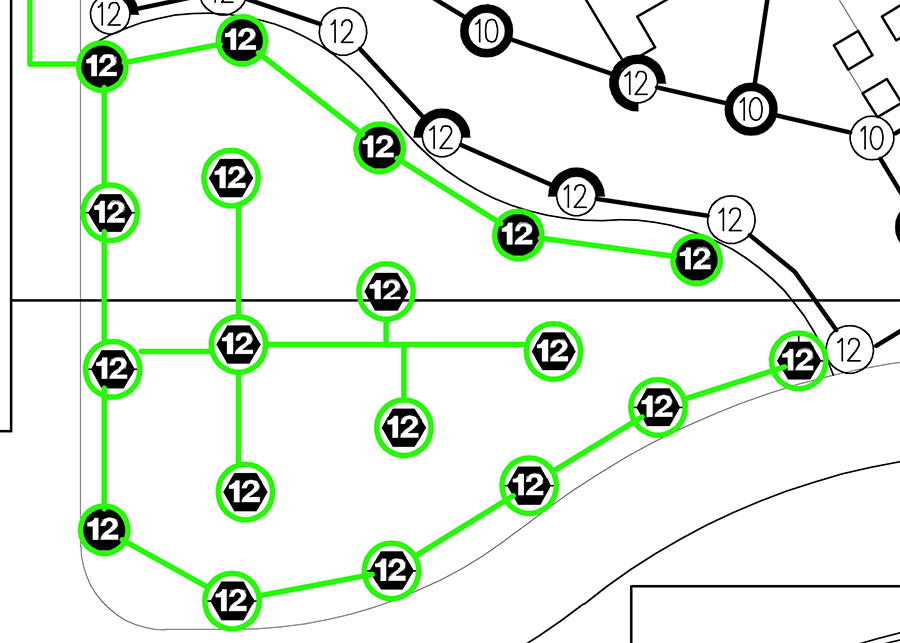 The colorization is placed on a unique layer for that zone. The system will not automatically turn it off or delete it, as it does with the primary highlight layer. If you are trying to colorize several zones, you may need to delete some layers manually, and manually turn the Lineweight setting back on.
Question: Can I use the Colorize option in the Valve Schedule to colorize all zones, and then use this setting to just change the colors of some of the zones?
Answer: As of now, no. We are pondering how to address this capability through the use of layer control, but you will currently notice that Highlight Station clears all color highlighting from the Valve Schedule Colorize Zones option.
Highlight Station and Xrefs
Highlight Plant will not work on stations or other Land F/X objects in Xrefs. You'll need to open the Xref to use our Highlight tools on those objects.
Related Webinars
Troubleshooting
Issue: You're getting a flow discrepancy from what you saw with the Highlight Station tool when you size your laterals, or the full flow rate (GPM) isn't being displayed