After you've drawn lateral pipe, you can use our Pipe Sleeve tool to insert sleeves on the pipes of your choice. Sleeves placed in your drawing will be called out in the Irrigation Schedule.
Insert Pipe Sleeve Overview
Open the Pipe Sleeve tool:
F/X Irrigation ribbon, Pipe Sleeve flyouts
Irrigation Piping toolbar
or type PipeSleeve in the Command line
Area on pipe to receive a sleeve.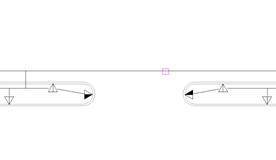 After you select Pipe Sleeve, a pickbox will appear.
Select the pipe in question.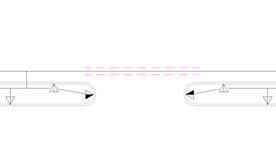 After selecting the pipe, click two points to draw a sleeve the length of the distance between the two points.
You can also place a sleeve where no pipe exists. This might be a case where you want a sleeve for future use, or one that is intended for just wire, etc. Instead of clicking a pipe, simply click two points and a sleeve will appear, spanning between those two points. In addition, you can use our Pipe Label tool to label the sleeve, giving it the size of your choice.