Though optional, Schematic Irrigation can play a vital role in your site design. Before you even begin your design process, our Schematic Irrigation tool can help give you confidence that you can meet your design parameters. It can also help you inform your client or agency where your design is headed and what the flow and pressure requirements will be – all in an extremely quick process. Schematic Irrigation areas (also known as zones) help you develop a general idea of the flow totals that will be required for specific areas of your irrigation design.
We recommend creating a Schematic layout before placing your heads (emitters). The Schematic areas you place in your drawing will give you a good idea of the flow requirements in various areas of your site. You can then place your heads with the confidence that you've created a viable basic layout.
Schematic Irrigation Overview
Open the Schematic Irrigation tool:
F/X Irrigation ribbon, Schematic button
F/X Irrigation menu, Schematic Irrigation option
Irrigation toolbar
or type FX_IrrigSchematic in the Command line
The Schematic Irrigation Zones dialog box will open.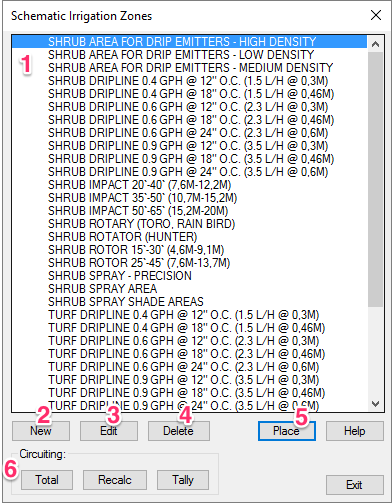 1. This list displays all possible Schematic Irrigation areas. Click a zone (area) category to select it.
2. Add a New Schematic Irrigation area category. For more information, visit our Creating a New Schematic Irrigation Category documentation page.
3. Edit an existing Schematic Irrigation area.
4. Delete an existing Schematic Irrigation area.
5. Place a Schematic Irrigation area into your drawing. For more information, see our Placing Schematic Irrigation Areas and Schedules documentation page.
6. Circuiting: This section includes the following buttons:
Total: Calculate the flow totals of all Schematic Irrigation areas in your drawing, and place a schedule of these flow totals into the drawing.
Recalculate the flow totals.
Tally the flow of a Schematic Irrigation area you select
Schematic categories are stored in the Preference Sets. Depending on which Preference Set you currently have open, you might see different categories. If your office has cloud data, you might not see any categories at all. If so, you can always click New to define new Schematic categories. You can also import our basic Metric set of preferences, which includes several pre-defined Schematic categories.
Important: Checking for Accuracy Before Placing Schematic Areas
Depending on your date of installation, the data in the
Schematic Irrigation
tool can sometimes be less than ideal. For this reason, before you place a Schematic area, it's important to check the precipitation rate and pressure assigned to that area to make sure they are accurate.
Before placing and using a Schematic area, highlight the area category in the Schematic Irrigation areas dialog box and click Edit.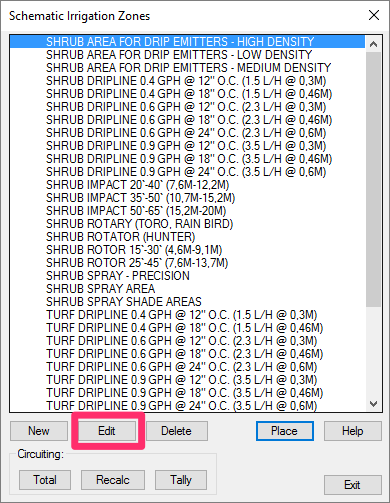 In the
Edit Schematic Irrigation area
dialog box, check the
Precip.
and
Pressure
figures. If necessary, change them to reflect your intended rates.
You can also make any other necessary changes at this point by following our steps to Edit Schematic Categories.
We've found some users' projects to have the following errors in the Schematic data:
Outright typo in original data set for some rotors
Precip rates transposed between dripline areas
Dripline areas with differing "safety" factors
Some areas have an efficiency/safety factor, while others are at 100% efficiency
All spray and rotor areas at standard triple coverage. In this case, of your region (for instance, the Pacific Northwest) irrigates with single head coverage, all those values will be higher than desired.
For this reason, we recommend taking a quick look and confirming these rates before placing Schematic areas.
Placing a Schematic Area
On any layer, draw a bounding polyline around an area you know will be a certain category of irrigation type.
For example, suppose you want Turf Spray in the area bounded with a black polyline.
In the Schematic Irrigation Zones dialog box, select a category from the list.
Click Place to place the Schematic area.
The cursor will turn into a pickbox, and the Command line will prompt you to Select polyline to hatch, [Draw Multiple].
You can now place your Schematic area in an existing closed polyline area or:
If you type M for "Multiple," the cursor will change to a pickbox that will allow you to make a polyline selection.
Selecting an Existing Polyline Boundary for Your Schematic Area
To select an existing polyline as your Schematic area boundary, use the pickbox to select a closed polyline area where you want to place the Schematic area.
The polyline area will fill with the color or hatch pattern associated with the area you selected, and the flow total of that Schematic area will be shown either inside or near the area selected – in our example, 42.39 gpm (or l/m in metric plans).
This number will be on a non-plot layer, and you will most likely need to click it and move it more to the center of your Schematic area.
You may want to replace the solid hatches in your schematic irrigation areas with different hatches, such as a black-and-white pattern. If so, you can simply edit a Schematic area and change its hatch from a solid TrueColor to a Site hatch. for more information, see our Editing Schematic Irrigation Symbols documentation page.
Drawing a Schematic area Boundary On the Fly
If you haven't yet drawn a polyline boundary for your Schematic area, you can do so on the fly after selecting the type of Schematic area to place.
When you go to place a Schematic area, the Command line will prompt you to Select polyline or interior point to hatch, [Draw Multiple].
Type D for Draw. The cursor will turn into crosshairs. You can then draw your boundary polyline to your liking. Once you close it, the Schematic area will appear within the polyline boundary.
Schematic Areas and Irrigation Schedules
After you have placed all Schematic areas for your design, you can run an Irrigation Schedule and review the Schematic Areas options in the Irrigation Schedule dialog box.
Open our Irrigation Schedule tool:
F/X Irrigation ribbon, Irrigation Schedule flyout
Irrigation toolbar
F/X Irrigation menu, Irrigation Schedule option
Irrigation Manager toolbar
or type IrrigSchedule in the Command line
The Irrigation Schedule dialog box will open.
Review the Schematic Areas options at the bottom.
Check the boxes next to the items in Schematic Areas that you wish to include in the schedule. Then click OK. The Command line will prompt: Upper Left Corner.
Click the upper left corner of the area in your drawing where you wish to place the schedule. The schedule will appear in your drawing.
The Irrigation Schedule with several Schematic Irrigation category types
Be sure to uncheck the boxes for any items in the Schematic Areas section that you don't want to include in the schedule, such as Cost.
Our Default Schematic Categories
We've compiled a list of settings for the Schematic categories available in our Imperial Preference Set. If you want, you can use the link below to download the list of our Schematic categories for your reference.
Circuiting Tools
The Circuiting section of the Schematic Irrigation dialog box includes a few tools that allow you to run global calculations on your Schematic areas.
Flow Total (Entire Drawing)
To place a schedule showing a flow total of all Schematic areas you've placed in your drawing, click Total.
Click a location in your drawing where you want to place the Flow Total schedule. The schedule will be placed in that area.
The schedule will have two sections:
Flow Totals: This section will list the flow totals of all types of Schematic Irrigation categories you've placed in your drawing.
Flow Available: This section will list the the available flow you've set in your Source Data. It will also list an approximate quantity of valves you'll need to stay within the available flow for each Schematic category.
Recalculate an Area's Flow Total
If you change the size of an existing Schematic area, you can quickly recalculate its flow total by clicking the Recalc button.
Select an area whose flow total you want to recalculate. The area's flow total will be recalculated, and the new flow total will appear within the area.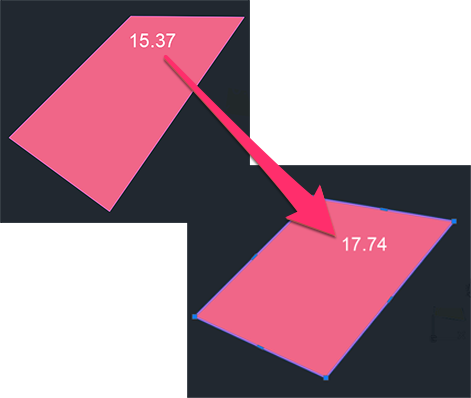 Tally the Flow Total for Several Areas
To tally the flow of multiple areas of the same type, click Tally.
Select the areas within the type you'd like to tally. Each time you click a different area, the combined total flow will appear in the Command line for all areas you've selected.
This feature provides a quick way to estimate the flow total you'll need for several areas without the need to pipe to each area.
Related Webinars
Schematic Irrigation: Our Schematic Irrigation tool helps you avoid making continual changes to your irrigation design layout at an early stage. Learn which Schematic types to use in certain areas, how to adjust areas, and what tricks you can use to create a quick schematic plan. (1 hr)
Getting Started with Irrigation F/X: Join us for this webinar to get going with the essential capabilities of Irrigation F/X. We'll show how to navigate through the Irrigation ribbon and build a familiarity with our conceptual-level tools, including Schematic Irrigation. You'll also learn the basics of adding equipment to a project, placing, piping, sizing, and scheduling. (1 hr 8 min)
Troubleshooting
Issue: Troubleshooting a Schematic area that is not working properly (for example, if flows to some Schematic areas are not dividing between valves properly)
Issue: When you place irrigation symbols, they seem to come in beneath the Schematic Irrigation Xref
Issue: Error: The polyline (or polygon) contains arcs or segments