The Irrigation Manager allows you to add a variety of auxiliary irrigation equipment. Options include:
Backflow Devices
Controllers
Controller Accessories
Central Control
Flow Sensors
Booster Pumps
Filtration
Fertigation
Enclosures
Thrust Blocks
Wire Bundles
Caps
Joint Resistant Fittings
The default install does not include all symbols, but many of them will download on demand. If you go to place a piece of equipment, the symbol should download as necessary. You can also have the system download all irrigation symbols using the Check for Updates feature if you would like.
Adding Auxiliary Equipment
You can add Auxiliary Equipment to your project using the Irrigation Manager. Open the Irrigation Manager:
F/X Irrigation ribbon, Irrigation button
F/X Irrigation menu, Irrigation Manager option
Irrigation toolbar
Irrigation Manager toolbar
typing ProjectIrrigation in the Command line
The Irrigation Manager will open.
Select the Auxiliary Equipment option, and click New.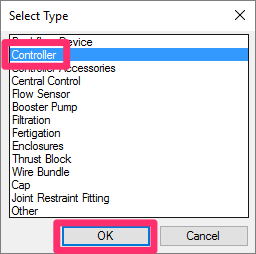 Select a type of equipment to add in the Select Type dialog box (example: Controller).
Click OK.
You'll now see a list of manufacturers in our database offering the type of equipment you selected.
Scroll to and select the manufacturer of your choice.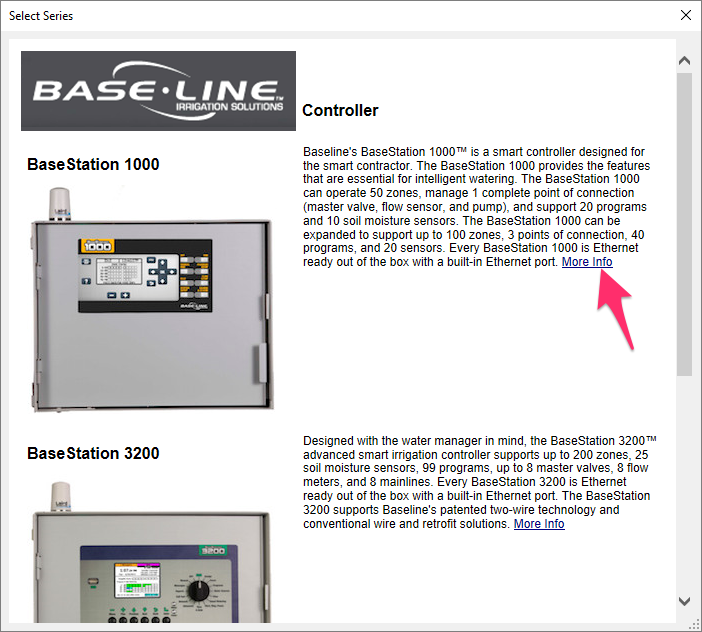 The Select Series dialog box will open.
Scroll to and select the series of equipment you want to add. To see more information about a particular series, click the More Info link next to that series. You'll be brought to the manufacturer's Web page on that series.
The Select Model dialog box will open. Scroll to and select the model you want to add from the selected equipment series.
Click Add to Project to add the selected model to your project.
You can also click View Data to see information about the selected series on the manufacturer's website.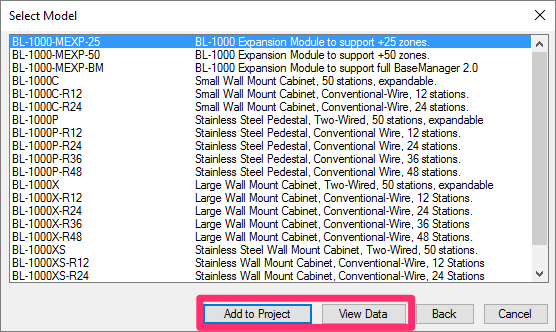 Once you've added a piece of equipment to your project, it will be listed in the Irrigation Manager.
If you add a controller, you'll be asked whether you want to add controller accessories as well. You can do so now if you want, or wait until later.
More information
Editing Auxiliary Equipment
To view and edit information assigned to a piece of auxiliary equipment, highlight it in the Irrigation Manager and click Edit.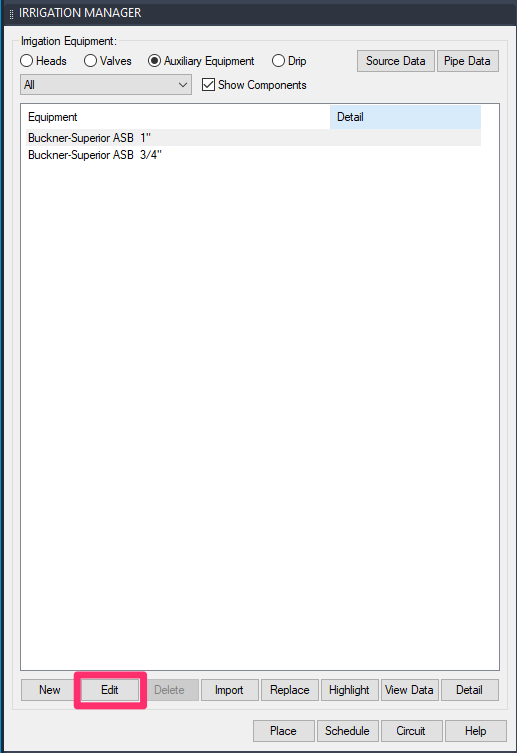 =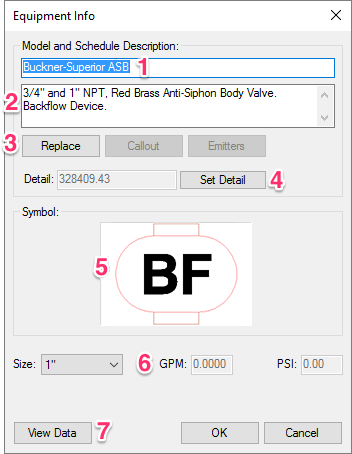 1. The top field contains the Model name. You're limited to only one line of text here. You can now fill in the actual model number for your item or just click OK and edit this information later.
2. This text box contains the Schedule Description. The text here is intended as a description of this equipment, along with any other helpful information, such as the power supply or what type of footing or enclosure is needed. The text in this box is limited to 256 characters.
3. Click Replace to replace the selected model with another equipment model.
4. If you want a detail associated with this item, click Set Detail.
5. This box contains a thumbnail image of the symbol assigned to this piece of equipment. Click the thumbnail image to see more details on the symbol or edit the symbol.
6. Depending on the component, you may see a Size menu, where you can select a size for the component, as well as text fields for flow (GPM) and pressure (PSI).
7. Click View Data to see the manufacturer's performance data for this piece of equipment.
If you click the Symbol thumbnail (see #5 above), you'll see a dialog box containing your options for symbols to represent the component. You might see several options, or only one option, depending on the type of equipment you've selected.
Adding Other Miscellaneous Equipment
Adding Controller Accessories
When adding a controller, you'll be asked whether you want to add controller accessories as well.
Click Yes to add accessories, or No to simply add the controller.
If you click Yes, you'll be brought to the Select Series dialog box for controller accessories, and you can add any accessories you need by following the same steps described above.
Controller accessories might come in a wide range of various options, from rain or freeze sensors, to enclosures, communication modules, remote control devices, etc.
You can also add controller accessories to the project directly from the Irrigation Manager by clicking New and then selecting Controller Accessories from the list that opens.
The Controller Accessories available in our database include a variety of options, including two wire decoders or even lightning surge protectors, which are technically placed as a symbol near a valve in the field. This type of item is still related to the controller, and the category of Controller Accessories will include a wide variety of options that require review.
Booster Pumps
The Equipment Info dialog box for Booster Pumps includes two additional text fields:

Pump Pressure Increase: This amount will be added to the system pressure at the source.
Pump Maximum Flow: This number will simply be the flow limit expected at the source.
Adding a Thrust Block
A thrust block is typically a poured concrete blocking placed at a directional change in an irrigation line.
You'll only have one option in the Select Manufacturer dialog box: Custom. Click this option to select it.
The Equipment Info dialog box will open, allowing you to enter all the necessary information for your custom thrust block.
Adding a Wire Bundle
A wire bundle is a location where you want to specify several wires for a future phase of work.
Adding a Cap
In terms of our auxiliary equipment, a Cap refers to a cap on either a lateral line or mainline pipe.
Caps you use in your drawing will now appear in the Valve Schedule.
When adding a cap, you'll assign it with the flow and pressure demands you anticipate for that location.
The system will then size with that requirement, allowing for a connection with a known flow and pressure.
Important note:
A cap represents a demand – not a water source. If you use caps in your design, you'll still need to add and place a water source or point of connection (POC).
Caps come in extremely handy with systems that are adding on to an existing system design, as well as those that you might plan to expand at some point in the future. More information: