If you find yourself adding the same plants to multiple projects, we recommend setting up a project template and then adding your commonly used plants to that template. You can then import them into a new project from that template. This practice can save you immeasurable amounts of time, considering all the data you need to fill out for each plant you create.
With templates, you only need to add and configure your plants once, then import them – along with all attached data – into the present project.
The steps on this page also apply to importing plants from regular Land F/X projects. However, we recommend setting up and importing from a template – mainly because templates are set up to be read-only. This means you can rest assured that the plant data in your templates hasn't changed when you import your plants into a project.
We've removed the Add from Project and Add from DWG buttons from the Add Plant dialog box. The steps outlined on this page replace the Add from Project feature.
In addition, our software allows you to copy and paste plants between drawings. For instructions, see our Copy from DWG documentation.
Why Import Plants?
As you've probably found out by now, adding plants individually to a project involves a considerable amount of time and effort. It's a process that requires you to search our database of 24,000 plants (and counting); select a genus, species, and variety; then selecting a symbol, setting a cost, assigning a container size, symbol width ... the list goes on.
Not that you'd want to skip any of these steps – setting all this data puts you in complete control over the plants in your palette and the information attached to them.
That's exactly why we engineered the ability to import plants from a template or project. You've taken the time to build your palette and configure all the necessary information, which is all consolidated in one central location. By importing plants into new projects, you're simply bringing in the plants and all assigned data at once, rather than having to make all the selections and assignments each time you add the same plant.
Of course, you can always edit plants you import and add new plants to round out your palette in the new project. Bottom line: Importing is a really good idea.
A Note on Templates
Our software allows you to add Land F/X objects such as plants and Reference Notes to a project, configure all data for these objects, and then save that project as a template. Once saved, a template becomes a limited database of those items you use the most often, along with the data you've assigned to them.
Templates are a great way to organize plants and other items you commonly add to your projects. You can create different templates for any number of uses, including:
Different clients or municipalities
Types of property (commercial, residential, etc.)
Project sizes
Design groups (ornamental, native, restoration, planting, tropical, etc.)
Sun-, shade-, drought, or salt-tolerant plants
For information on how to make the most of our project templates, see our Templates documentation.
How to Import Plants
You can import plants using the Plant Manager:
F/X Planting ribbon, Planting flyout
Plant Manager toolbar
Planting toolbar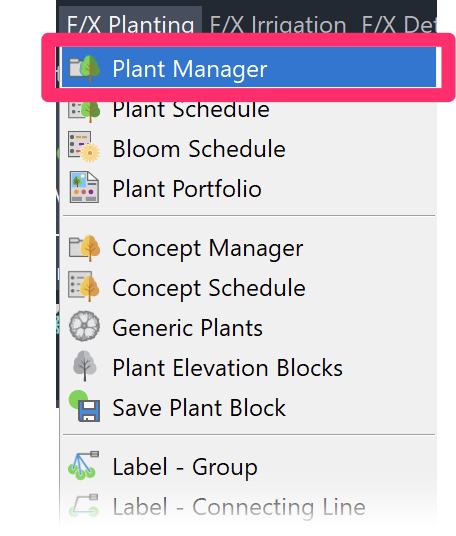 F/X Planting menu, Plant Manager option
or type ProjectPlants in the Command line
To import plants into the current project, select one of the four plant categories in the Plant Manager (Trees, Shrubs, Shrub Areas, Ground Covers).
Then click Import.
You'll need to repeat these steps for each plant category that includes plants you want to import into the current project.
The Select Project dialog box will open.
Select the template or project that includes the plants you want to import.
Click OK.
You'll now see a dialog box that lists all plants from the selected category in the template or project you selected. The example to the right shows the Trees category.
Highlight the plants you want to import, and click Add to Project to add them to the current project. Click Done when finished.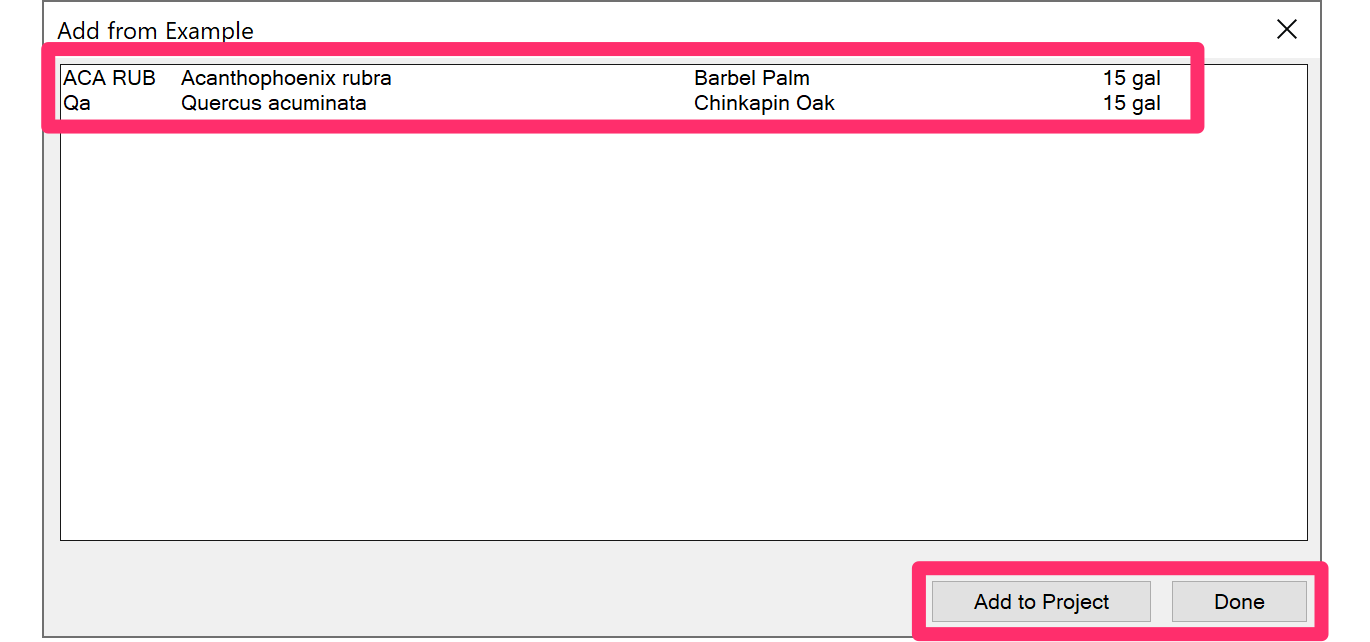 The Plant Manager will now include the plants you've imported from the selected category (example: Trees).
Those plants, and all their data (such as sizes, symbols, and costs), are now added to your project. You can edit or place them as needed.
If you were to select one of these plants and click Edit to open the Plant Info dialog box, you'd see that the plant is already assigned the symbol and all other data assigned to it in the project or template you selected when importing your plants.
Plant Symbols Showing Up Blank?
If you've imported plants from another project or from a project template, you might notice that some of those plants' symbols are showing as blank when you try to place them.
Those plants are showing as blank because they are assigned the same symbol as plants that already exist in the current project. We engineered this setting as a safeguard against duplicating plant symbols in your project. You can simply select a different symbol for each of those plants, or select a different symbol for the plant with the duplicate symbol and then select the original symbol for the imported plant.
Editing Plants You've Imported
If needed, you can make any necessary changes to plants you've imported. To do so, follow the instructions in our Edit Plant Information documentation.
Any changes you make to each plant you've imported will apply to the current project, but not to the template or project you sourced when importing the plant.
Importing Plant Subcategories (Groups) from a Project Template
Our Plant Manager allows you to organize plants within the four categories into subcategories, or groups (available in the menu pictured to the left).
These subcategories are currently available on a project-by-project basis, which means you won't be able to import them when importing plants from a template.
We have plans to engineer this ability into our software. In the meantime, you can follow our workaround instructions for importing plant subcategories from a template.
Importing Duplicate Plant Symbols: An Important Note
When importing a plant that has the same symbol as another plant that's already in the Plant Manager, you might notice that the new plant imports without a symbol assigned.
This is not a bug – it's a feature we've engineered purposely into the software. The best CAD standard for any discipline calls for assigning different items with different blocks. Just as two different types of chairs shouldn't be assigned the same chair block or two different types of pavers shouldn't have the same hatch, two different types of plants should ideally have different blocks.
We've purposely allowed our Diagrammatic and Alphanumeric symbols to import as duplicates. (See below.)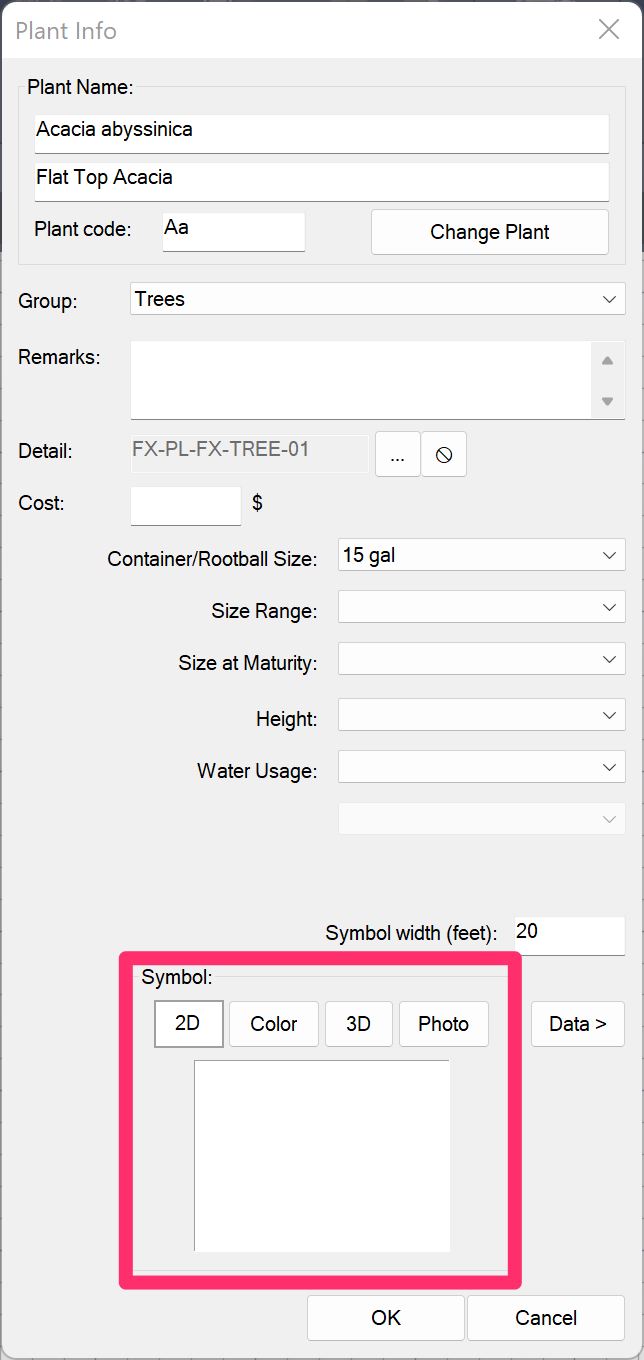 If you think you'll run out of plant symbols if you don't use duplicate symbols, think again. You can even use our Diagrammatic symbols or Alphanumeric symbols (see image below) if you want to keep your shrubs or trees looking similar to each other. Diagrammatic symbols are essentially our Simple symbols with different trunk types, allowing you to place slightly different symbols for each type of plant. Alphanumeric symbols have plant codes built into them, allowing you to have symbols that are similar in appearance but have each different plant's code built in for easy identification.
You're still welcome to assign the same symbol to different plants in a project. The system will be able to tell between them, but you'll need to reassign the block to each plant you import, unless you use Diagrammatic or Alphanumeric symbols.
Related Webinars
All About Templates: The word "template" can refer to several components in the AutoCAD and Land F/X systems. We break down the different types of templates available to you, including drawing templates (DWTs) and Land F/X project templates, and provide some helpful tips on using them to your advantage. (1 hr 4 min)
Setting up Templates and Preferences for Repeat Clients: To save time and increase your accuracy, learn how to deliver a consistent drawing package for your repeat clients by setting up project templates and Preference Sets. (50 min)
Using Plant Templates: Project templates are focused and reusable palettes of your most frequently specified plants. This intermediate-level webinar will cover the best workflow for customizing templates. (1 hr 1 min)
Troubleshooting
Issue: AutoCAD freezes or crashes when you try to import plants – and your office is on Cloud Data