We've implemented a plant tagging system to identify specific characteristics of plants in our database. These tags, which replace the checkbox system we previously used to record plant data, identify data about a variety of aspects of each plant. We've broken them into groups based on type of characteristic.
In rolling out this tag system, our hope has been to achieve a profound expansion of the data associated with each plant species, all while allowing that data to be searchable through the Filter Search function. As a result, we hope the tag system will make it much easier for users to find plant material they want to specify. Users will be also able to include much more data about the plants in their schedules than previously possible.
How Our Plant Data Tagging System Works
We follow the botanical nomenclature rules set out by the International Code of Nomenclature for Cultivated Plants (9th Ed.), published by International Society for Horticultural Science (ISHS) – the rulebook for botanical and horticultural nomenclature, and a go-to source when you're unsure of a nomenclature rule.
Although all Land F/X users can edit tags, our team will continue to add data and vet user data for accuracy.
Disclaimer:
Unlike the plant names within our plant database, our tagging system can be edited directly by users. As we roll out this new system, we lack the capacity to tag each of the tens of thousands of plants in our database, although we are always working to add tags and check users' entries for correctness. When Land F/X team members enter tags, those tags are based on data from nursery and botanical garden websites, or from horticultural books. Because we do not grow the plants ourselves, we cannot verify the validity of the data beyond the reputation of the data sources we use for data entry.
Also keep in mind that a particular species' growth and needs can vary from one location to another. Because the plant database is employed by Land F/X users all over the world, it's always a good idea to ensure that the data in the tags is also true for plants grown in the region where your project is located.
You can view and edit data associated with a particular plant by:
You'll now see a dialog box showing data for the selected plant variety.
This data is wiki-based, meaning you can make adjustments to it based on your knowledge of the plant. This feature allows user input into the data presented within the software. In turn, it allows the software to grow as a result of input from our clients.
Tabs (Data, Photo, Description, Discussion
At the top of the plant data dialog box, you'll now see four tabs. Select one of these tabs to configure a plant's data, add a photo, or complete other actions:
Data: All data tags and most other information assigned to a plant will reside here.
Description: Here, you'll find information about the selected plant such as taxonomy notes.
Discussion: Have a question or comment about the selected plant? Want to ask whether a photo assigned to the plant is correct, or suggest a photo of your own? Open this tab and click Log In to log in to the Land F/X Portal and add your comments. Our staff will read and vet your comments, and, if applicable, take the appropriate action.
Choose the Language for a Plant's Common Name
The wiki-based data section also includes options for naming the selected plant.
To use the common name for the plant in your language, select your language from the menu on the right (example: English).
These local names are crowd-sourced, with all Planting F/X users able to help edit them. If you want more control over local common names, you can edit the plant name field on the left. If you enter a custom plant name, it will be added to your local project data and can be saved to your planting template.
Note that all these changes are sent to our team so we can vet them.
Custom Tags & Fields
We offer two methods for adding custom data parameters:
Custom Tags: A quick and simple way to add your own data parameters to our existing tag groups
Custom Fields: Used for designations that aren't currently included in our plant data groups
Custom Tags
If you don't see the tag you're looking for within one of our tag groups, you can add it yourself. You can add any tag you want – even one that is not approved for everyone's use.
First, determine which tag group your new tag will fall into.
For example, if you wanted to include in your data that Quercus durata tolerates serpentine soils, you can simply add serpentine as a tag in the group Soil Tolerances.
For more information on each tag group, see our Our Plant Tag Groups below.
You can then just click into the group and type your desired tag and press Enter.
To be consistent with our existing tags, take care to capitalize the first letter of the tag.
The tag will be saved in your plant data and will now be applied to this plant material.
Your custom tag will also be sent to our database managers, who can then approve that tag for all users if we determine it to be applicable.
When you place a Plant Schedule that includes plant data information, this tag will show up within the group where you created it – in our example, the Soil Tolerances group. This method can be used as a simpler alternative to Custom Fields.
Custom Fields
Some plants will also include a custom fields section, where you can check boxes that apply other data to that plant.
These data fields will be included in your Plant Schedule.
Note that custom fields are no longer really needed because you can type anything into the tag system and save that data.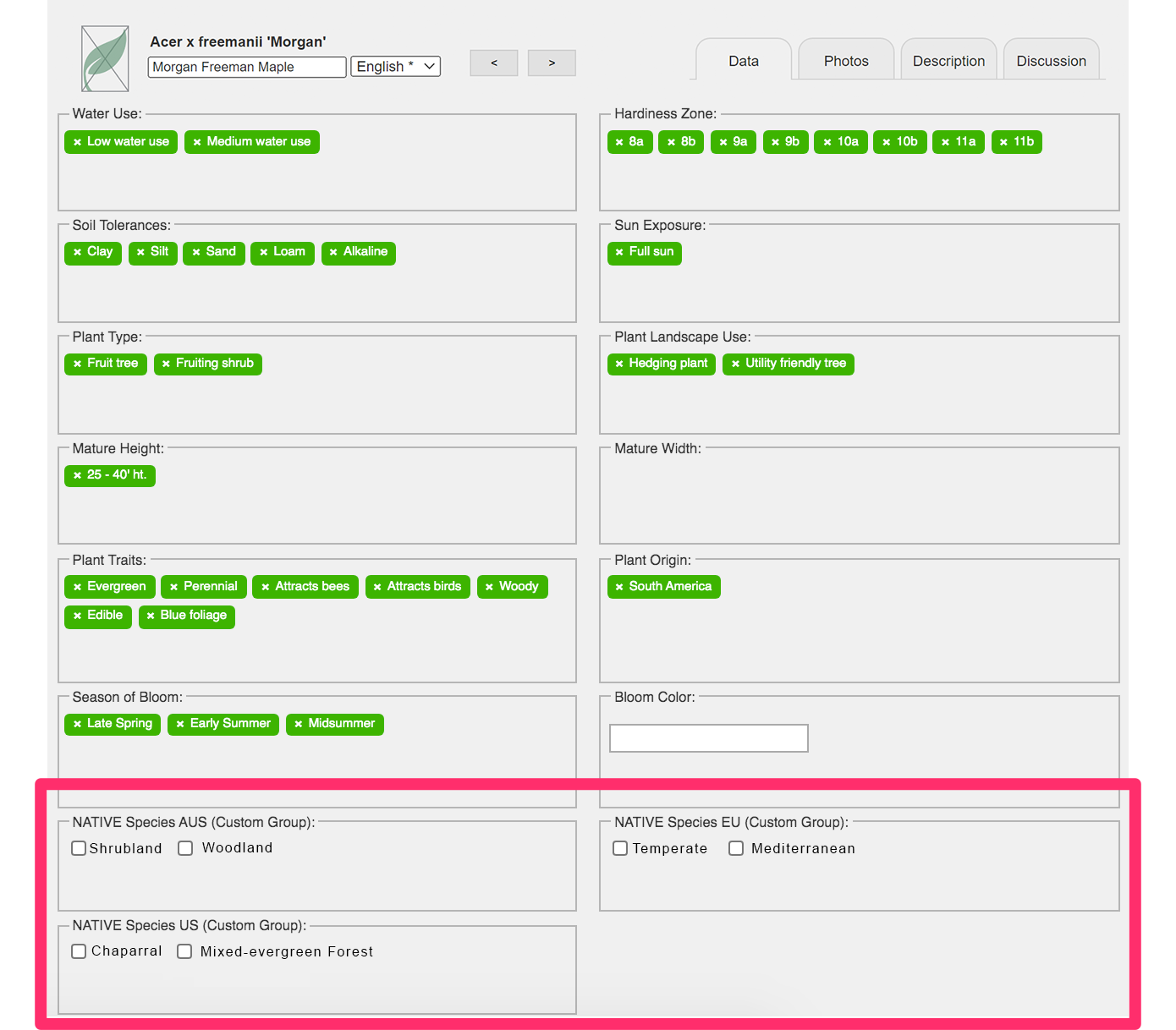 Plant Photos
To view photos of the selected plant submitted by Land F/X users, select the Photo tab at the top of the plant data dialog box.
This feature does not assign photos to your plants for photo callouts – it's just a way for you to view a photo of the selected plant for your reference when adding it to a project. To assign a photo to a plant in order to call out that plant in a drawing, see our Plant Photo Callout documentation.
If you or another user has entered a photo of the plant, you'll see it here.
If the photo appears to be incorrect for the selected plant, or if you want to suggest a different photo, you can add a comment using the Discussion tab.
Filtering Your Plant List by Tag or Trait When Adding Plants to a Project
When adding plants to a Land F/X project, you can use a filter search to look for plant material by specific tags. When you apply these filters to your search, the list of possible plants in your search will be reduced to only include those that are assigned the tags you select.
So, for example, if you only want to use plants that have low water use and can tolerate rocky soil, you can add those tags to your search filter and limit your search to only include plants that meet those criteria.
For more information and instructions, see our filter search documentation.
Reverting to the Legacy Version of our Plant Data System
Want to revert to the legacy version of our plant data system that was available prior to our updates in 2021?
Type USERi1 in the Command line and press Enter. When prompted to enter a value, type 1010 and press Enter again. You'll now see the legacy version of the plant data dialog box, pictured to the right.
To return to the updated version, set the Useri1 value to 0.
Our Tag Groups
We've organized the possible tags for plants in our database into the following groups:
Plant Category
Although sorting plants into solid categories can be difficult, our plants are listed as Trees, Shrubs, or Ground Covers. These categories determine which medium can be used for a plant. Ground Covers and Shrub Areas are represented by hatches in your drawings, while Trees and Shrubs are represented by blocks, or symbols.
Each plant can exist in more than one category, but a plant that's listed a Ground Cover cannot also be a Tree, for example.
Tags available in this group:
Trees: This category is generally used for woody plants that can exceed 6 feet tall. Trees display as a block, or symbol.
Shrubs: This category includes both woody plants and medium-size herbaceous perennials. Shrubs display as a block, or symbol.
Shrub Areas: Unlike the others, this category does not have a checkbox in the plant data. (See image below.) Instead, the Shrub Area category includes all plants in the database. Shrub Areas display as a hatch, allowing you to place a contiguous area filled with the represented plant rather than placing each individual plant.
Ground Covers: This category includes classic low-growing plants, herbaceous perennials, and anything not exceeding 3 feet in height that might be used in a mass planting. Ground Covers also display as a hatch.
Changing a Plant's Category
If a plant is not assigned the correct category, you can change its category by selecting the correct category checkbox in the plant data. For the correct category to be saved, you'll need to change the category before adding the plant to your project.