Our Highlight Plant tool helps you identify plants and error check drawings. This tool allows you to see where they have previously placed a plant species by highlighting all instances of a plant
Highlight Plant Tool Overview
Open the Highlight Plant tool:
F/X Planting ribbon, Highlight button

Plant Label toolbar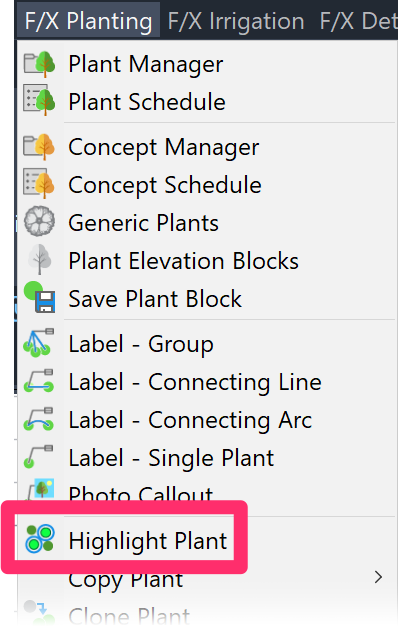 F/X Planting menu, Highlight Plant option
type FX_HighlightPlant in the Command line
Or open the Plant Manager and click Highlight
Highlighting Plants
Open the Highlight Plant tool as described above.
The Command line will prompt you to Select object to highlight.
Click an object, such as a plant or plant label, to highlight all instances of that object in the drawing.
By default, all instances of the object or block you selected will be highlighted with a yellow circle on layer L-ANNO-HILT with a lineweight of 1.00 mm. You can change the default settings for this layer by following our instructions for editing layer information.
Highlight Plant automatically enables Display Lineweight (LWT) settings. To toggle this setting off, click the LWT status toggle below the Command line.
Highlighting Additional Plants
After you execute the Highlight Plant command, the AutoCAD Command line will prompt you with a list of options.
Typing A for "highlight Additional similar plants" will prompt you with a list of filters for selecting additional plants.
Apply filters based on plant type or size to highlight additional plants.
Selecting Highlighted Plants
After you run Highlight Plant, the Command line will give you a list of options.
Typing S for "Select current set" will select all plant blocks that are currently highlighted.
These plant blocks can now be placed on a different layer, copied, deleted, moved, or WBLOCKed.
Copying or Moving Highlighted Plants to a Different DWG File
Complete a selection function using Highlight Plant.
COPY selected plant blocks,and PASTEORIG them into a new drawing. (Type COPY in the Command line, press Enter, then type PASTEORIG and press Enter.)
MOVE the selected plant blocks to another location in the same drawing. (Type MOVE in the Command line, then press Enter.)
WBLOCK the selected plant blocks into their own drawing. (Type WBLOCK in the Command line, then press Enter.)
Highlight Plant and Xrefs
Highlight Plant will not work on plants or other Land F/X objects in Xrefs. You'll need to open the Xref to use our Highlight tools on those objects.
Related Webinars
Troubleshooting
Issue: How can I preserve Plant Highlights?
Question: How can I hide Plant Highlights that stick around after I escape the Command?
Issue: Phantom plants, invisible plants, invisible hatches, or empty highlights are appearing in the drawing when you use Highlight Plant
Issue: Your plant highlights are appearing as thin lines rather than thick lines