Our Plant Outlines tool increases the legibility of planting plans by placing a single outline on each contiguous planting area, while preserving plant blocks and their ability to be called out. You can use plant outlines on both trees and shrubs, or individually.
Plant Outlines Overview
Open our Plant Outlines tool:
F/X Planting ribbon, Plant Outlines flyout
Plant Render toolbar
Planting toolbar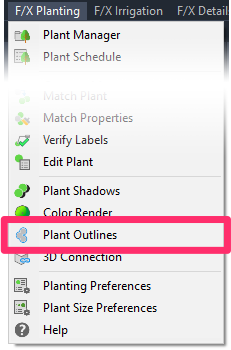 F/X Planting menu, Plant Outlines option
or type FX_PlantOutlines in the Command line
The Plant Outlines dialog box will open.
Type a value in the Outline offset field to determine how far the outlines will offset from your plants. In this example, we'll set an offset value of 1 foot. (If you have your units set to metric, you'll set your offset value in meters rather than feet.)
Select Trees to outline trees in your drawing, and select Shrubs to outline shrubs.
To apply the Plant Outlines, just close the dialog box.
A continuous polyline should now appear around individual planting groups, and all interior linework will be assigned to color 254 by default.
Example of Plant Outlines
In this example, we'll add Plant Outlines to the drawing shown below.
In our example, we'll apply Plant Outlines only to shrubs in the drawing by checking the Shrubs option and unchecking the Trees option.
A contiguous polyline will be applied to the outline of each group of shrubs.
Note that the visual results of the Plant Outlines tool won't become fully apparent until you run a Print / Plot Preview or display your plot styles. (See below.)
Display Plot Styles to View Plant Outlines
As mentioned above, the results of the Plant Outlines tool won't be fully visible until you see them as they'll actually plot. One quick way to do this is to display your plot styles using the Page Setup Manager.
Open the Page Setup Manager:
Output ribbon, Page Setup Manager button
or type PAGESETUP in the Command line
File pull-down menu, Page Setup Manager option
The Page Setup Manager will open.
Click Modify.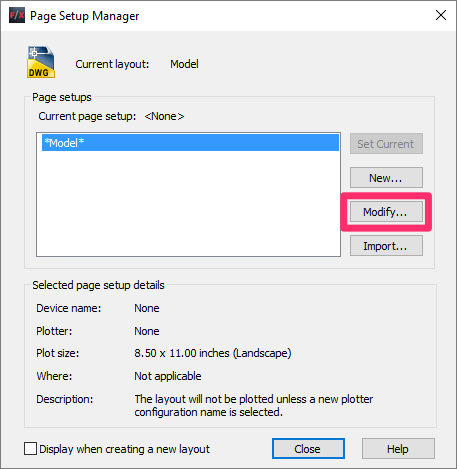 The Page Setup dialog box for the selected sheet will open. Check the Display plot styles option, then click OK.
You can now view the results of the Plant Outlines tool – that is, how the drawing will plot – in Paper Space.
Our example drawing with the Display plot styles option turned on. Note the contiguous polylines drawn around the Shrub Areas.
Turning Plant Outlines On and Off
To turn plant outlines on and off, open the Plant Outlines dialog box and click either On or Off.
When you turn outlines off, all plant symbols will be set back to their original form without outlines.
Plant Outlines' Effect on Your Layers
By default, all plant blocks are converted to color 254 – a screened back plot style.
You can always customize layers to meet your office standards or preferences.
The Plant Outlines tool creates a new layer to represent the heavy outline. By default, this layer is named LK-TREE-OTLN or LK-SHRB-OTLN. Freezing this layer will not turn the plant outlines off.
Plant Outlines and the Plant Schedule
Plant Schedules will reflect the current status of the Plant Outlines tool. If you place a Plant Schedule with outlines turned on, the plant symbols in the schedule will include outlines. Similarly, if you place a schedule with outlines turned off, the plant symbols in the schedule will not have outlines.
If you have an existing schedule when you turn Plant Outlines on, the symbols will fade but will not automatically get outlines. Regenerate the schedule to apply outlines.
Plant Outlines and Color Plant Symbols
Want to outline your colorized plants? Our Plant Outlines tool also works with color plant symbols you've placed using our Color Render tool.
Related Webinars
Getting Started with Planting F/X: We'll give you a full tour of our F/X Planting ribbon, covering everything from adding, placing, and labeling plants to error checking, scheduling, and turning on our quick render tools. (1 hr)
Troubleshooting
Issue: Plant Outlines are not showing up on one or more of your plants
Issue: Software runs slowly, or green hatches appear on your plant symbols, symbols not displaying correctly, or other issues when using Plant Outlines