You can associate a detail with a plant in your drawing using the Plant Manager.
Accessing the Plant Manager
Open the Plant Manager :
F/X Planting ribbon, Planting flyout
Plant Manager toolbar
Planting toolbar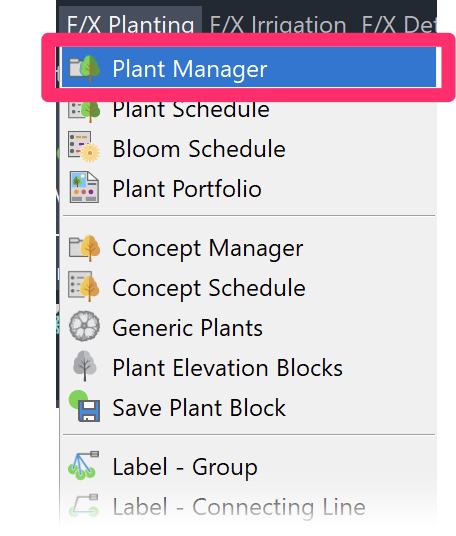 F/X Planting menu, Plant Manager option
or type ProjectPlants in the Command line
Associating a Detail With the Selected Plant
In the Plant Manager, select the plant you want to associate with a detail (example: Acer argutum).
Click Detail.
The Select Detail dialog box will open.
1. Expand the detail category you'd like to associate with the plan by clicking the plus (+) sign next to it. Then select a subcategory.
2. A list of details in the selected subcategory will appear in this pane. Select a detail from the list.
3. Click Preview to see a preview of the detail.
4. Check this box to copy the detail to your project detail folder.
5. Click OK to associate the detail with the selected plant.