You can place a Plant Schedule in Model Space or Paper Space. If you place it in Model Space with the rest of the site drawing, it will be scaled automatically for the scale you are using for your planting design. If you place the schedule in Paper Space on a sheet layout, it will automatically be at 1:1 scale, or no scale.
To view several different styles of Plant Schedule, based on the options described on this page, see our Plant Schedules: Examples documentation.
You can create a Plant Schedule that is limited to plants in a specific area of your drawing such as:
A specific portion or phase of the project
Off-site and on-site improvement
Scope-of-work requirements (for example, certain areas designated as containing tenant improvements, other areas under a general contract, etc.)
To limit your schedule in this way, you can simply create separate Work Areas in your drawing. For more information, see our Limiting the Plant Schedule Using Work Areas documentation page.
Once you've configured the settings for your Plant Schedule, you can apply those settings as the default in the active Preference Set using the Planting Preferences. You can also create additional Preference Sets and apply new default settings to each one. Find out how >
Plant Schedule Overview
Open our Plant Schedule tool: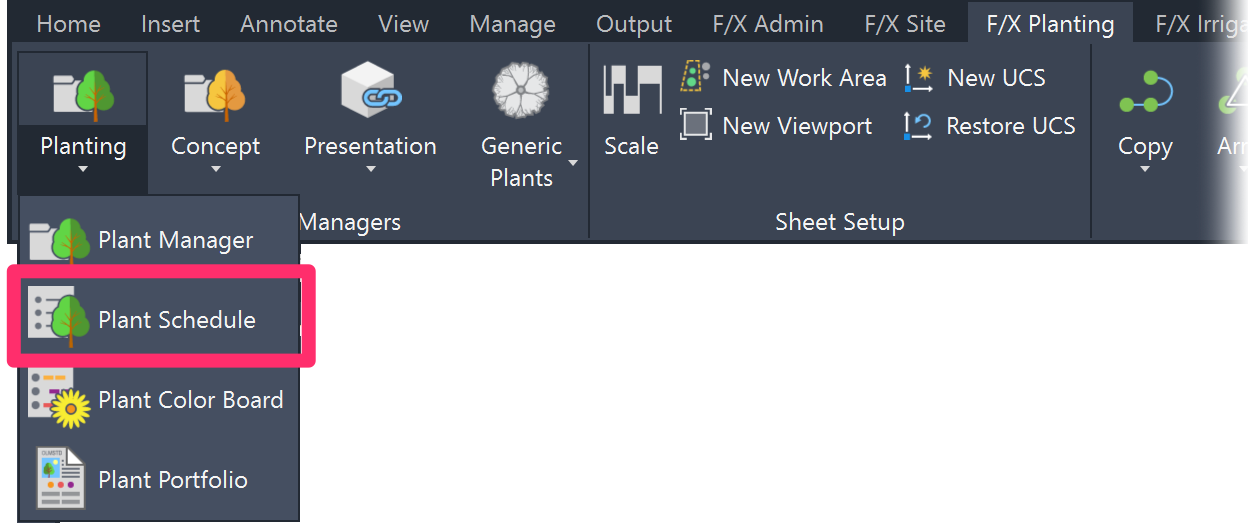 F/X Planting ribbon, Plant Schedule flyout
F/X Planting menu, Plant Schedule option
Planting toolbar
Plant Manager toolbar
typing FX_PlantScheduleProduction in the Command line
When you select one of these options, the Plant Schedule dialog box will open.
The Plant Schedule dialog box allows you to customize several settings for your Plant Schedule.
6. Local Common Name: Select the language in which the common name of the plants will appear in the schedule.
7. Plant Data: Opens a dialog box where you can select several plant data categories to appear in the schedule.
Schedule Destination
The options in the Destination area determine the location where you want to place your Plant Schedule.
Drawing: Insert the plant schedule into the drawing with the proper font type and titles.
Table: Insert the plant schedule into the drawing as an AutoCAD Table Object.
Want a Table-style schedule that looks like a Drawing-style schedule? (That is, a schedule with no lines, like the Drawing style, but with the freedom to adjust the column widths as offered by the Table style.) Instructions

Spreadsheet File: Send the plant schedule to a spreadsheet for additional editing, cost estimation, separate faxing/printing, or other uses.
You can also select the bottom radio button and then select the LandscapeHub option from the menu to link your Plant Schedule with LandscapeHub, our first integrated plant schedule export software. See our Land F/X and LandscapeHub webinar for more details.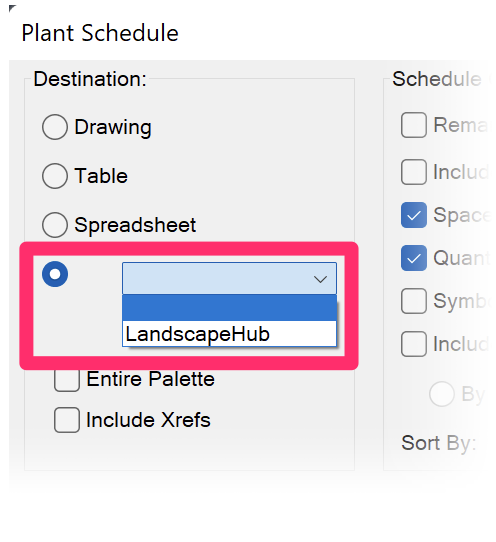 Sending a Schedule to a Spreadsheet
Exporting a schedule to a spreadsheet using a program such as MS Excel gives you an infinite number of options in formatting and enhancing that schedule. In a spreadsheet, you can easily make edits, add specific calculations, create new information columns, and make the schedule available to a client or contractor who doesn't have AutoCAD.
Creating a Macro for a Schedule in MS Excel
A macro is a recorded set of actions that can be applied automatically to a spreadsheet with the click of a button. You can create your own macro in Excel to include custom columns, carry out automatic calculations on preset columns, and much more. For example, you might need to calculate the percentage of the plant total occupied by each plant in a project. With a macro, you can carry out these calculations instantly. See our article on creating a macro in MS Excel for a schedule.
Entire Palette & Include Xrefs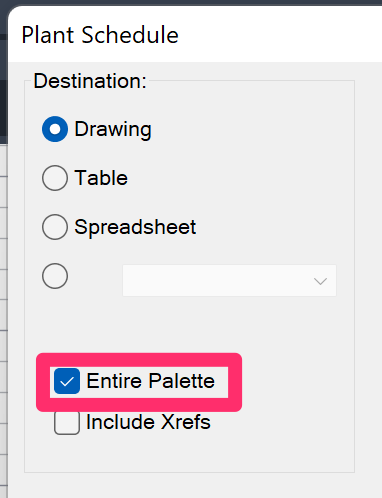 Entire Palette: Check this box to include the entire palette of plants you have selected for the project in the plant schedule, whether you have used the plants or not. Use this option to review the plant palette early in a project, which will help you determine what you need to add or delete.
Include Xrefs: If your drawing has an external reference (Xref) attachment that includes plants, check this box to include those plants in the schedule.
Make sure the units and scale in your main drawing match the units and scale of the Xrefs. If not, your groundcover quantities will be incorrect in the Plant Schedule.
Keep in mind that the Include Xrefs feature will only recognize plants or Xrefs that have been placed in drawing files that have been directly Xrefed into the main drawing. It won't recognize objects that are in an Xref within an Xref (known as a "nested Xref"). If you notice that your schedule is not counting some of the objects within your Xrefs, the problematic objects are likely within a nested Xref. If so, please follow our instructions to correct this issue.
Schedule Options
1. Remarks: Check this box to include remarks, or notes, in the schedule. If you include remarks, you have two options:
Below Name: If you select this option, any remarks will appear below the plant name. This option will result in a narrower schedule.
Column: If you select this option, any remarks will appear in a separate column of the schedule. This option will result in a wider schedule.
2. Include Cost: Check this box to include the costs assigned to the plant.
Note that the Names in Separate Columns option is no longer available in this area of the dialog box. Instead, this feature is now built into the Name Order Options menus.
The option to Include Cost will not function correctly if you select the Quantity Before Name option. (It's an unfortunate quirk of the engineering of calculations for the Plant Schedule.) If you need to include Quantity Before Name in your Plant Schedule, you will need to leave Include Cost unchecked.
3. Space between Plants: Check this box to insert empty spaces between plant rows in the plant schedule.
4. Quantity before Name: If you check this box, the quantity of each plant placed in your drawing will appear just after the code and/or symbol, but before the plant's name. If you do not check this box, the quantity will appear after the container size.
Note: This option is not intended for use in drawings with multiple Work Areas. If you check this option in a drawing with more than one work area, the plant schedule will often include several columns of quantities before each plant name – a recipe for a messy, hard-to-read plant schedule.
5. Symbols at Plan Size: If you want your schedule to show the symbols for trees or shrubs, the default is to include them at a relatively small size for ease of appearance. If you check this box, the symbols for either trees or shrubs will appear in the schedule at the same size as on the plan.
Are your plant symbols overlapping in the schedule, and you don't want them to overlap? To find out why, and see your options, see our Plant Symbols Overlapping in Plant Schedule article.
7. Sort By: Use this pull-down menu to select whether to sort the schedule by Botanical name, Common name, or Plant Code.
Including Concept Plants in Your Plant Schedule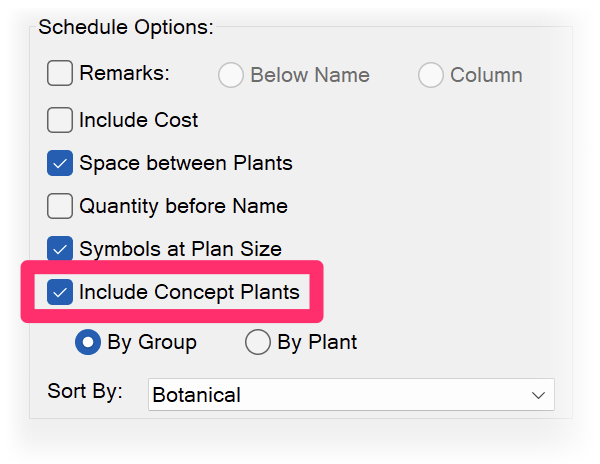 To list Concept Plants in your Plant Schedule, select the Include Concept Plants option when placing a schedule.
If you include Concept plants by Group in your Plant Schedule:
If any member plants have a cost assigned, the group cost will be zeroed out.
The code of each member plant will be included in the schedule.
To list your Concept Plants by Design Group, select the By Group option.
Here's an example of the resulting schedule:
When you include Concept Plants by Design Group in your Plant Schedule, each individual groundcover or Shrub Area's percentage fill in its Design Group will appear in the Spacing column.