Whether you need to keep track of plants, irrigation equipment, site amenities, hardscape materials, or irrigation equipment, a schedule is a quick way to catalog a specific type of items you've used in your design. Most of our scheduling tools include a Destination option that allows you to send that particular schedule to the drawing or to a spreadsheet.
Exporting a schedule to a spreadsheet can come in incredibly handy. For one, you can easily make edits to a schedule in a spreadsheet, adding specific calculations and even new information columns. (You can even create your own macro to include custom columns. See the video link to the right.)
In addition, you can easily export a schedule to a spreadsheet and then make it available to a client or contractor who doesn't have AutoCAD.
Our software allows you to send all of the following schedules to a spreadsheet:
Site Schedules, including:
Spreadsheets and symbols
You might notice that your plant symbols (or irrigation or RefNote symbols) aren't making it over to your spreadsheet. MS Excel does not allow importing symbols, so this feature is exclusively for text-only schedules by design.
How to Export a Schedule to a Spreadsheet
Each of the scheduling tools listed above includes a Destination option with the capability to send the schedule to your drawing or a spreadsheet. When placing any of these schedules, select the Spreadsheet option under Destination to send the schedule to a spreadsheet.
The images below show the Spreadsheet option on several of our scheduling tools.
Plant Schedule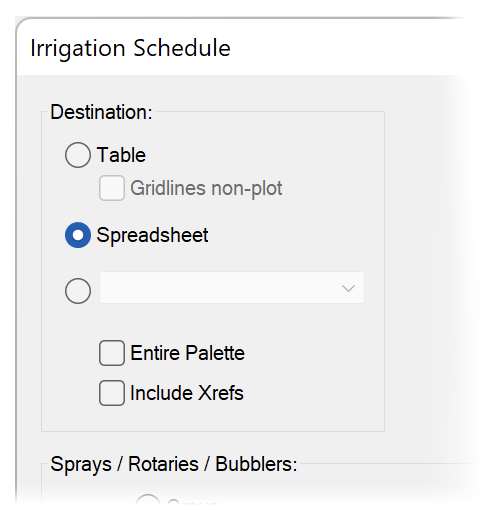 Irrigation Schedule
Lighting Schedule
Reference Notes Schedule
Zoning Schedule
The schedule will be sent to your spreadsheet application, such as MS Excel.
Troubleshooting
Issue: You are unable to send your schedule to a spreadsheet