The Plant Manager in our Planting F/X for Revit Plugin is a project palette of plants listed with all their data, and organized into Trees, Shrubs and Ground Covers. It's your hub for your planting data.
Plant Manager Overview
Open the Plant Manager tool:
Planting F/X ribbon, Plant Manager flyout
The Plant Manager will open as a dockable palette right inside Revit.
1. Select a plant category.
2. Use these checkboxes to see only placed or unplaced plants in the list.
3. Check this box to preview your plant symbols as you add them.
4. Previews of 2D, 3D, and Color Render versions of the chosen plant symbol. If no symbol is assigned, these previews will be blank.
5. Your plants will be listed in this area as you add them to your project.
6. Buttons allowing you to:
7. More buttons allowing you to:
Adding Plants to Your Project
Editing Plant Parameter Data & Assigning Symbols to Plants
After you've added plants to your project, you'll need to edit them and assign them with symbols before you can place them in your plan. See our instructions for editing plants in a Revit Planting F/X project.
Placing Plants in Your Plan
After you've added plants to your project, you can click Place to start placing them in your planting plan. See our documentation on placing plants in Revit.
Important: You need to use this Place button or the Land F/X ribbon tools to place, copy, or array plants. The native Revit Copy and Array tools do not copy the object data in a way that our Label and Verify Labels tools can track, resulting in incorrect quantities. Only use Land F/X tools for placing any plants in your plan.
Plant Categories
Project plants are organized into three categories:
Trees
Shrubs
Ground Covers
When you select one of these categories (example: Shrubs), the plants selected for that category will display in the list.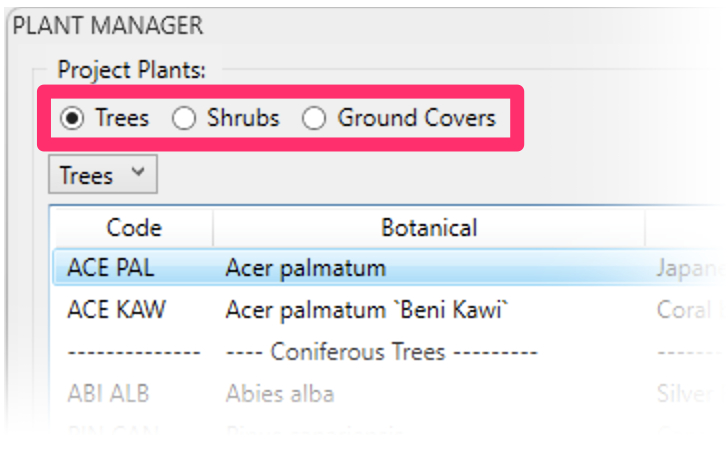 Trees and shrubs are represented by individual symbols (.rfa families) in your Revit project file. Groundcovers are depicted by filled regions, with a single hatch representing a contiguous region containing the same plant. For more information, see our Edit Plant in Revit Planting F/X documentation.
Deleting Plants
Click Delete to delete a plant from your project.
Take care when deleting plants! When you delete a plant, all data associated with that plant, including its symbol, will be deleted from your project.
Related Webinars
Intro to Planting F/X for Revit Plugin: As always, our goal with this plugin is to bring the planting design learning curve as low as possible. We cover installation, Planting F/X projects, the Plant Manager, plant placement as families or floors, group labels, Verify Labels, instant schedules, and rendering options with our default family library. (1 hr 12 min)
Revit for Planting Design: We focus on more tools and show how to tackle more complex workflows in Revit with Planting F/X. We go over customizing the defaults, implementing some labeling strategies, editing floor types, and working with multiple views. We also showcase some new tools and review our most recent development progress. (1 hr 3 min)
Importing Plans into Revit: If you're being asked to bring your design into Revit and you're a landscape architect or irrigation designer, this webinar is for you. We'll cover first steps, basic orientation of Revit, the pros and cons of certain strategies, importing the DWG linework either 2D or Civil 3D and making toposurfaces and floors, and first-step methods for importing your landscape and irrigation plans. (1 hr 5 min)
Troubleshooting
Issue: Revit Plants don't show up in 3D View, but do show up in site view
Issue: Error: javascript:void(0), Internet Explorer restricted this webpage from running scripts of ActiveX controls. Allow blocked content? (When attempting to assign symbols in Revit)
Issue: Error: Your Land F/X Support ID does not match any on our server. Would you like to activate with a new one?
Issue: You placed a tree or shrub in 2D view in revit, but the symbol did not appear
Issue: The Plant Manager in Revit is extremely slow to load when you first open it
Issue: LandFX: Your license is invalid and this product has not been activated properly on this system
Issue: "Revit Error: The requested dockable pane has not been created yet" message when using one of our plugins for Revit
Issue: "Error: The Currently Loaded Shared Parameter File is Not the LandFX-Shared-Parameters File" when using one of our plugins for Revit
Issue: You placed our default families for trees or shrubs, and the 2D plan view symbol has green or colored linework instead of the expected black lines
Issue: Your plants are rendered in color in our Planting F/X for Revit plugin, and they should not be
Issue: You're placing Planting F/X tree and shrub families in Revit, and you're having trouble placing the symbol down without it snapping to random geometry in your plan
Issue: The whole Plant Manager is solid black when you open it
Revit® is a restricted trademark of Autodesk®.