Preferences control the look and feel of your Planting F/X usage to match your office standards. As an office manager, you can be confident that new users will have an easier time selecting the right plant sizes, plant codes, label style, or other important standards that set your office's plans apart.
However, some projects may require different Preferences, such as those produced for a client whose requirements differ from your office standard. Just make a new Preference Set as a copy of the current one and start editing it to the changes needed. Make sure your office standard Preference Set is named alphabetically first in your list. The first set in the list will be the default applied to new projects.
For information on the specific options available for configuring your Preferences, see our documentation on:
Revit General Preferences
Revit Planting Preferences
Revit Plant Sizes Preferences
Do You Work in an Office With Multiple Land F/X Users? Read This First!
If you work in an office where multiple people use Land F/X using an office server or shared online folder, it's extremely important to realize that your office's Preference Sets are shared by everyone. That means if you make changes to an active Preference Set, you're making those changes for everyone who uses that Preference Set. If you're not sure whether you should be making changes to a Preference Set, ask your CAD manager. Otherwise, we suggest creating a new Preference Set rather than editing an existing one.
Preference Sets: Overview
To open the Preferences screen, open the Preferences flyout from the Planting F/X ribbon in Revit and select the Preferences window you'd like to open.
Planting F/X ribbon, Preferences flyout
The Preference Set options are in the bottom left corner of the Preferences screen, regardless of the Preferences category you have selected.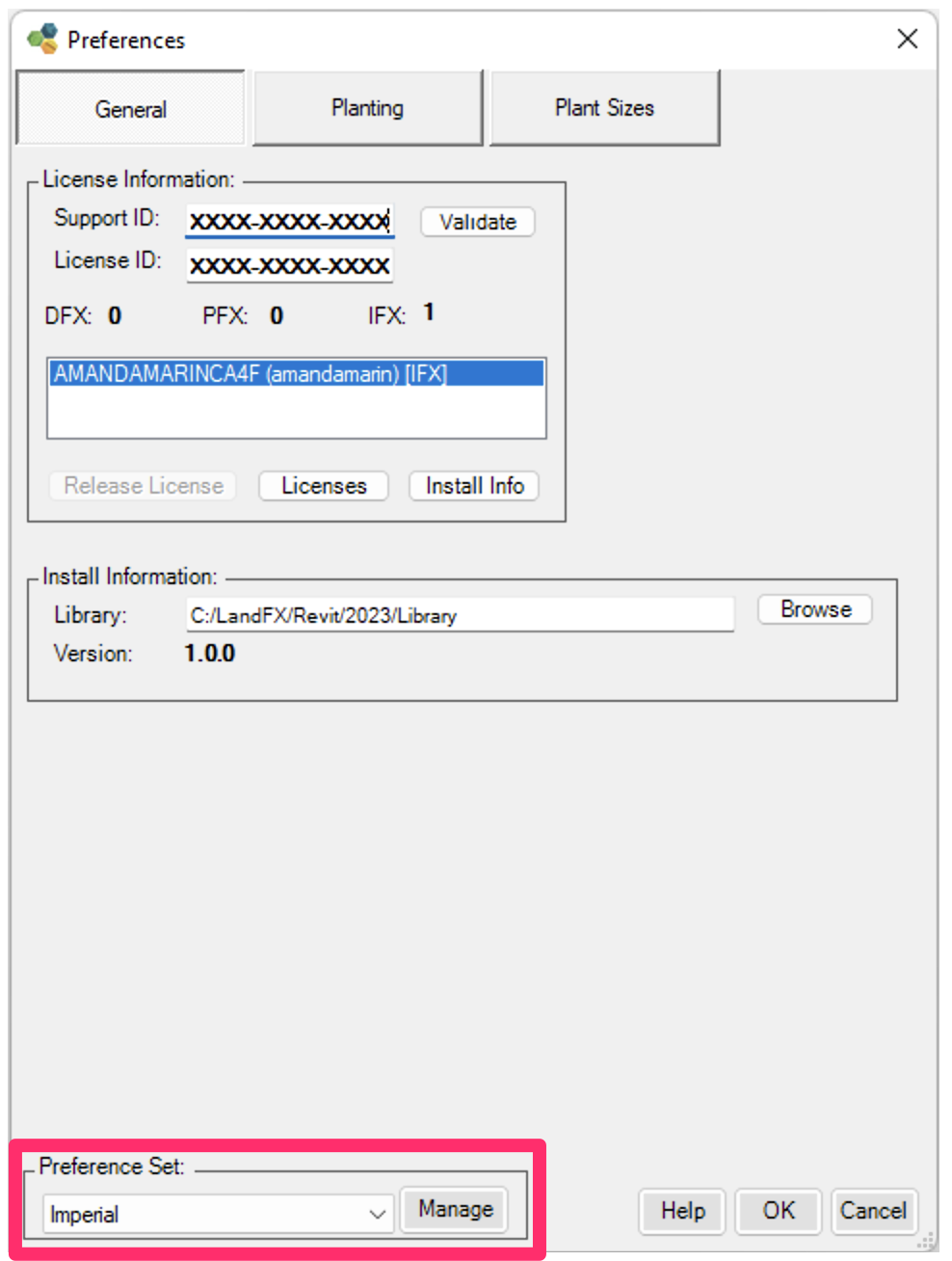 Managing Your Preference Sets
To manage your Preference Sets, click the Manage button.
If you're making changes to an existing Preference Set, make sure it's selected from the menu before clicking Manage.
Creating a New Preference Set
Click the New button in the Manage Preference Sets dialog box to create a new Preference Set.
The New Preference Set dialog box will open.
Type a name for the new Preference Set (example: Office Name Prefs) and click OK.
Your new Preference Set will be created and will be available as an option in the Preference Set pull-down menu.
You can create one central Preference Set for your firm's projects. You can also choose to create multiple Preference Sets to use in specific situations – for example, if you have several clients that have unique standards, you can create a different Preference Set for each client.
Make sure your primary office preference set is named alphanumerically first so it sorts to the top of the list. The preference set at the top of the list will be the default chosen for new projects.
Multiple Preference Sets
Your office might have several reasons for creating multiple Preference Sets. If a client has specific demands for items such as plant labels and fonts, for example, you can create a whole Preference Set just for this client. You might also choose to have separate Preference Sets for:
Different types of clients (private or municipal)
Different types of projects (residential, commercial, municipal)
Projects subject to regulation from different agencies
Each Preference Set can have its own set of standards for plant sizes, code default – anything you can think of.
The main downside to having multiple Preference Sets is the occasional need to make minor adjustments across all sets. For example, if you want to make changes to the currently saved Dimstyle, you'll have to make that change for all Preference Sets.
Want to maintain multiple Preference Sets in your office? Great! You'll just need to keep a few important points in mind. See our multiple Preference Sets documentation for information on limitations to watch out for, and precautions to take, in an office with multiple Preference Sets.
Backing Up a Single Preference Set
If you take the time to develop a Preference Set, remember to take the time to back it up by clicking Backup.
You can now export the Preference Set to the location of your choice. The default location is a folder named with today's date (example: 2017-3-31 for March 31, 2017) within your assigned Revit Library folder/data/date.
You should definitely always maintain a last known good copy of the LFX file containing your Preference Sets. We recommend saving a copy of this file to a central location you can locate and access easily. We also recommend creating a CAD Standards folder and saving it in your LandFX/Admin folder. You can then copy your Preference Set files to this folder periodically. For more information, visit our CAD Standards Folder documentation section.
Preference Sets are not tied to a specific CAD drawing or Land F/X project. When you save (Backup) a Preference Set, you are making it available for use with any Land F/X project, in any drawing.
Backing Up All Your Preference Sets
To back up all your Preference Sets, click Backup All.
The Backup feature in our Projects dialog box also backs up all your Preference Sets. When backing up your projects, select the Backup all projects option. Your Preference Sets will all be backed up as LFX files along with your project files.
.
Restoring a Preference Set
(coming soon)
Deleting a Preference Set
To delete a Preference Set, click Delete.
You'll be asked whether you're sure you want to delete the Preference Set. Click Yes to delete it. Click No if you don't want to delete it after all.
When deleting, Planting F/X will force a backup to your Library/Data folder, just in case.
Preference Set Permissions (Read-Only, Read-Write & By User)
(coming soon)
Assigning a Preference Set to a Project
When you create or open a project, you should get into the habit of making sure you have the correct Preference Set assigned to that project, or set as active. When you start working in a drawing with a Land F/X project open, the active Preference Set will govern the appearance of label styles, plant sizes, code length and any other settings that are configured and saved within that Preference Set. That's why it's extremely important to have the correct Preference Set active.
To set a Preference Set as active, just open any of the three Preferences screens and select it from the menu pictured to the right. You can then close the Preferences and start working on your project.
If your office is new to Planting F/X for Revit, your installation comes with the default two Preference Sets, with typically used plant sizes and other settings, but is completely customizable.
However, if your office creates a large number of Preference Sets, you'll have a longer list of Preference Sets to choose from.
Important: When you open or create a project, the first Preference Set in alphabetical order will be set active by default. If you have one Preference Set that you anticipate using most often, you might think about giving it a name that puts it first alphabetically. That way, that Preference Set will always be set active by default and you won't have to worry about selecting one each time you open or create a project.
Importing a Preference Set from Another Office or Firm
You might find that you need to use a Preference Set from another office or firm. For example, you might be working on a design project in conjunction with a client or another firm. That entity may send drawings to your office, and you may need to open those drawings in order to complete work on them. In this case, you will likely need to import the Preference Set the other office used when creating that drawing.
Any time you import a Preference Set, we highly recommend renaming it as well, giving it a different name from that of any of your office's Preference Sets. This will prevent the possibility of overwriting one of your Preference Sets that happens to have the same name.
If this is the case, please follow our steps to import a Preference Set from another office or firm.
Related Webinars
Intro to Planting F/X for Revit Plugin: As always, our goal with this plugin is to bring the planting design learning curve as low as possible. We cover installation, Planting F/X projects, the Plant Manager, plant placement as families or floors, group labels, Verify Labels, instant schedules, and rendering options with our default family library. (1 hr 12 min)
Revit for Planting Design: We focus on more tools and show how to tackle more complex workflows in Revit with Planting F/X. We go over customizing the defaults, implementing some labeling strategies, editing floor types, and working with multiple views. We also showcase some new tools and review our most recent development progress. (1 hr 3 min)
Revit® is a restricted trademark of Autodesk®.