We completely revamped our Elevation Graphics and Plan Graphics libraries back in 2015, including:
Addition of default color fills to most of our blocks (now known as colorized blocks, or color blocks)
A number of new blocks
Dynamic block capability
Like the rest of our content, these blocks are all stored on the cloud, meaning they're downloadable on demand.
In the interest of providing you with the widest possible variety of content, we're constantly updating our collection of blocks. We'll continue to roll out new blocks and deliver them to you on demand as we create them and make them available in our libraries.
Color Blocks
We've added default color fills to most of the existing blocks in our Plan Graphics and Elevation Graphics libraries.
When you go to place a block, you may or may not see the color fill, depending on whether you currently have the color fill layer enabled within our Site Color tool.
The image to the right shows a block that has been placed with no color.
To enable the color fill on a block you've placed, select our Site Color tool from the F/X Site ribbon.
Then click the yellow ("on") lightbulb button in the Site Color palette.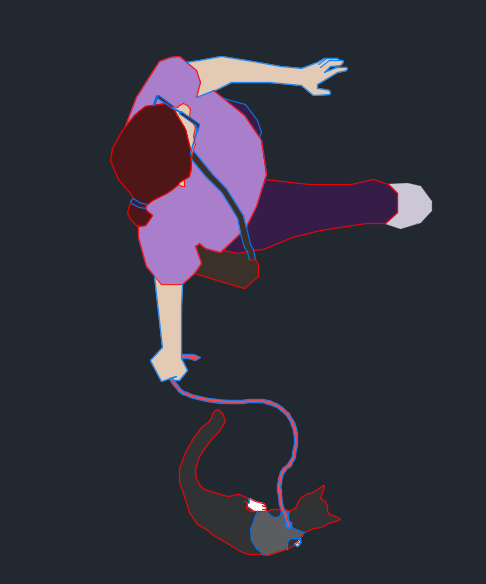 The color fill will be added to the block – and to all blocks you've placed in your drawing that include default color fills.
Don't want your blocks to be colored? Click the dark ("off") lightbulb button in the Site Color palette.
The color fill will be turned off in all your site blocks.
Customizing Color Blocks (Ours or Your Own)
Want to add color to your own blocks, or change the colors in our colorized blocks? It's easy – just use our Site Color tool. For instructions, please see our Colorizing Site & Hardscape Blocks documentation page.
How to Get the Color Blocks
The color fills are the result of edits we've made directly to our existing source block files, which are included in your installation. If you don't have a brand-new installation, you might not have the color blocks yet.
To download the color blocks, you'll need to delete all subfolders from the following folders:
LandFX\Blocks\elevation_graphics
LandFX\Blocks\plan_graphics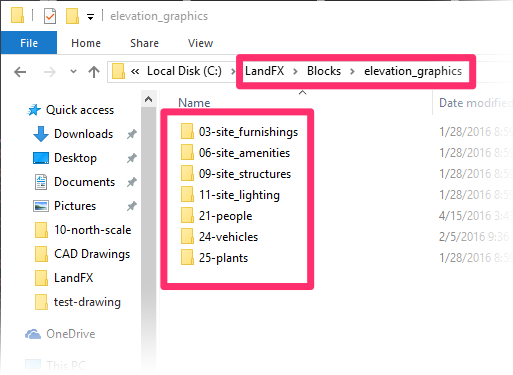 ***Important Note on Custom Blocks***
If you have any customized blocks within these folders, make sure to back them up in a location you can find easily (such as your desktop) before deleting these subfolders. Just remember to back up all your custom source block (DWG) and thumbnail slide (SLD) files. You can then copy the backup files back into the appropriate subfolders once you've downloaded the new blocks.
Once you've deleted all the necessary folders, each new color blocks will download automatically on demand when you select that block from either the Elevation Graphics or Plan Graphics library.
Elevation Graphics library
Plan Graphics library
Why do you have to delete these folders to download the color blocks? Because in order to create them, we've edited our existing blocks, added color fills, and saved them under the same filenames. Once you've deleted the non-color blocks' source files, the new color versions will download automatically on demand, replacing the originals.
New Blocks
We've added several new blocks to our existing libraries. Here are a few examples:
Updated People Blocks: Elevation Graphics
Updated People Blocks: Plan Graphics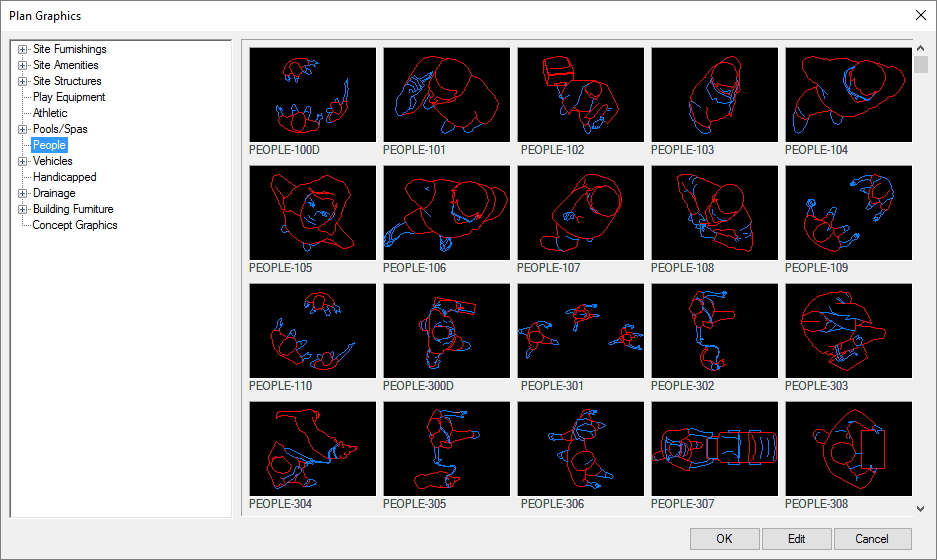 Updated Vehicle Blocks: Elevation Graphics
Updated Vehicle Blocks: Plan Graphics
For even more variety, we've further expanded our block libraries by adding identical blocks that face in opposite directions. For example, the motorcycle, scooter, and station wagon blocks shown below (available in our Elevation Graphics Vehicles library) also have doubles that face the opposite direction.
How to Get the New Blocks
The source block files for the new blocks have new filenames. As a result, you won't have to delete any folders or files to download these blocks; they'll simply be available for selection in their respective block libraries as we make them available.
File Name Organization
As we continue to add new blocks, we are following a specific file naming system for each of the source block files we add to our libraries. Each category of blocks is organically organized into several subcategories based on the source block filenames.
Here's an example: Within both the Plan Graphics and Elevation Graphics libraries, our people graphics are organized by the activity each block is reflecting. The activity is reflected in the filenames of the source block files.
For instance, our Elevation Graphics blocks depicting sitting people are saved within the filename structure PEOPLE-E5XX. The following screenshot shows our "sitting people" blocks as of January 2016. The next "sitting person" block we created was saved under the filename PEOPLE-E504 in the Elevation Graphics library appeared at the end of this category. As we continue to create new blocks in this category, we'll continue to add and number them in this way.
Dynamic Blocks
We've also added dynamic block capability to our software. A dynamic block is essentially several blocks combined into one. When you place a block with dynamic capability you can toggle between several similar blocks within that same placement by using the Q and E keys on your keyboard.
In our system, blocks with dynamic capability are saved with a D at the end of their filenames.
For example, the block PEOPLE-100D (available in our Plan Graphics library) is a dynamic block that allows you to toggle between several different people blocks.
When you place this block, typing Q will toggle through the available blocks within this dynamic block. Here are just a few of the blocks you can toggle through and place using the dynamic block PEOPLE-100D.
Rather than individual files, dynamic blocks are saved as combinations of source block files that allow toggling. Once you have our new blocks, you also have our dynamic blocks!
Want to make your own blocks dynamic? Follow our Saving & Editing Dynamic Blocks instructions.