We offer a dedicated tool for adding and placing lighting. Use our Lighting tool to specify and place specific types and brands of lights, then create a lighting schedule to show costs, wattage, and other details.
Lighting Overview
Open our Lighting tool:
F/X Site ribbon, Lighting flyout
F/X Graphics menu, Lighting option
GRAPHICS toolbar
Graphics RefNotes toolbar
or by typing FX_Lighting_Manager in the Command line
The Lighting Manager will open.
1. Added equipment will appear in this area. (Note: This area will be blank until you add lighting equipment to the current project.)
2. Buttons to create a New equipment listing, Edit or Delete an existing listing, or to Import equipment from another project or template.
3. Up and Down buttons to move the equipment listings to your desired order.
4. Buttons to Place a selected item, or create a lighting Schedule.
Adding New Equipment
Click New to add a new type of equipment to your project.
The Select Manufacturer dialog box will open.
Here, you can either:
Select a specific manufacturer to specify equipment from a specific manufacturer. This will allow you to review that manufacturer's product line and unique specifications, or ...
Select Generic to specify generic equipment.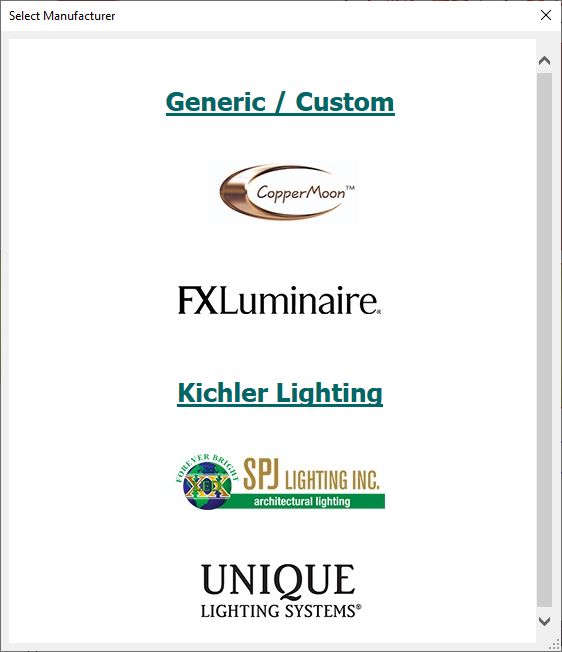 Adding Manufacturer Equipment
Click the logo of the manufacturer whose equipment you want to see.
The New Light Fixture dialog box will open. Here, you can access the lighting equipment available from the selected manufacturer in our database.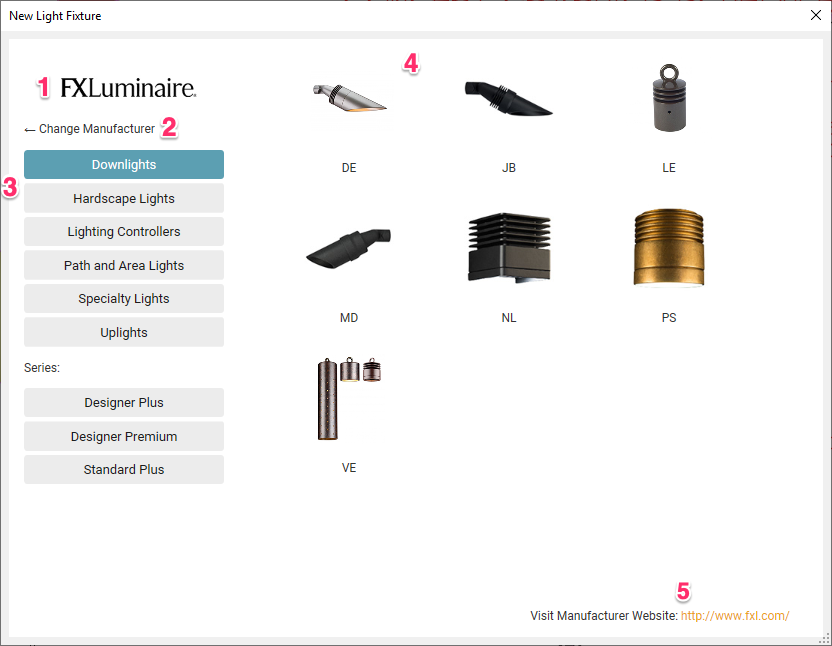 1. The selected manufacturer's logo
2. Choose a Type: This list shows all lighting types available from the manufacturer in our database. Click a lighting type to select that type.
3. Thumbnail images of all models within the selected lighting type. Click a thumbnail to select that model
If you click one of the thumbnail images, the Edit Model dialog box will open.
Click More Info to go to the selected manufacturer's website on the selected model.
Use the website information to review materials, color options, lamp options, specifications, and to generally ensure that this is the fixture that you wish to add to your project.
When you return to the Edit Model dialog box, you can make several specifications on the selected model using the pull-down menus. For example, you can select a finish for the model using the Finish pull-down menu.
The Lighting dialog box will open.
Select a symbol to represent your fixture, then click OK.
The New Light Fixture dialog box will open.
Here, you can review all the data assigned to the fixture.
The Note field will be populated with manufacturer information about the fixture. Add to it if you want.
You can also add a per-unit Cost and assign a Detail to the fixture.
Click OK to add the fixture to your project.
The equipment model you specified will appear in the Lighting Manager.
Adding Generic Equipment
To add generic lighting equipment to your project, click the New button in the Lighting Manager.
Scroll down to and select the Generic option in the Select Manufacturer dialog box.
The Lighting dialog box will open.
Select the Lighting tab to view the Lighting symbol library, or the Power tab to view the Power symbol library.
Select a symbol to represent your item, such as a light fixture. The following dialog box will open.
1. Note: Enter the manufacturer and model number, as well as any other specification or installation information.
2. If you want, enter a per-unit Cost for the equipment you're adding.
3. Associate a detail with the item, thus adding that detail to your Detail Manager for later placement into the drawing set.
4. Menus to select information about the lighting fixture.
5. Thumbnail image of the selected symbol.
6. Click Photo to associate a photo with this item. Place the photo into the drawing set using the Photo Callout tool.
Placing Lighting Equipment
With your site plan open in Model Space, go to the Lighting Manager.
Select the lighting or power item you want to place, then click Place.
Click to place the lighting or power fixture in your drawing. Depending on the symbol you've selected, you may need to click again to set its rotation in your drawing.
Editing Lighting Equipment
To edit a piece of lighting equipment in the Lighting Manager, select it and click Edit.
You can also use our Edit Object/Block Data tool to select equipment you've already placed in your drawing. This tool opens a pickbox, which you can use to select the equipment in your drawing you want to edit.
The Edit Light Fixture dialog box will open.
Here, you can make edits to the selected fixture in the following ways:
1. Edit the Note assigned to the fixture.
2. Add a per-unit Cost.
3. Assign the fixture to a Detail.
4. Use these menus to select features such as Material, Finish, Electrical details such as voltage, Lamp type, and more. (Scroll to the right for more options.)
5. Select a new Symbol for the fixture.
6. Browse to and select a Photo to represent the fixture.
Generating a Lighting Schedule
After placing your lighting equipment, generate a Lighting Schedule for your fixtures within either Model Space or a Paper Space Layout Tab by opening the Lighting Manager and clicking Schedule.
Select a destination for the schedule:
Drawing: Place the schedule directly in your drawing.
Table: Place the schedule in your drawing in table format.
Spreadsheet: Send the schedule to a spreadsheet program, such as MS Excel, for further editing.
If you plan to place the schedule in your drawing, the Table destination will probably be your best option. The Lighting Schedule will contain a lengthy list of information, which will look best in Table view (pictured below).
Schedule Text in Uppercase (or Upper and Lowercase)
You can control whether the text in any of your schedules in in all uppercase, or in upper and lowercase, from the General Preferences. For instructions, see our Schedule Text in Uppercase article.
This setting will apply to all schedules you place in your drawings, including:
Plant Schedule
Irrigation Schedule
Details Schedule
Site schedules such as:

Reference Notes (RefNotes) Schedule
Lighting Schedule
Concept Schedule
Zoning Schedule
Site Development Schedule
Grading Schedule
Work Areas and Lighting Schedules
Functioning essentially as drawings within a drawing, Work Areas allow you to divide your site into a number of distinct areas. In this way, you can break up your design into separate regions, phases, scope-of-work requirements, and virtually any other way you can imagine. This feature makes it possible to limit any of your site schedules, including the Lighting Schedule, to specific Work Areas. You can also break up your schedule to show separate summaries of Site Development items in each Work Area. For information on dividing your Site Development schedule (or any other site schedule) in this way, see our Limiting Site Schedules With Work Areas page.
Labeling Lights
Lighting is not commonly called out individually in site designs. We've found that most designers prefer using the Lighting Schedule to show the various lights used in a plan.
If you want to label your lights, you can use one of our Site Leaders to place a label.
You can also use our Photo Callout tool to label lights with their respective photos. For more information, see our Photo Callout page.
Docking the Lighting Manager
We've turned the Lighting Manager into a dockable palette, meaning you can dock it to the side of your CAD interface and continue working within your drawing while still specifying and editing lighting equipment. You can also dock several of our other manager dialog boxes, including the Planting, Reference Notes (RefNotes), Irrigation, and Details managers. Here's how to dock the Lighting Manager.
Importing Lighting Equipment from a Template or Project
If you find yourself adding the same lighting equipment to multiple projects, we recommend setting up a project template and then adding your commonly used lighting equipment to that template. You can then import those items into a new project from that template. This practice can save you immeasurable amounts of time, considering all the data you need to fill out for each piece of equipment you add to a project. With templates, you only need to add and configure your lighting equipment once, then simply import the equipment and attached data into the present project.
The following steps also apply to importing lighting equipment from regular Land F/X projects. However, we recommend setting up and importing from a template – mainly because templates are set up to be read-only. This means you can rest assured that the data in your templates hasn't changed when you import your equipment into a project.
To import lighting equipment into the current project, open the Lighting Manager and click Import.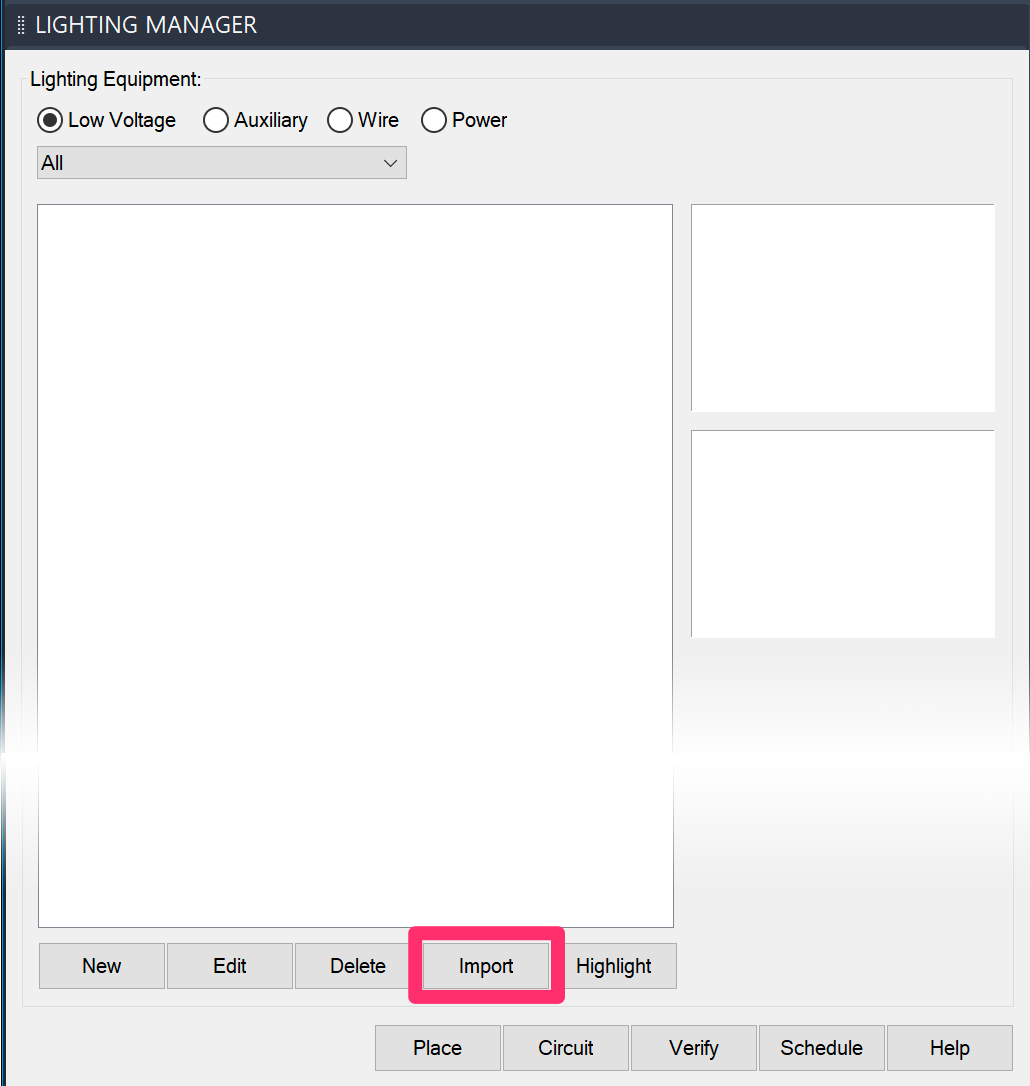 The Select Project dialog box will open.
Select the template that includes the lighting equipment you want to import.
Click OK.
The Import RefNotes dialog box will open.
Highlight the items you want to import, and click Add to Project to add them to the current project.
Click Done when finished.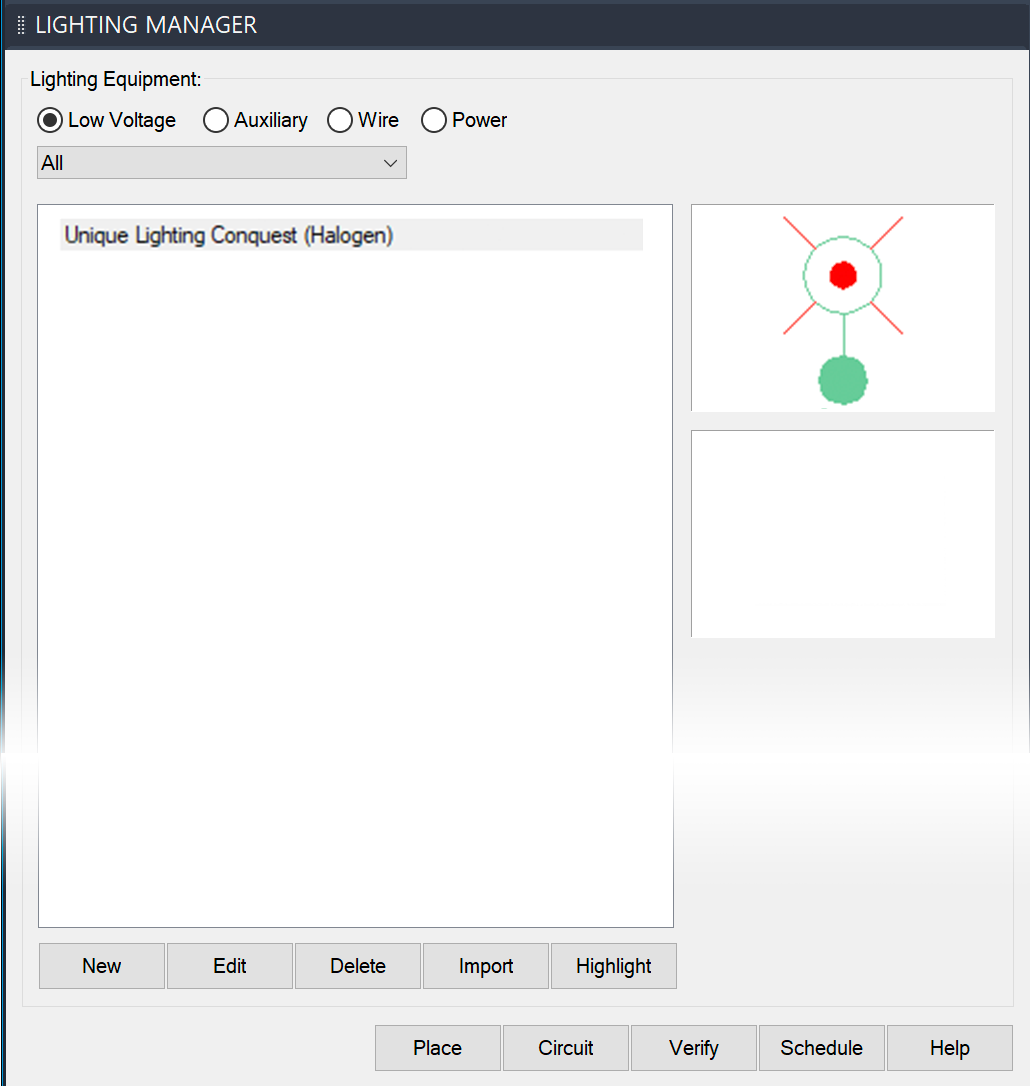 The equipment you imported will now be listed in the Lighting Manager.
That equipment, and all associated data, is now added to your project, and you can place it as needed.
Related Webinars
Troubleshooting
Issue: You are unable to send your Lighting Schedule to an Excel spreadsheet
Issue: Error Message when placing lighting equipment: Lighting – Non-photometric lights: Non-photometric lights are not supported by the current render engine
Issue: Bad DXF group (10) error when placing lighting equipment
Issue: Text in the Lighting Schedule columns is overlapping
Issue: Outside Limits error message in the Command line / you are unable to place lighting equipment / can't see lighting equipment in Model Space