After you've laid out a lighting plan using our Lighting Manager, you can use our Verify tool to check your plan for errors.
How to Error Check Your Lighting Plan Using Our Verify Wiring Tool
Open our Lighting tool:
F/X Site ribbon, Lighting flyout
F/X Site menu, Lighting option
GRAPHICS toolbar
Graphics RefNotes toolbar
or type FX_Lighting_Manager in the Command line
The Lighting Manager will open.
Click Verify to error check your lighting plan.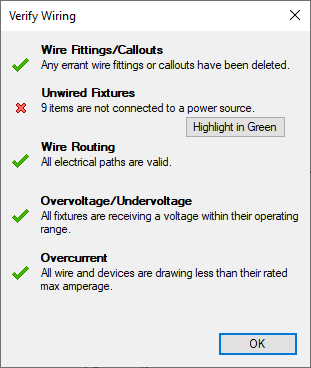 Our Verify Wiring tool will scan your lighting design for the following errors:
Errant wire fittings or callouts
Unwired fixtures
Wire routing (invalid electrical paths)
Overvoltage and undervoltage
Overcurrent
The tool will delete any errant wire fittings and callouts. Any detected errors will have a red "X" and a highlight button next to the corresponding entry in the Verify Wiring dialog box. You can click this button to highlight the problematic fixtures in the listed color.
In our example, the tool has detected fixtures that are not connected to a power source. To see which fixtures the error applies to, click the Highlight button. The unwired fixtures will be highlighted (in this case, in green), allowing you to make corrections as needed.