You can edit or delete Reference Notes (RefNotes) directly from the Reference Notes Manager. For information about adding and placing Reference Notes, see our Reference Notes: Getting Started page.
Editing Reference Notes from the Reference Notes Manager
You can edit or delete Reference Notes from the Reference Notes Manager whether or not you've already placed them in your drawing.
Open the Reference Notes tool:
F/X Site ribbon, RefNotes flyout
F/X Details ribbon, RefNotes flyout
Type RefNotes in the Command line
F/X Site menu
Graphics RefNotes toolbar

Graphics toolbar
The Reference Notes Manager will open.
Here, you can edit or delete any of your RefNotes.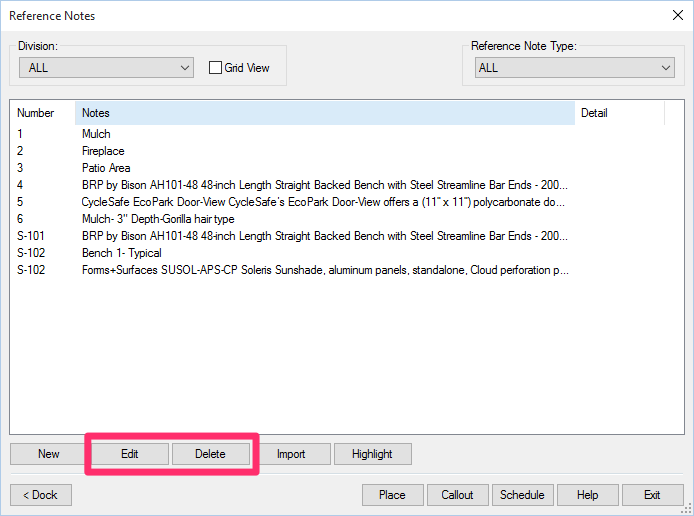 After adding a RefNote, you can edit it at any time by selecting the note in the Reference Notes Manager and clicking Edit.
You'll then be brought to the Edit Reference Note dialog box, where you can make your edits.
Editing a Reference Note You've Already Placed in Your Drawing
You can also edit Reference Notes you've already placed in your drawing with our Edit tool. Open the Edit:
F/X Site ribbon, Edit Object button
F/X Planting ribbon, Edit Plant button
or typing FX_ObjInfo in the Command line
The cursor will turn into a pickbox, which you can then select the Reference Note in your drawing that you'd like to edit. You'll then be brought to the Edit Reference Note dialog box, where you can make your edits.
The Edit Reference Note Dialog Box
The Edit Reference Note dialog box opens when you:
Make your necessary changes here, then click OK to save your changes.
To learn about the different RefNote types, see our documentation on:
Renumbering Reference Notes
Different offices will have different rationales for renumbering RefNotes. At its core, a RefNote's number is merely a marker, providing an identifiable connection between a note and its visual representation in a drawing. That's why we tend to question the need to renumber RefNotes in order to ensure contiguous note numbers, for example. However, we've included the ability to renumber RefNotes as needed.
For more information, see our Renumbering Reference Notes documentation.
If you want, you can give any RefNote a new number in the Number field.
Number field for a RefNote without a CSI Division
Number field for a RefNote organized under a CSI Division
If you choose a RefNote number that's already in use, you'll see a message that That number is already taken. You can choose to:
Click Increment to renumber the other RefNotes to allow for the RefNote you're currently editing to take on the number you tried to give it, or
Click Cancel and give the RefNote a number that is not already in use
User Fields and Values
Adding a Field
You can add your own custom user fields to your Reference Notes, to be listed as columns in the Reference Notes Schedule. Before you can assign a field to a RefNote, you'll need to assign that RefNote with a Division.
To create a new user field for a RefNote, click Add Field. Enter a name for the field and a column width for its listing in the schedule.
We'll add Color as an example.
Click OK to add the field. Because we have the General division selected for this RefNote, our custom field will be added for that entire division, available to assign to future RefNotes.
Once you've assigned a field to a RefNote, you can add a value for that field. Click the area beneath the field to add the value, then type in the description of that value (example: Terra Cotta. Once you've created a field value, it will be available to select from this menu to be assigned to the selected RefNote.
In this way, you can build your custom user fields as you need them when creating or editing RefNotes. This list will populate with new field values as you create them.
In our example, you'd be able to choose to include a Color column in the RefNotes Schedule. The RefNote in our example would have a listed color of Terra Cotta in that schedule.
You can also add and edit user fields in the RefNotes Preferences for the purposes of creating standards. You won't be able to create new field values in the Preferences, but you can edit existing values there once you've created them.
Adding a Row
Click Add Row to add a bolded second line. We intended this feature for use in plans that need an alternate language translation for each item, but you're free to repurpose it as you need to.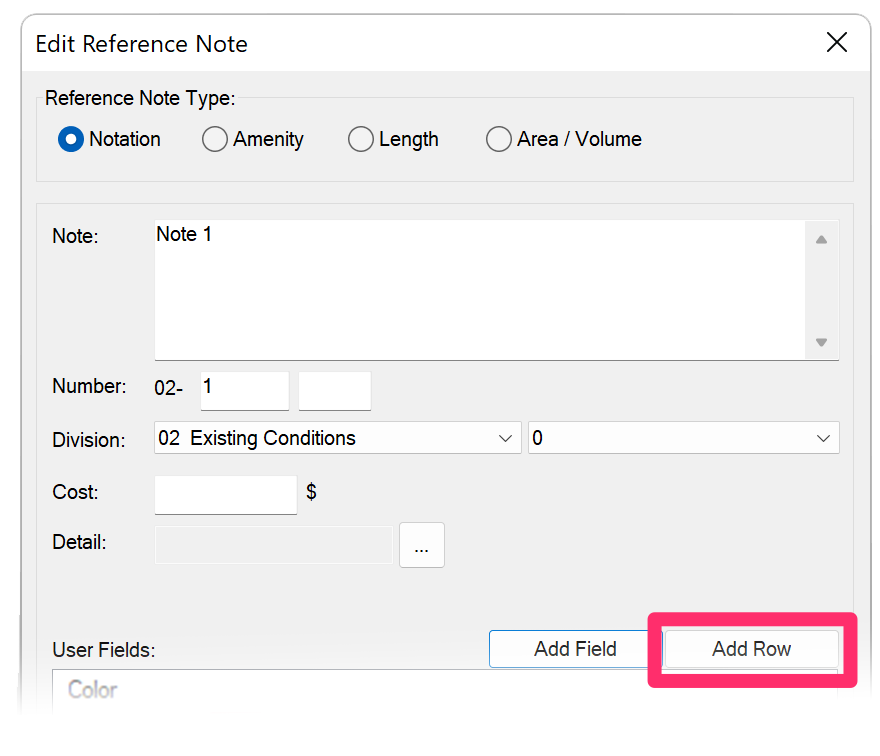 Leader and Callout Style Options
To assign a leader and callout box style to the callouts that will label your RefNotes, use the Callouts and Leader options at the bottom of the Add Reference Note dialog box.
For instructions, see our Leader and Callout Style documentation.
We've provided the ability to give each RefNote its own distinct style for callouts, should you want to do so. If you want all your RefNotes Callouts to look the same, take care to set the leader and callout styles the same in each RefNote you create or edit.
Replacing One Reference Note with Another Using Match Properties
You can easily substitute one Reference Note you've placed in your drawing with another Reference Note using our Match Properties tool. If you use this method to replace a Reference Note you've already called out, the callout will update automatically. For more information, see our Match Properties and Reference Note Callouts documentation.
Deleting a Reference Note
Depending on whether you've placed the RefNote in the current drawing, you'll see one of the following two confirmation messages. Click Yes to delete the RefNote. Click No to cancel the deletion.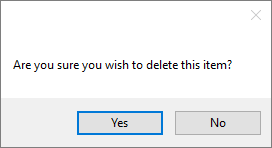 Be careful deleting RefNotes that have been placed elsewhere in the drawing set. When you open an existing drawing that contains a note you've deleted, it will still show up on the drawing, and the system cannot automatically change it or delete it as it does when you simply renumber a RefNote.
Related Webinars
Troubleshooting
Issue: You are unable to delete RefNotes
Issue: Different Reference Notes Callouts are appearing in different styles in the same drawing
Issue: You received a "This is not a Land F/X entity" error message when attempting to edit what you thought was a RefNote block or hatch in your drawing
Having issues with RefNotes? See our RefNotes Troubleshooting section.
Issue: You received the following error when trying to edit a RefNote: Unable to update object. Please ensure applicable layers are not locked.