At any time, you can label Reference Note objects, of Length, Area, Volume, and Objects, by clicking the Reference Note Callout button in the Reference Notes Manager. Select the item you wish to call out. You will then receive the same prompt as you would when inserting a general Reference Note, with arrow point, leader end-point, and callout location. For most items, the callout is what appears in the schedule. As a result, you will need to call out at least one instance of each Reference Note in the drawing. For information on adding and placing Reference Notes, see our Reference Notes: Getting Started documentation.
Notice that you can place Reference Note objects into the Site Base and call them out and generate a schedule – even when they exist in the Xref.
With Reference Notes, you can add descriptions and quantities for gravel and barks mulches – as well as individual objects such as boulders or pagodas – so that they show up on a materials schedule. That materials schedule is the Reference Notes Schedule, which lists site and hardscape objects you place in your project using Reference Notes.
Reference Notes Schedule Overview
After placing your Reference Notes, you can list them in the Reference Notes Schedule. Open our Reference Notes Schedule tool:
F/X Site ribbon, Reference Notes Schedule flyout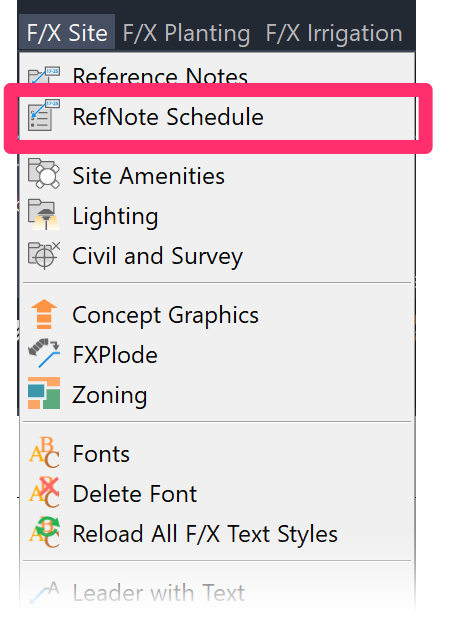 F/X Site menu, RefNote Schedule option
You can also generate a Reference Notes Schedule by clicking the Schedule button in the RefNotes Manager.
The Reference Note Schedule dialog box will open. Here, you can select the schedule options.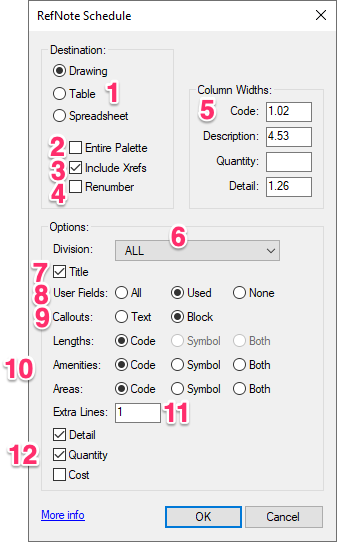 1. Destination: Options to place your schedule directly in your Drawing, place it in your drawing in Table form, or export it to a Spreadsheet program such as MS Excel.
2. Entire Palette: Option to run the schedule on all Reference Note items in the project, regardless of what has been placed into the current drawing.
3. Include Xrefs: Choose whether to include RefNotes from other drawings you've attached to the current drawings as Xrefs.
4. Renumber: Option to automatically renumber your RefNotes when placing a schedule.
5. Column Widths: If you want, set specific widths for the Code, Description, Quantity, and Detail columns in your schedule.
6. Division: Limit your schedule to cover one of your RefNote Divisions, or select ALL to include all Divisions.
7. Option to include titles of RefNotes in the schedule.
8. Options for including the User Fields (which you fill out when creating RefNotes) as columns in the schedule. Choose whether to show All fields, only the fields you've Used, or None of the fields.
9. Option to include each RefNote callout in the schedule as Text (just the RefNote code without a callout frame) or a Block (the entire callout box with frame).
10. Options to identify Length, Amenity, and Area/Volume RefNotes by their Code, Symbol, or Both in the schedule. Note that the Symbol and Both options are currently grayed out for Lengths as we continue to develop code for implementing Length lines to appear in the schedule as symbols.
11. If you want, add Extra Lines to your schedule. You can also set this value to 0 in order to eliminate extra space between lines.
12. Options to include the Detail associated with each RefNote, the Quantity of each RefNote, and the Cost of each RefNote in the schedule.
Click OK to place the schedule.
If you have multiple Work Areas defined in your drawing, you'll then be prompted to select one or all of these Work Areas.
Selecting one or more Work Areas when running your schedule is a great way to either limit your schedule to one area or phase of your project or break your schedule down according to your Work Areas. See the section below on The RefNotes Schedule and Work Areas.
The drawing will go back to Paper Space, and the Command line will prompt: Upper left corner.
Click a location in the drawing to set the location of the upper left corner of the location where you want to place the Reference Note Schedule.
Notes:
Only the Reference Notes you have placed into the drawing will show up in the Schedule.
If you used Work Areas in your site base, you can opt to list only the Reference Notes in that Work Area.
The number a Reference Note is associated with will always stay with that note throughout the project.
You can always run a schedule for just a certain Division or type. You can then double-click the schedule title and change it from REFERENCE NOTE SCHEDULE to the title of your choice (example: PAVING LEGEND).
When you run a schedule for a Work Area, it will only include the items that are within the polyline containing that Work Area – and thus not any notes appearing in Paper Space. If you freeze the Work Area layer, the schedule will include the notes in Paper Space. You can also use the CHSPACE command (type CHSPACE in the Command line) to move the RefNotes into Model Space, where they can fall within the Work Area boundary – and thus appear in the schedule.
Schedule Destination
The options in the Destination area determine the location and format in which you'll place your RefNotes Schedule.
Drawing: Place the RefNotes Schedule in your drawing with the proper font type and titles.
Table: Place the RefNotes Schedule in your drawing as an AutoCAD Table Object.
Want a Table-style schedule that looks like a Drawing-style schedule? (That is, a schedule with no lines, like the Drawing style, but with the freedom to adjust the column widths as offered by the Table style.) Instructions >
Spreadsheet File: Send the RefNotes Schedule to a spreadsheet for additional editing, cost estimation, separate faxing/printing, or other uses.
Sending a Schedule to a Spreadsheet
Exporting a schedule to a spreadsheet using a program such as MS Excel gives you an infinite number of options in formatting and enhancing that schedule. In a spreadsheet, you can easily make edits, add specific calculations, create new information columns, and make the schedule available to a client or contractor who doesn't have AutoCAD.
Creating a Macro for a Schedule in MS Excel
A macro is a recorded set of actions that can be applied automatically to a spreadsheet with the click of a button. You can create your own macro in Excel to include custom columns, carry out automatic calculations on preset columns, and much more. For example, you might need to calculate the percentage of the plant total occupied by each plant in a project. With a macro, you can carry out these calculations instantly. See our article on creating a macro in MS Excel for a schedule.
RefNote Divisions/Subdivisions and the RefNotes Schedule
When you create or edit a RefNote, you have the opportunity to place it into a Division and Subdivision.
For detailed information on these Divisions and Subdivisions, see our Reference Note Organization documentation.

Whether or not you select a Division and Subdivision when creating a RefNote will affect the way that RefNote is organized in the Description column of the schedule.
If you don't select a Division at all, the RefNote will be listed in a general category simply called Description.
Selecting a Division and Subdivision for your RefNotes will reorganize this column, creating separate sections in which your RefNotes will be grouped.
Here's an example of a RefNote assigned to a Subdivision called UNIT PAVING under the Division PAVING:
If we were to select only the Division PAVING for this RefNote, it would be listed in the Description column under a section called PAVING.
If your RefNotes aren't organized to your liking in the RefNote Schedule, it's time to take a look at the Divisions and Subdivisions you've set for each RefNote. We've created an article showing how to correct this issue.
Renaming or Editing the RefNote Schedule
When you place a RefNotes schedule, the schedule title will have the title Reference Notes Schedule by default. If you want to change the title, or otherwise edit the appearance, of a schedule you've already placed, double-click anywhere on the schedule text.
The Enhanced Attribute Editor dialog box will open. Select the Attribute tab, and type your new title in the Value field (example: Site Materials). Click OK to save your changes.
You can also make various changes to the schedule font by selecting the Text Options tab, as well as changes to colors and layers by selecting the Properties tab.
Click OK when finished making your edits. The schedule will regenerate reflecting your changes.
Renumbering Multiple Reference Notes
When you delete Reference Notes from a project, numbering of any additional notes you place will continue from the highest numbered Reference Note you deleted.
To renumber your Reference Notes to start from the beginning, check the Renumber box when generating a Reference Note Schedule. Your Reference Notes will be renumbered automatically.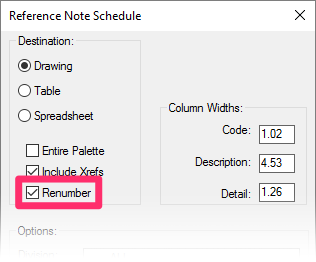 Dual-Language Divisions and Subdivisions
We've added the ability to assign two languages to each of your RefNote divisions and subdivisions, which can then be listed in your RefNote Schedules.
First, follow our steps to create divisions and /or subdivisions with dual-language titles in the RefNotes Preferences.
When placing a RefNotes Schedule in a drawing that includes RefNotes from that division or subdivision, take care to select the Table option as your schedule destination.
Your secondary language title will be listed beneath the primary language title of that division or subdivision in the schedule.
Reference Notes Schedules and Work Areas
Functioning essentially as drawings within a drawing, Work Areas allow you to divide your site into a number of distinct areas. In this way, you can break up your design into separate regions, phases, scope-of-work requirements, and virtually any other way you can imagine. This feature makes it possible to limit any of your site schedules, including RefNotes Schedules, to specific Work Areas. You can also break up your schedule to show separate summaries of Site Development items in each Work Area. For information on dividing your Site Development schedule (or any other site schedule) in this way, see our Limiting Site Schedules With Work Areas documentation section.
If you run a RefNotes schedule by Work Area and the quantities appear to be off, the most common cause is an AutoCAD selection bug. When you run a schedule in this way, the system needs to zoom out far enough to see the entire Work Area.
Before you select a Work Area, zoom out so the entire Work Area is visible on the screen. Doing so will allow the schedule to generate with the correct quantities.
For more information on setting up and working with Work Areas, see our Work Areas page.
Length Reference Notes
Our Reference Notes Schedule tool interacts with Length Reference Notes in a specific way, calculating the lengths of layers from your main drawing and your Xrefs (if you select that option when placing the schedule). For further information, see our Length Reference Notes and the Reference Notes Schedule documentation section.
Change Reference Notes Schedule Column Widths
You can easily change the widths of your Reference Notes Schedule columns using the AutoCAD Block Editor. However, you can only adjust the column widths of a schedule you've placed as a table.
Want the freedom to adjust your schedule column widths manually, but don't want visible table borders in your schedule? Follow our steps to create a table-style schedule without lines.
Rearranging the Column Order in Your Schedule
In the interest of keeping our software easy to use – and limited by some restrictions from the CAD platform – we've decided to limit the built-in arrangement options to more widely accepted arrangements. However, you can easily rearrange your schedule columns at will while also keeping the ability to regenerate the schedule.
Schedule Text in Uppercase (or Upper and Lowercase)
You can control whether the text in any of your schedules appears in all uppercase, or in upper and lowercase, from the General Preferences. For instructions, please see our Schedule Text in Uppercase Knowledge Base article.
This setting will apply to all schedules you place in your drawings, including:
Plant Schedule
Irrigation Schedule
Details Schedule
Site schedules such as:

Reference Notes (RefNotes) Schedule
Lighting Schedule
Concept Schedule
Zoning Schedule
Site Development Schedule
Grading Schedule
Create a Background Fill or Mask for your Schedules
Some designers want to give their schedules a background fill to allow it to pop from the rest of the drawing. You can create a background fill for your schedule using the Table Style Manager. Find out how.
RefNotes Schedules and Slope Areas
Slope Areas work with our Slope Callout tool to apply a specific grade percentage or ratio to a closed polyline area in your drawing. Objects represented by any smart hatches within those closed polylines (Slope Areas) will have their quantity, volume, or area recalculated based on that slope percentage or ratio.
If you run a RefNotes Schedule in a drawing that includes one or more Slope Areas, the schedule will scan all Area/Volume RefNote hatches to determine whether they are inside a Slope Area. If so, the schedule will recalculate the square footage/meters of those areas, along with any resulting changes in quantity or volume.
Slope Areas in Xrefs
Schedules will recognize Slope Callouts in Xrefs, as long as the Xref is on the layer L-SLOPE-AREA and the schedule is configured to include Xrefs. Schedules configured to include Xrefs will also recognize Slope Areas in the live drawing even if the RefNote hatches calculated by the schedule are in an Xref.
Schedule Integration: Send RefNotes Schedules Directly to Another Provider
Our Schedule Integration tool allows you to send your RefNotes Schedules directly to another service provider – for instance, your company's estimating and invoicing system. See our Schedule Integration documentation for more information.
Related Webinars
Troubleshooting
Issue: RefNotes Schedule has incorrect quantities
Issue: Schedule title is overlapping the rest of the schedule text (or is too large, too small, or appearing in the wrong location)
Issue: The Reference Notes Schedule is listing my RefNotes by Division rather than Subdivision, or is otherwise organized incorrectly
Issue: A section title in the Reference Notes Schedule is repeating
Issue: The Reference Notes Schedule is not recognizing or calculating objects in an external reference (Xref)
Issue: You are unable to send your Reference Notes Schedule to an Excel spreadsheet
Issue: Work Areas are not recognizing or calculating a RefNote hatch
Issue: Schedule Text or Schedule Title is appearing in the wrong font, point size, etc.
Issue: You need to change the width the columns, or the height of the rows, in your Reference Notes Schedule
Issue: Reference Notes from your Xrefs are not showing up in your schedules, even though you've checked the "Include Xrefs" box
Issue: Length Reference Notes are not calculating correctly or appearing in the Reference Notes Schedule at all
Issue: The screen flashes several times when you place a RefNotes Schedule in Paper Space
Issue: Text boxes are displaying in your drawing where your RefNotes Schedule should be
Issue: Your RefNotes Schedule text is scaled incorrectly – it's too large or too small
Issue: Text in the RefNotes Schedule columns is overlapping
Issue: A Notation Reference Note is not showing up in a Reference Note Schedule that references a specific Work Area
Issue: "Cannot find Work Area title" error message when placing a RefNotes Schedule in a drawing with Work Areas
Issue: You tried to create a Reference Notes Schedule for a Work Area in your drawing, but the schedule did not appear when you tried to place it
Issue: Unable to reconstitute a hatch area, quantity will be inaccurate error message when attempting to run a RefNotes Schedule
Issue: CAD freezes or lags after you place a Reference Notes Schedule
Issue: You saw an "Automation Error. AcRxClassName is not in the system registry message" when attempting to place a schedule
Issue: Your plant symbols are showing up with transparency when placed in your drawing
Issue: Hatches are missing or coming in at the wrong scale/size in the Reference Notes Schedule
Issue: Your schedule header is showing up in the Arial font (and you don't want it to)