A Notation Reference Note allows you to place a numeric symbol referring to a text notation.
Notation RefNotes are now Multileaders (MLeaders)! What's an MLeader? It's a native AutoCAD feature that renders the leader, arrow, and callout box into a singular, contiguous entity. For more information, see our MLeaders documentation page.
Notation Reference Notes Overview
You have several options for creating a numeric symbol reference:
With a simple two-digit number (01, 02, 03, etc.) referencing the note.
Organized by CSI section, such as 32-01 for the first note organized in CSI Division 32 – Site Improvements.
In a CSI "Keynote" style system, such as 32-13-xx, to organize all Concrete Paving notes.
Organized by a one-letter group identifier, such as D-101, for the first note organized by the group D, for Demolition.
With two-character identifiers, such as PC-131 for a concrete paving note.
With a suffix, such as L-261P for a light fixture along a pedestrian path.
With a two-character suffix, such as L-261-P2 for a slight variation of that light fixture installation.
As you can see, the numbering system is extremely flexible. The primary consideration is of how many notations you will assemble for a project, and how you would like them organized. Also, if you want to strive toward a more permanent template (example: a template of all your paving notes with associated details and photos), these items can be easily organized as P-101 through P-999.
Adding a Notation Reference Note
Open our Reference Notes tool:
F/X Site ribbon, RefNotes flyout
F/X Details ribbon, RefNotes flyout
F/X Site menu
Graphics RefNotes toolbar
<

Graphics toolbar
or type RefNotes in the Command line
The Reference Notes Manager will open.
To add a new Reference Note, click New.
The New Reference Note dialog box will open.
Select the Notation option.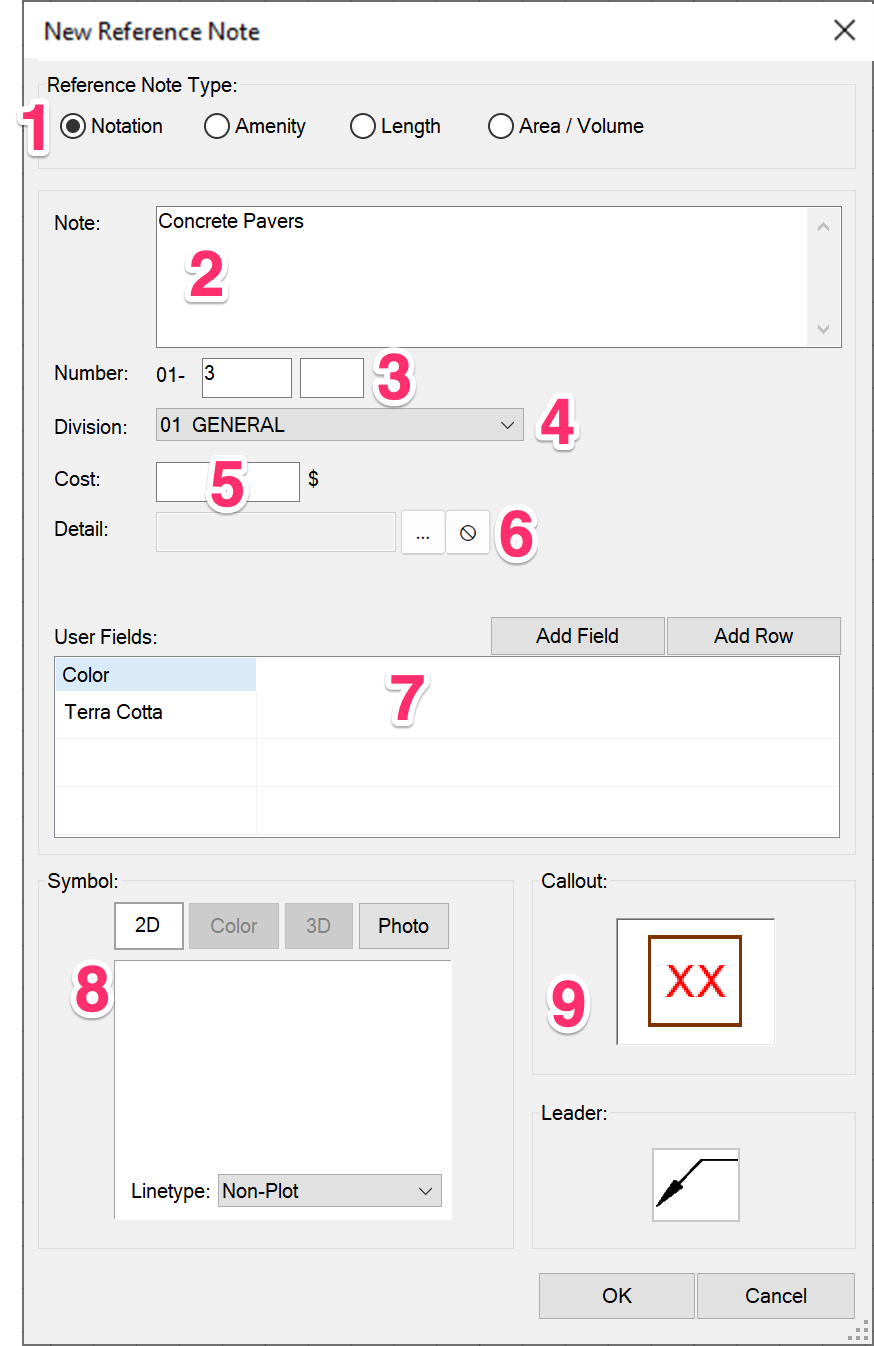 1. Reference Note Type: Verify that Notation is selected.
2. Note: Enter up to 256 characters of text to associate with the Reference Note.
3. Number: Type a number for the new Reference Note. For more information, see our Reference Note Numbers documentation.
4. Division: If desired, select a Construction Specifications Institute Division for the Reference Note. For more information, see our Reference Note Divisions documentation section.
5. Cost: If desired, type a cost per foot for this item. This information will apply if you decide to send the Reference Note Schedule to a spreadsheet format.
6. Detail: If desired, click Set Detail to go to the project's Detail Manager and select a detail. More information
7. If you want, you can add custom User Fields to your RefNotes. You can then create and assign values for these fields (for example, you can create a Color field and then add color values such as Terra Cotta, Gray, etc. to assign to RefNotes). These fields are tied to the Divisions, so you'll need to assign a division to a RefNote before you can assign these fields and values to that RefNote. You won't see this option until you've assigned a division to the RefNote.
8. Leader Type: Select a type of leader to use in referencing the new note. The new note will "remember" the leader type associated with it.
The leader type on the far right that shows a box containing an "X" means "No leader." If you select this option, the note will be placed into the drawing with no leader connection.
9. Callout: Select from three different callout shapes: Square, Hex, or Circle. You can also check the boxes for Screen Fill or Drop Shadow to apply these stylistic options to your callout.
10. Photo: If you want, browse to a photo of the object you plan to represent with this RefNote and place it as a Photo Callout.
The Note Field
The Note field, available in all five Reference Notes categories, is the most commonly used portion of the New Reference Note dialog box. For detailed information on this field and how to use it, see the Note Field section on our Reference Notes: Getting Started page.
Set Detail
This option allows you to associate a detail with the RefNote you're creating, and thus add that detail to the current project's Detail Manager. Once you've placed the detail in a drawing, its related detail number and sheet number will be listed automatically within the Reference Note Schedule in a column to the right of the RefNote associated with that detail. You can click Set Detail and associate a detail with a RefNote at any time – you don't have to associate a detail right when you first create the RefNote.
As the detail number and sheet number appear just to the right of the RefNote they refer to in the schedule, a good way to deal with a detail reference within a RefNote is to include the text "See detail." at the end of the note. You can then associate a detail with that RefNote and later, when you actually place the detail in a drawing, that detail number and sheet number reference will apply automatically.
Placing a Notation Reference Note
In the Reference Notes Manager, select the Notation option from the Reference Note Type menu to view the Notation Reference Notes that have been added to the current project.
Select the note you want to place, then click Place.
The Command line will prompt you to select an Arrow point.
When placing RefNotes, you can press the F8 and F9 keys to toggle between Ortho and Snap modes, respectively. This will allow you to lock your leaders at certain angles.
Click to place the leader arrow point.
Click again to place the callout.
Note:
The Reference Notes you develop for a project are stored in that project's database. Any other drawing you open and associate with the project will have all the Reference Notes available for use.
On any drawing for the project, use as many or as few of the Reference Notes as you wish. When you place the Reference Note Schedule on the drawing sheet, it will only show the Reference Notes you've used on that particular drawing.
Importing RefNotes from a Template or Project
If you find yourself adding the same Refnotes to multiple projects, we recommend setting up a project template and then adding your commonly used RefNotes to that template. You can then import them into a new project from that template. This practice can save you immeasurable amounts of time, considering all the data you need to fill out for each RefNote you create. With templates, you only need to add and configure your RefNotes once, then import them – along with all attached data – into the present project.
For more information and instructions, see our Importing Reference Notes page.
Other Reference Note Types
For information on the other types of Reference Notes, see our documentation on:
Related Webinars
Troubleshooting
Having issues with Reference Notes? See our RefNotes Troubleshooting section.