How often do you find yourself measuring and re-measuring your depictions of linear objects, like retaining walls, fences, railings, or curbs? We created Length Reference Notes to keep track of lengths in your drawing so you don't have to. You can use Length Reference Notes to calculate any linear items you draw or place. The length totals will be built into your design, preventing repeated measurements and allowing you to get back to submitting your plans on time.
For general information on Reference Notes, see our Reference Notes: Getting Started page, and view our Using RefNotes & Cost Estimates Webinar.
Length RefNotes are now Multileaders (MLeaders)! What's an MLeader? It's a native AutoCAD feature that renders the leader, arrow, and callout box into a singular, contiguous entity. For more information, see our MLeaders documentation.
Length Reference Notes Overview
Use Length Reference Notes when you want to display and keep track of the length of an object – for example, when you want to display the linear measurement of a particular object or series of objects for the contractor's convenience or your cost estimation.
Length Reference Notes calculate the linear length of a selected layer. For example, if you place a header board on a layer called L-HEADER, you can create a Length Reference Note to add up the total header board lengths. The Length Reference Note will do so by tallying the total length of layer L-HEADER.
Accessing the Reference Notes Manager
Open the Reference Notes (RefNotes) Manager:
F/X Site ribbon, RefNotes flyout
F/X Site ribbon, Site Amenities flyout
F/X Details ribbon, RefNotes flyout
F/X Site menu
Graphics RefNotes toolbar

Graphics toolbar
Or use one of the following keyboard commands:
Adding a Length Reference Note
To add a new Reference Note, click New in the RefNotes Manager.
The New Reference Note dialog box will open. Under Reference Note Type, select Length.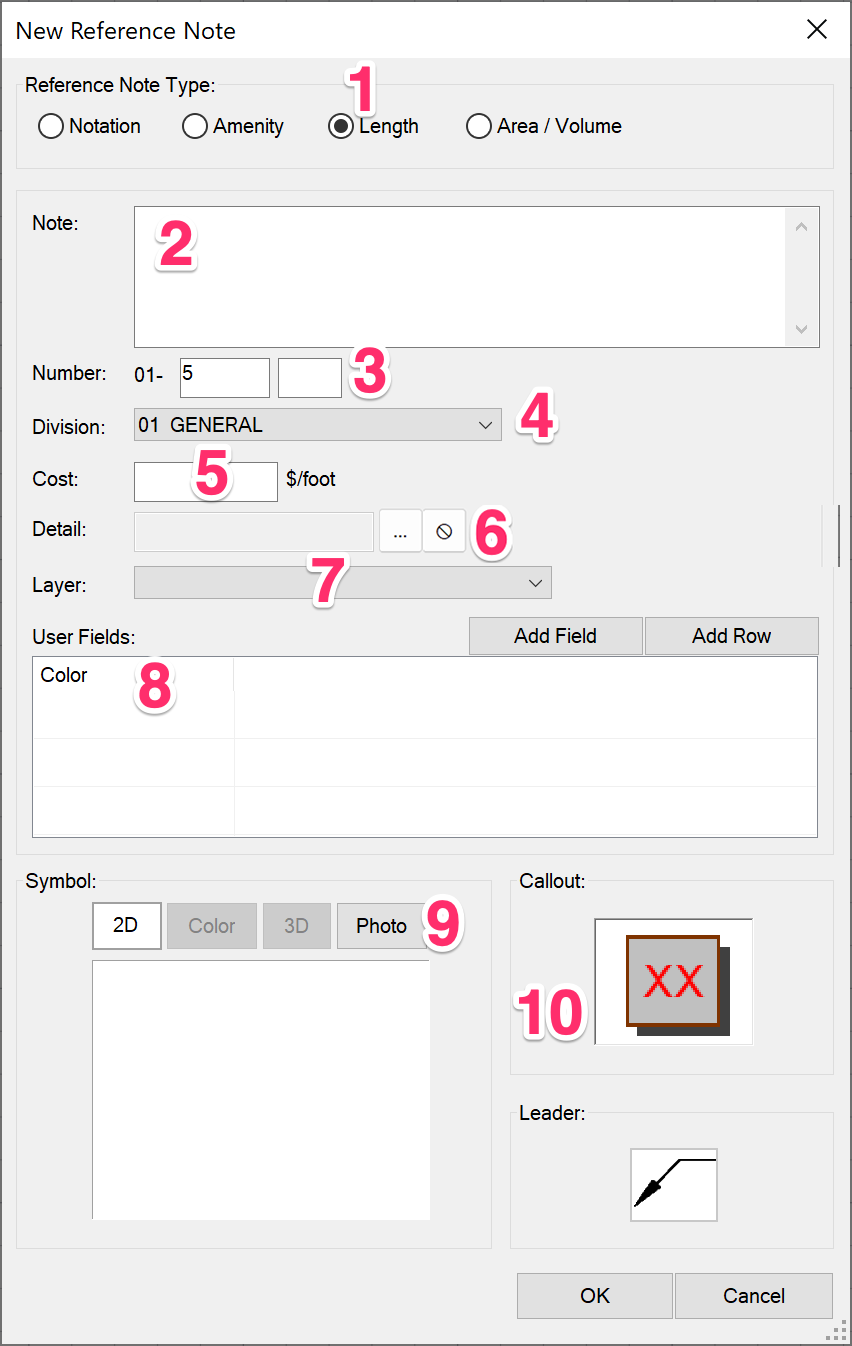 1. Reference Note Type: Verify that Length is selected.
2. Note: Enter up to 256 characters of text to associate with the Reference Note. More information
When adding a Length Reference Note, you can add a note that relates to a length of a line in the drawing or an Xref, such as for a mow strip or a handrail. The layer for that object would already have to be created in the drawing. For example, you could select a layer named L-HEDR (for landscape header) as the layer for this note. The schedule will add up the length of lines on that layer and display it.
3. Number: Enter a number for the new RefNote. For more information, see our Reference Note Numbers documentation section.
4. Division: If you want, select a Construction Specifications Institute Division for the Reference Note. For more information, see our Reference Note Divisions documentation section.
5. Cost: If you want, type a cost per foot or meter for this item. This information will apply if you decide to send the Reference Note Schedule to a spreadsheet format.
6. Detail: If you want, click the ... (Set Detail) button to go to the project's Detail Manager and select a detail. More information
7. Layer: If you want, select the layer where you want to place this Reference Note. More information
8. If you want, you can add custom User Fields to your RefNotes. You can then create and assign values for these fields (for example, you can create a Color field and then add color values such as Terra Cotta, Gray, etc. to assign to RefNotes). These fields are tied to the Divisions, so you'll need to assign a division to a RefNote before you can assign these fields and values to that RefNote. You won't see this option until you've assigned a division to the RefNote.
9. If you want, select the Photo tab, then click the thumbnail area below to browse to a photo of the item represented by the RefNote, and place it as a Photo Callout.
10. Click either the Callout or Leader preview thumbnail to choose your styles for callout boxes and leaders for this RefNote. See our Leader and Callout Style Options documentation for more information.
Cost
You can assign a cost factor to the length and run the Reference Note Schedule to a spreadsheet for a total cost of this item – useful for cost estimations and budget control.
Layer
The layer where you choose to place the Reference Note can be a layer in the current drawing or in an external reference (Xref) within the current drawing. For example, you drew the mow strip headers on the layer L-HEDR on the site base file. You then externally referenced this drawing for a site plan, so you will assign a Length Reference note to a layer in an Xref on the site plan drawing.
Use the Layer pull-down menu to view the available layers.
Once you select the appropriate layer, it will display in the Layer field.
Do not assign the layers 0 or Defpoints to a Length RefNote.
When selecting a layer for a Length RefNote, make sure you're selecting a layer whose name only includes letters, numbers, and/or hyphens (sometimes referred to as "dashes"). Take care not to select a layer whose name includes spaces or special characters other than hyphens. If you do, the note will calculate incorrectly in the Reference Notes Schedule. In fact, layer names in AutoCAD should only include letters, numbers, and hyphens in general. They should never include spaces or any other special characters.
If the object you want to turn into a Length RefNote isn't yet on the correct layer, you can assign it a layer in the Properties panel.
Select the object in your drawing, type Prop in the Command line, and press Enter.
Click to drop the menu down, and select the correct layer from the menu.
Don't see the correct layer for that object? Use our Load Layer State tool to bring in the set of layers you need.
The Layer pull-down menu first lists all layers in the current drawing, then a divider, then all layers from all Xrefs sorted alphabetically.
Note that this divider is the only differentiation you'll see between the layers in the current drawing and the layers in the Xrefs. Take care when assigning a layer to your RefNote that you assign a layer from the current drawing – that is, one of the layers listed above the divider.
Once you've assigned a layer to the RefNote, you'll be able to reference keep track of the total length of this layer – either in linear feet or linear meters.
You'll be pointing to a specific layer. If the object is to be represented by two lines – such as a wall drawn with two parallel lines – don't select that layer, as it will double the real quantity. Instead, select a center line layer (that is perhaps turned off or non-plotting), which will give the correct linear units.
Placing a Length Reference Note
Placing a Length RefNote requires you to associate a note callout with a layer. When you created the Length RefNote, you selected a layer for this note to represent. As mentioned above, this layer can be in the current drawing or in an Xref of this drawing.
To place the Length RefNote, select it in the Reference Notes Manager and click either the Place or Callout button.
The cursor will turn into a pickbox, and the Command line will prompt you to Select object to callout.
Click an object on the layer you want to call out.
The Command line will prompt you to select an arrow point.
Click to place the callout leader and arrow. Then click again to place the callout.
The pickbox will still be active, so you can select another layer to call out. This can be the layer you have just called out, or it can be a completely different layer.
Note: When placing RefNotes, you can press the F8 and F9 keys to toggle between Ortho and Snap modes, respectively. This will allow you to lock your leaders at certain angles.
Length Reference Notes and the Reference Notes Schedule
Reference Notes Schedules have a specific way of handling the layers assigned to Length RefNotes.
Layers in the Current Drawing
When you run a Reference Notes Schedule and include a Length RefNote that's assigned to a layer, the schedule will grab all entities on that layer in the current drawing (unless that layer is frozen).
Layers in Xrefs
If you select the Include Xrefs option when running a schedule, the schedule tool will scan every Xref to determine whether:
That Xref includes the selected layer in question, and
That layer is not frozen
If both conditions are met, the layer in the Xrefs will also be included in the schedule.
The schedule will assume that Xrefs are placed at 0,0, with no rotation, and are in the same units as the main drawing.
In matching Xref layers, the schedule tool will be case sensitive. Do not name a layer L-FENCE in the main drawing and L-Fence in the Xref.
You can troubleshoot by watching the Command line while the schedule tool is scanning the Xrefs for layers. For example, you might see something like:
Layer L-FENCE — Counting 35 entities in current drawing: added 257.01
Layer L-FENCE — Counting entities in xref 'PLANT-BASE': added 30.11
Layer L-FENCE — Counting entities in xref 'TOPO': added 7901.58
For example, let's say you didn't want the L-FENCE layer counted from the TOPO base. In that case, you can just freeze that layer. The schedule will then add the remaining two L-FENCE lengths: one from the current drawing, and the other from the PLANT-BASE Xref.
Importing Reference Notes from a Template or Project
If you find yourself adding the same Refnotes to multiple projects, we recommend setting up a project template and then adding your commonly used RefNotes to that template. You can then import them into a new project from that template. This practice can save you immeasurable amounts of time, considering all the data you need to fill out for each RefNote you create. With templates, you only need to add and configure your RefNotes once, then import them – along with all attached data – into the present project.
For more information and instructions, see our Importing Reference Notes page.
Other Reference Note Types
For information on the other types of Reference Notes, see our documentation on:
Related Webinars
Troubleshooting
Issue: Length Reference Notes are not calculating correctly or appearing in the Reference Notes Schedule at all
Having issues with Reference Notes? See our RefNotes Troubleshooting section.