Our Hatch tool is a simple way to access hatch patterns intended for site plan usage. Grouped with our F/X Site tools, Hatch provides quick access to hatches for:
Details
Drip irrigation areas
Groundcovers
Site and Reference Note (RefNote) items such as mulches
Site areas designated by Truecolor
Want more information on site and RefNote hatches? Visit our documentation sections on Placing a Site Hatch and Saving a Hatch.
Note: Hatch patterns can be used for a variety of purposes. Before using this tool, you will need to create an appropriate layer and make that layer active.
Our default hatches are hosted on the cloud (online). Previously, the hatch files were downloaded automatically into the folder LandFX/Hatch when you installed our software. Under this cloud setup, each of the hatches will live on our website until you place it in a drawing. When you place a hatch for the first time, the software will download the PAT file containing that hatch and place it in the appropriate location in the Hatch folder. Storing our blocks and hatches on the Cloud streamlines our installer and allows us to add new blocks and hatches dynamically, making them available with a simple software update. For more information, see our Cloud-Based Blocks and Hatches page.
Hatch Patterns Overview
The Hatch Patterns are standard AutoCAD hatch patterns and custom patterns that we have evaluated and included in our system at specific scales. Our default scale settings reflect our interpretation of the optimal hatch pattern for site plan usage. You can edit this scale setting if you feel it should be different. Once you change the scale to any of our default hatches, your scale setting will be saved in the user-xxxx.xml file within the folder LandFX\Hatch for safekeeping. More information
As long as your scale is set, the size of the hatch pattern will remain the same – regardless of the scale of the drawing, or whether you are in Model Space or Paper Space.
Access our Hatch tool:
F/X Site ribbon, Hatch flyout
F/X Graphics toolbar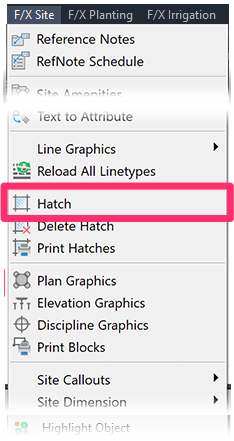 F/X Site menu
or type FX_SiteHatch in the Command line
The Hatch dialog box will open.
To place a hatch, click the thumbnail image of the hatch you want.
The cursor will turn into a pickbox. Use the pickbox to select a closed polyline in your drawing in which to place the hatch.
We've made some major changes to our hatch pattern system. For example, you'll now see tabs for subcategories within each hatch category selected in this dialog box. More information
Notes:
The Hatch tool provides a convenient library of site hatch patterns. It also allows for the automatic scaling of the hatch patterns you will place.
Your installation includes the Land F/X Hatch Patterns drawing, which contains editable versions of all our default hatch patterns. See our Land F/X Hatch Patterns Drawing page for information on how to find or download this file.
Want to save a hatch into the system? See our Save Hatches page.
Editing Hatch Patterns
After testing each hatch pattern with a number of different scales, we made a determination of which scale seemed the most appropriate for usage on site plans. We set this scale as the default hatch scale. We've also applied a default rotation (i.e., the angle at which a pattern will be viewed when placed in a drawing) and even a default layer for each of our hatch patterns to be placed on. However, you can easily make changes to any or all of these settings.
To edit a hatch pattern, highlight that pattern in the Hatch dialog box.
Then click Edit.
A preview dialog box of the hatch pattern you selected will open.
1. Name of the selected hatch pattern
2. Thumbnail view of the pattern.
3. Description of the selected pattern. Hatch patterns are now displayed and organized by their descriptions.
4. Control the scale of the selected pattern by either typing a scale value or using the slide.
If you change the Land F/X default hatch scale, your change will go into the User-xxx.xml and the system will use the user-defined scale as default. More information
5. You are no longer able to change the rotation of a default Land F/X hatch pattern. We have added several rotations to all appropriate hatches, so you shouldn't need to. Still want to change the rotation? Here's how.
6. If you want, you can type the name of the layer where you want the hatch to be placed.
Specifying a layer name here will place the hatch on that layer instead of the default, including when you're placing hatches for Area/Volume Reference Notes (RefNotes). You can refine your drawing setup routine by loading in the definitions of these layers that you define by using our Layer States tool to save a list of layers and their properties.
If you already have saved hatches in the system with assigned custom layers, you'll need to navigate to the user section of the hatches and re-input the desired layers.
Click OK to save your settings.
Always test the output of any adjusted hatch pattern in Paper Space. The system will automatically scale the pattern appropriately for Model Space. Remember: When you change a hatch pattern's scale, you're changing it for all future use by the whole office. Be careful!
To get an accurate printout of all settings as they sit in the hatch library, run PRINTHATCHES and select the category you'd like to print. The system will automatically lay out all hatches within that section so you can save into your office Standards reference folder.
Editing Placed Hatches: Why You Should Be Using Our P-Hatch Tool
Need to add to or subtract from an existing placed hatch in your drawing? If so, we recommend using our P-Hatch tool rather than the native CAD Hatch Edit command.
P-Hatch provides a quick way to add to or subtract from hatches by "painting" the hatch pattern into your drawing using one of several possible "brush" patterns. It's also a safe way to edit placed hatches without compromising the hatch boundary.
It's especially important to use P-Hatch to edit hatched areas that contain individual blocks such as shrubs, site amenities, or generic blocks. We've seen some major issues result from the use of Hatch Edit for this purpose – especially when user has attempted to select individual shrubs or other block to trim the hatch beneath them.
The issue often arises when a user uses the Add Boundary option within the Hatch Edit command and then clicks individual blocks within the hatch to trim the hatch beneath those blocks. This practice can result in hundreds of small boundaries within the hatch boundary (a major cause of poor drawing performance), while also negating the overall Area property for some of the hatches.
In these cases, we strongly recommend using P-Hatch, which makes instant edits to the hatch pattern while protecting the hatch's boundary and area total.
Adding Hatch Patterns
Our Save Hatch tool provides a convenient method for adding existing hatch patterns to our hatch pattern database. For more information, see our Save Hatches page.
Assigning a Real-World Scale to a Placed Hatch Pattern
You might want a hatch that shows pavers, wood planks, or other objects to appear at a scale where the hatch components show at the same measurements in your drawing as they would on the site itself. For example, you might have a hatch depicting 8-inch pavers, and you want the pavers to actually measure 8 inches in your drawing. If so, here's what to do.
We have plans to introduce a true-scale section of hatches, but they are still under construction. This feature will be a part of a phase two of our hatch pattern roll-out.
Troubleshooting
Issue: Hatches are appearing as solid rather than patterns
Hatch Scale Issue: A hatch doesn't look right
Hatch Scale Issue: A hatch is either too dense or does not render
Issue: Hatch Island / Hatch Multiple feature is not working properly
Issue: Super Hatch & Land F/X software
Issue: Hatch definition not found – error message
Issue: Hatch preview slides (thumbnails) are incorrect – several slides are identical but have different names
Issue: Unable to see hatches or colorized plants in a 3D model (AutoCAD or Civil 3D)
Issue: When you change a hatch description when editing that hatch, a new duplicate hatch is being created with the original description
Issue: Error message: The hatch no longer exists
Issue: Colors are displaying incorrectly in Model Space
Issue: While working offline, you are unable to access hatch patterns you've already used. The thumbnail previews in the Hatch dialog box are blank.
Issue: You tried to place a Stipple hatch pattern, but the hatch is placing incorrectly outside the polyline area
Issue: Your hatches are showing up incorrectly, or as random lines or solid colors
Issue: Your hatch libraries are blank or empty
Issue: A placed Land F/X hatch looks fragmented or isn't joined like it should be
Issue: You are unable to change the rotation of a hatch pattern
Issue: A placed Land F/X hatch looks different from its thumbnail preview slide in the Hatch dialog box
Issue: You've assigned custom layers to some of our hatch patterns, and those layers are missing from the hatches