Our SketchUp Plant Info tool brings up information on plants you've placed from an existing Land F/X project that you've either:
Created in SketchUp
Created in CAD and imported into SketchUp
You'll need to open a new or existing Land F/X project before using this tool. You can create a new Land F/X project in SketchUp, or open an existing project, using our Projects tool.
Plant Info Tool Overview
To access information about a specific plant or plant type in your design, first click the plant to select it.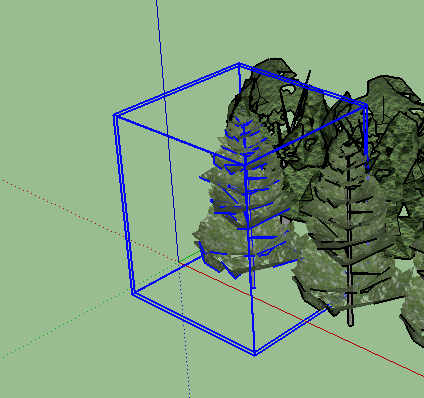 You'll now see a blue 3D cube around the plant you've selected.
After selecting a plant, open the Plant Info tool:
LandFX toolbar, Plant Info button
Land-FX menu, Plant Info option
The Land F/X Plant Info dialog box will open.
Here, you'll see the plant's taxonomical and common names, as well as the plant's symbol width in your design.
The Symbol thumbnail near the bottom of the dialog box displays the symbol you currently have set for the selected plant.
Assigning a Symbol to a Plant
The first time you add a specific type of plant to a SketchUp project, an entry for the plant will appear in the Land F/X Place Shrubs or Land F/X Place Trees dialog box wihout a symbol.
You'll be required to assign a symbol to that plant before placing it in your SketchUp model. The symbol will provide a visual representation for the plant wherever it appears in your design.
To begin assigning the plant a symbol, click the blank box above its name.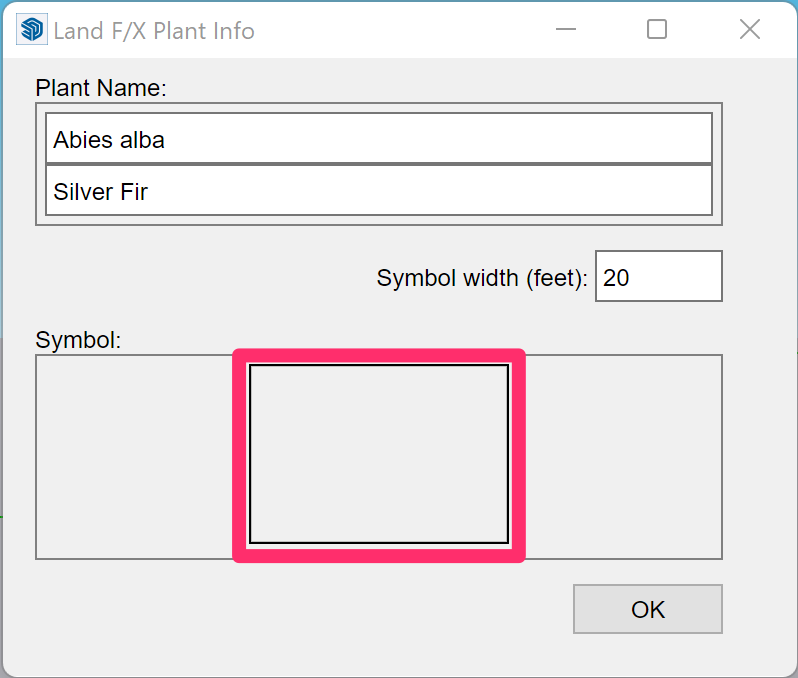 The Land F/X Plant Info dialog box will open.
Note that the thumbnail in the Symbol area will be blank.
Click this blank thumbnail box.
The Land F/X Select Component dialog box will open.
Select a plant symbol type by clicking one of the buttons at the top of the dialog box. This feature offers several plant categories to browse through to find the most applicable symbol for your plant.
You can also browse for your own pre-saved plant symbols by clicking Browse. However, your library of pre-saved symbols must be located in the folder you've designated as your Land F/X SketchUp plugin folder.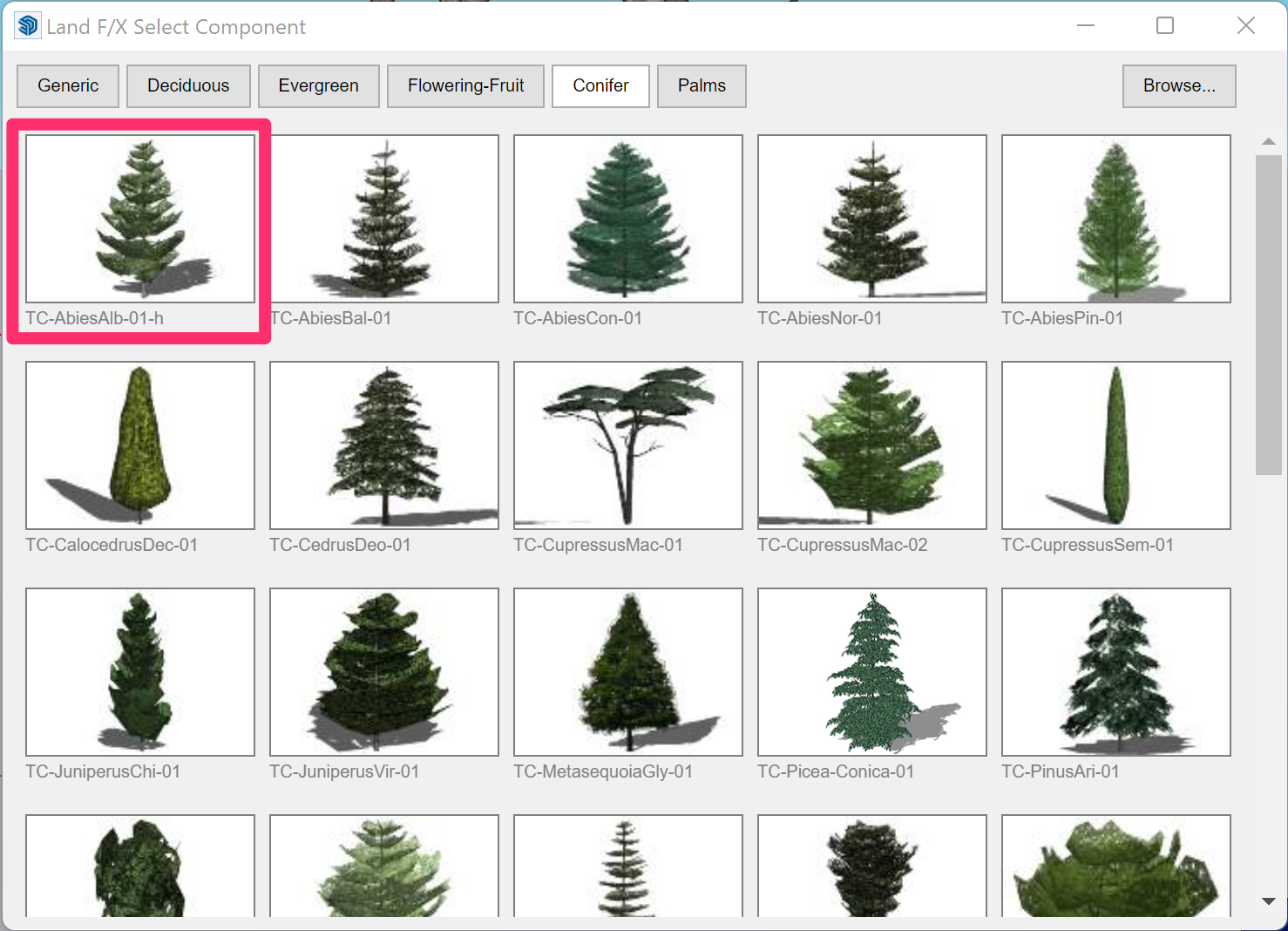 Scroll through the symbol library, and click a symbol thumbnail image to assign that symbol to the selected plant.
The Land F/X Plant Info dialog box will open again, and the symbol you selected will now be visible in the Symbol thumbnail area.
Click OK to accept the symbol assignment and close the dialog box.
After assigning a symbol to a plant, you'll see that symbol in the thumbnail area above that plant's name in the Land F/X Place Plants or Land F/X Place Shrubs dialog box.
You can now begin placing the plant in your SketchUp model using our Place Tree or Place Shrub tool.
Related Videos
Troubleshooting
SketchUp: Basic troubleshooting (adding, placing, importing plants)
Issue: You are unable to select a 3D symbol in SketchUp
Issue: The Land F/X SketchUp plugin freezes or becomes unresponsive
Issue: Clicking one of the Land F/X tool buttons in SketchUp does nothing