When you size an irrigation system, it will determine the precipitation rate that results from the actual head layout – not just some theoretical value. With this rate of water application known, the time required to apply a certain amount of water can be displayed in a report known as the Watering Schedule.
Note that the Watering Schedule calculates and records precipitation per week of watering, while the Runtime Schedule calculates precipitation per day.
You may want to generate a watering schedule for only a specific portion of a drawing, such as an area or phase of your project. In these cases, you can limit the watering schedule with the help of work areas. For more information, see our Work Areas and Irrigation Schedules page.
Watering Schedule Overview
Open the Watering Schedule tool:
F/X Irrigation ribbon, Watering Schedule flyout
Irrigation toolbar
Irrigation Manager toolbar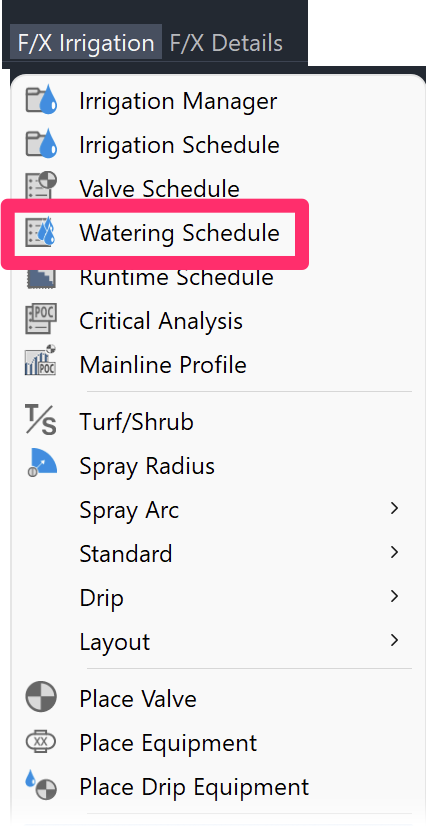 F/X Irrigation menu, Watering Schedule option
or type WateringSchedule in the Command line
The Watering Schedule dialog box will open.
1. Destination: Select one of these options to send the schedule to the Drawing, a Table (with lines between the schedule items), or to a Spreadsheet.
2. Zones: This list shows the types of irrigation components you have placed into your design. (If you have yet to place components, this list will be empty.)
3. Set Zones Individually: Checking this box will allow you to pick individual Zones (Valve Numbers) and set the result by each Zone (Valve).
4. In. or MM/week: Enter how many inches (or millimeters) of water you want to apply for the highlighted Zone type in one week.
5. Days to Water: Check the box for each day of the week in the highlighted Zone when you would like to water.
6. Include individual days on report: Checking this box will allow the report to show each day and indicate the watering time for that day. If the box is unchecked, only the week will be indicated.
Example watering schedule:
Precipitation Rate Calculation
When the Watering Schedule calculates the precipitation rate, you might notice that the numbers come out differently from those in the manufacturer's catalogs.
The PRECIP column lists the precipitation rate for each component.
Manufacturer catalogs have two different numbers – one for perfect Triangular spacing, and one for perfect Square spacing. As we all know, the world is not perfect, and heads are rarely laid out in laboratory conditions. The system calculates the average precip rate across the zone as the heads were laid out.
But what if the Precip Rate in the Watering Schedule isn't even close to the listing in the manufacturer's catalog? It could just mean you have only half the heads on the zone – for instance, just one side of strip sprays. You can always select the Spreadsheet option in the Destination area when creating the schedule. This will send the schedule to Excel, where you can edit the Precip Rates to manufacturer values.
Limiting the Watering Schedule Using Work Areas or Points of Connection (POCs)
You may want to generate a watering schedule for only a specific portion of a drawing, such as an area or phase of your project. In these cases, you can limit the schedule with the help of work areas. For more information, see our Work Areas and Irrigation Schedules documentation. For instructions on creating a Work Area, see our Work Areas documentation.
For projects that include more than one point of connection (POC), you can also create a watering schedule that only includes equipment that is connected to a given POC. For more information, see our Limiting Irrigation Schedules to a Specific POC documentation.
Critical Analysis
Critical Analysis is a report placed into your drawing that gives you the same information that was displayed after sizing the mainline. The Critical Analysis will list the POC number, the Flow Available, the Pressure Available, and a Design Analysis of the Maximum Station Flow, with the Residual (or leftover) Flow, the pressure loss to provide the Critical Station (most demanding valve), and the Residual (leftover) Pressure.
For more information, see our Critical Analysis documentation.
Watering Schedules and Slope Areas
Slope Areas work with our Slope Callout tool to apply a specific grade percentage or ratio to a closed polyline area in your drawing. Objects represented by any smart hatches within those closed polylines (Slope Areas) will have their quantity, volume, or area recalculated based on that slope percentage or ratio.
If you run a Watering Schedule in a drawing that includes one or more Slope Areas, the schedule will scan all Schematic zones, Areas for Dripline to determine whether they are inside a Slope Area. If so, the schedule will recalculate the square footage/meters of those areas, along with any resulting changes in equipment quantity and flow rate.
Change Watering Schedule Column Widths
You can easily change the widths of your Watering Schedule columns using the AutoCAD Block Editor. However, you can only adjust the column widths of a schedule you've placed as a table.
Want the freedom to adjust your schedule column widths manually, but don't want visible table borders in your schedule? Follow our steps to create a table-style schedule without lines.
Watering Schedule Logic Rules
Currently, the sorting for the Watering and Valve schedules supports the following rules for sorting the next value and renumbering:
. or - used as dividers (so "A-99", "B7.2" etc, and not "A/01" or "B,3" etc.)
Up to three logical valve number groups: the prefix, the number, and the suffix
Up to 2 characters, and up to 3 numbers for any of these items, as in:

A-100.2 — prefix A, number 100, suffix 2
AA-99.B – prefix AA, number 99, suffix B
9A – no prefix, number 9, and suffix A
Related Webinars
Excel With The Right Tools: No matter how much you can accomplish in AutoCAD, sometimes MS Excel can do the job better. We'll give you some examples of how Excel can improve your design process by adding everything from shade analysis reports to MAWA calculations and in-depth watering schedules. (1 hr 5 min)
Troubleshooting
Issue: Your Watering Schedule shows two or more identical zones with different precipitation rates
Issue: When running a Watering Schedule, you received an error message stating that one of your valves has no precip rate
Having a problem with irrigation schedules, including valve, runtime, and watering schedules? See our Irrigation Schedules Troubleshootingpage.