The Place Site Amenity tool allows you to browse and specify site amenities offered by a number of manufacturers in our site amenities product library. You can use this tool to add specific products such as benches or bike racks to your project and place them in your SketchUp model.
You'll need to open a new or existing Land F/X project before using this tool. You can create a new project in SketchUp, or open as existing project, using the Projects Tool.
Place Site Amenity Tool Overview
Open the Place Site Amenity tool:

LandFX toolbar, Place Site Amenity button
Land-FX menu, Place Site Amenity option
The Land F/X Place Site dialog box will open.
Click New.
This dialog box will be blank if you haven't yet placed a site amenity in your SketchUp model.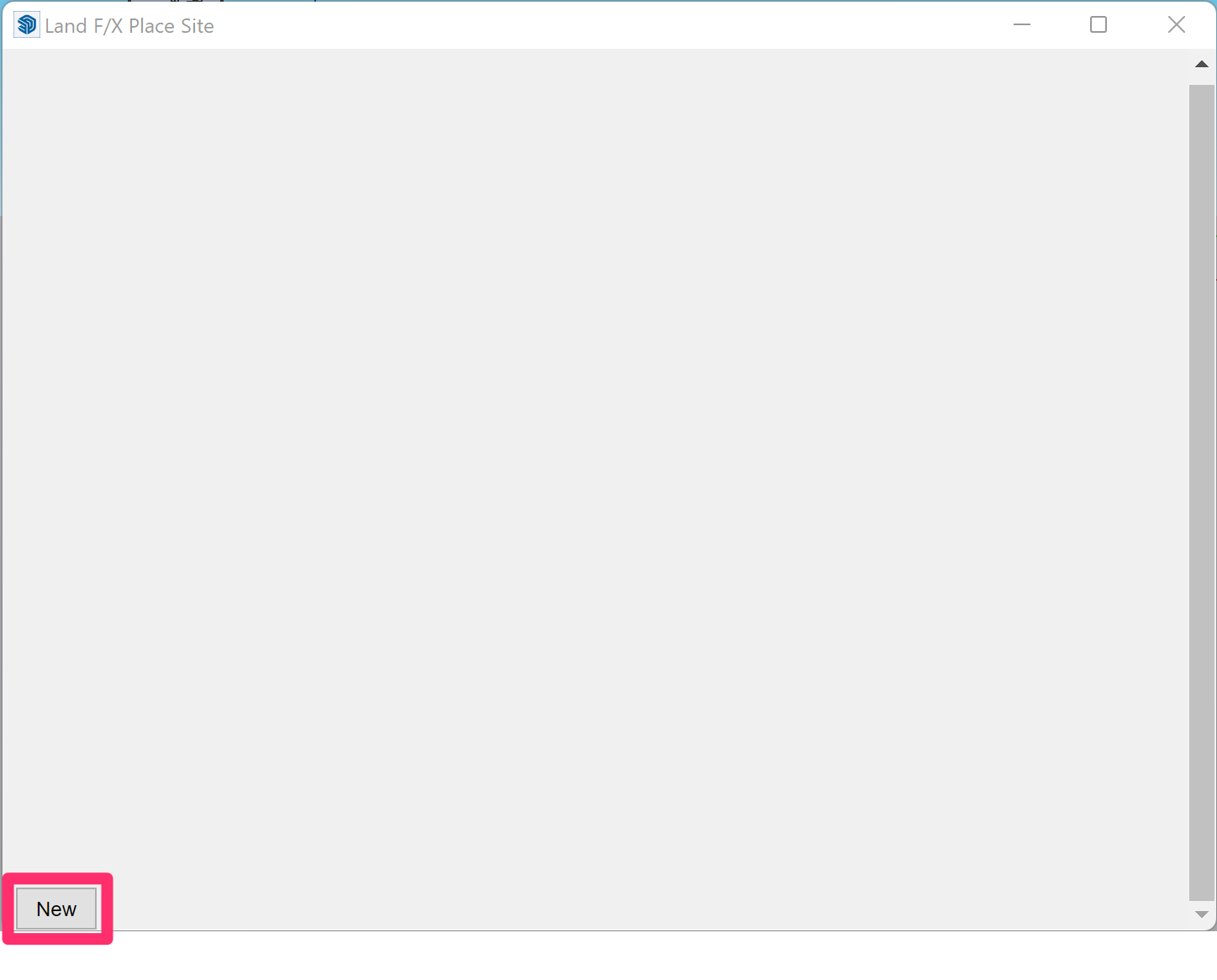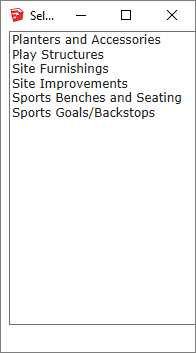 The Select Type dialog box will open.
Adding a Site Amenity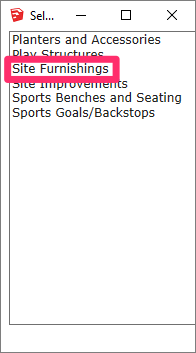 To select the type of site amenity you would like to place in your design, click one of the options in the Select Type dialog box.
In our example, we'll select Site Furnishings.
The Select Manufacturer dialog box will open. Here, you'll see a list of manufacturers in our database that offer the type of site amenity you selected.
Scroll to the manufacturer whose site amenity you want to specify.
Click the manufacturer's logo to select that manufacturer. In our example, we'll select BRP by Bison.
You'll now see a dialog box that lists products offered by the selected manufacturer.
1. Choose a type: Click a type of site amenity offered by that manufacturer.
2. Choose a series: Click a series of the selected site amenity type to select that series.
3. Change Manufacturer: Click this link to select another manufacturer.
4. This area shows thumbnail images of site amenities in the selected type and series. Click a thumbnail image to select a series.
When you click one of the thumbnail images shown above, the Select Model dialog box will open.
Here, you can select various information about the selected model such as material and size (if available).
Click the More Info link to open the manufacturer's Web page about the selected site amenity.
Click OK to select the model.
The Land F/X Place Site dialog box will open, now displaying the site amenity model you selected. The model has been added to your project.
Placing a Site Amenity
You can only place site amenities in your design once you've added them to your project by following the steps above.
In the Land F/X Place Site dialog box, click the image of the site amenity you want to place in your SketchUp design.
You'll now see the symbol for the site amenity you selected in your SketchUp model, in the location of your cursor.
Click a point in your design to place the site amenity. As you move your cursor, the symbol will pivot horizontally around the point you have set as its start point. Click again when your cursor is in the location you would like to set as the end point for your site amenity.
An instance of the site amenity will be placed between the two points you set. A second symbol for the site amenity you selected will now appear and follow your cursor as you move it throughout the screen as before. Click to set start and end points for additional instances of that site amenity as described in the steps outlined above.
Requesting More Manufacturer Information
The Site Amenity tool also allows you to access further information about manufacturers included in our site amenity library.
Open the Select Manufacturer dialog box as described above. Select a manufacturer's logo to learn more about that manufacturer.
1. To receive a catalog from a manufacturer, click the Send Me Their Catalog button. You'll receive Catalog Request Form for the manufacturer you selected (example below). Fill out this form to receive a catalog via email.
2. To learn more about a manufacturer in the list, click the Web site link to the right of the manufacturer's logo. You will be sent to that manufacturer's website for more information.
Here's an example of a catalog request form: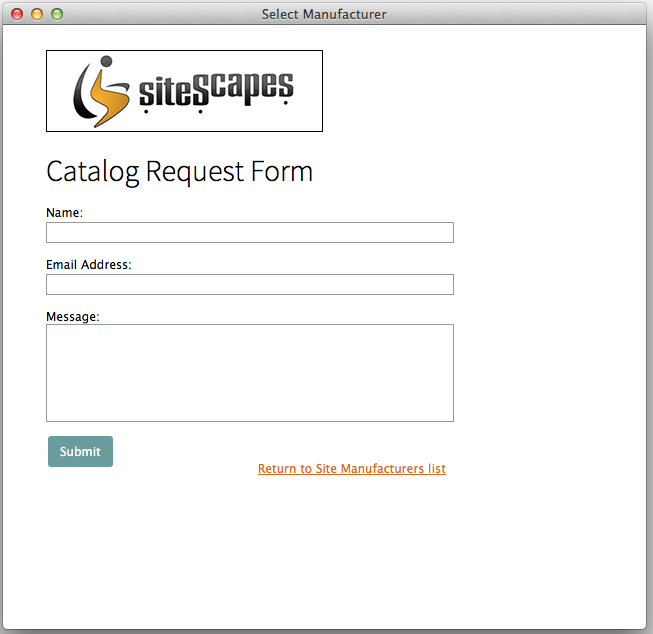 Related Videos
Troubleshooting
SketchUp: Basic troubleshooting (adding, placing, importing plants)
Issue: Objects are appearing in the incorrect locations or backward in your SketchUp model
Issue: You are unable to select a 3D symbol in SketchUp
Issue: The Land F/X SketchUp plugin freezes or becomes unresponsive
Issue: Clicking one of the Land F/X tool buttons in SketchUp does nothing