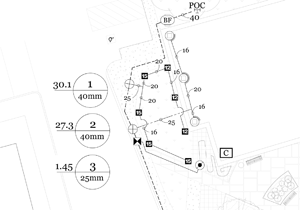 Fonts included with Land F/X
We've added some incredible font options for customizing your Land F/X installation, which now include the rare Adobe Graphite TTF – available for use in AutoCAD exclusively via Land F/X plugins.
Set your standards once. Enforce them forever.
Save your customizations into a set of standards you can reuse. Control symbols size, layer and line colors, fonts, plotting preferences, size calculation options, flow and pressure units, label style, schematic irrigation types, schedule layout, and pipe defaults.

Apply your standards to every design, officewide.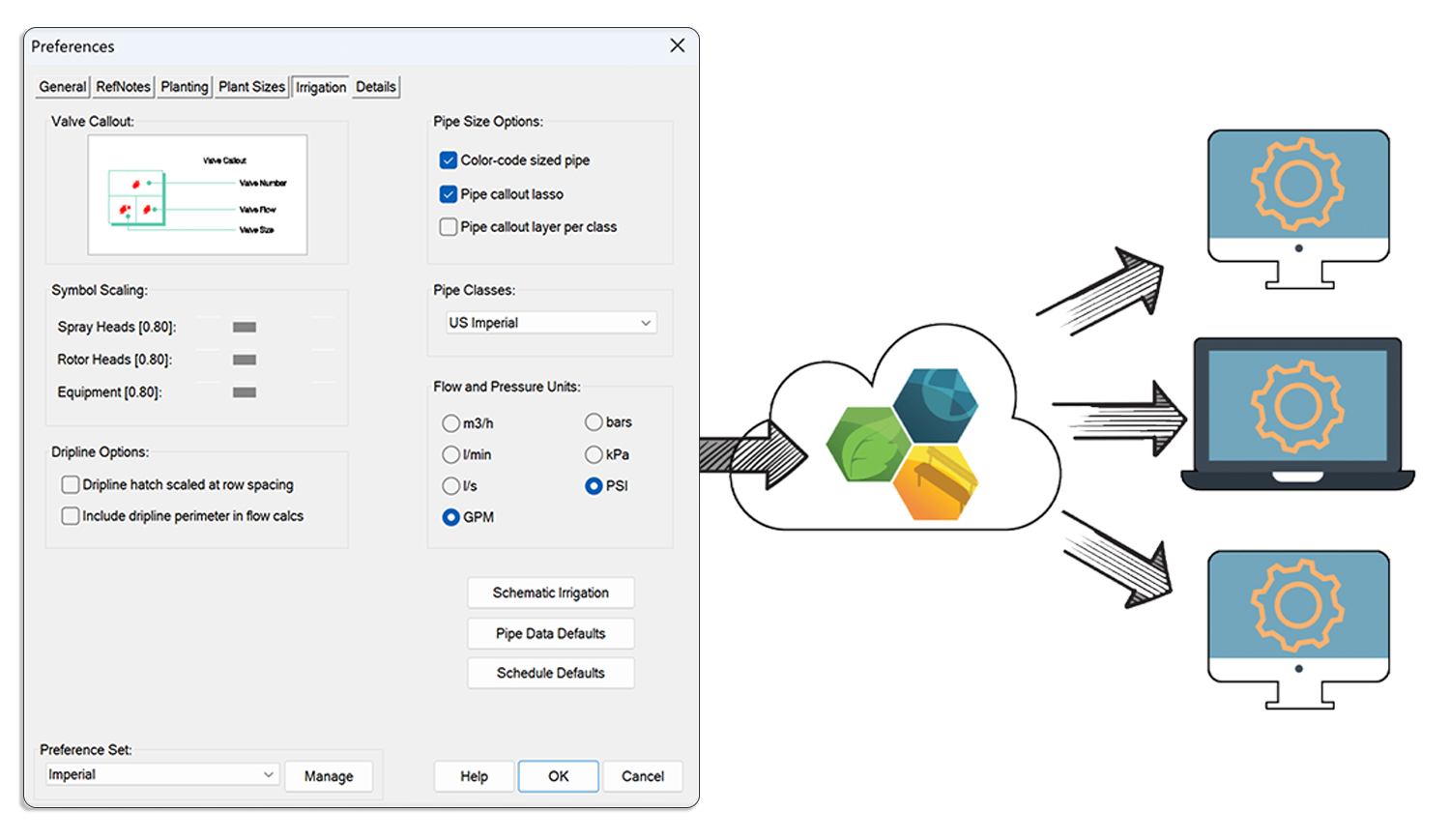 Symbol Library
We've created an extensive collection of irrigation symbol blocks, which we've curated carefully to lend a distinct look to each component from each manufacturer. Access all the other blocks in our library, and easily swap any of them out for your custom symbols.
Tools for Placing Equipment
Copy Along a Path
Instantly place duplicates at your exact spacing.
Can you find the errors in this plan? Irrigation F/X did, in seconds.
These heads are not connected to valves. These errors are highlighted in green.
These pipes are intersecting. Overlapping pipe intersections are are highlighted in yellow.
The lateral pipes connected to this valve haven't been sized. Lateral pipe size errors are highlighted in magenta.
This valve is not called out. Valve callout errors are highlighted in cyan.
Calculations & Labels
We'll size for you, automagically using the Hazen Williams formula. With our tools, you'll never undersize your pipes, or exceed pressure and flow availability. We do what you do by hand, but faster.
Schedules & Reports
Instantly produce and customize any schedules or reports. Leave the calculations to us.
Irrigation Schedule
List all equipment you've used or specified in your project in an easy-to-read reference. Include, or don't include, data such as quantity, pressure and flow rates, and schematic costs. List spray heads by group or by nozzle – it's all up to you.