Issue
You are unable to select 3D plant symbols in SketchUp using our SketchUp plugin. You cannot select the symbols to assign to plants.
Cause
Your firewall may be preventing ourSketchUp plugin from working properly.

Solution
1. Open the Windows Firewall app (not the "Advanced networking" app).
2. Click Allow an app or feature through Windows Firewall.
3. Click Allow another app.
If the Allow another App option if grayed out, click the Change settings button. The Allow another App option should now be available.
4. The Add an app dialog box will open. Click Add.
5. Navigate to C:\Program Files\SketchUp\(your year version of SketchUp)\sketchup.exe.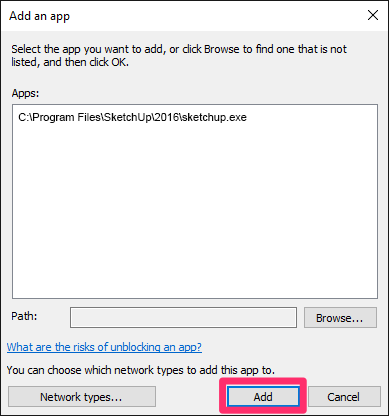 6. Click Add again.
You should now be able to select your 3D symbols successfully.