Issue
Plants don't show up in SketchUp when using the Land F/X 3D Connection.
Solution
If you've sent plants or other items from CAD to SketchUp using the 3D Connection, but those items aren't showing up in SketchUp, you'll need to take a few corrective actions.
1. In SketchUp, open the Settings tool:
LandFX toolbar, Settings button
Land-FX menu, Settings option
2. In the Land F/X Settings dialog box, confirm that your Support ID is valid by clicking Validate.
If your Support ID is not valid, enter the correct Support ID and click Validate again.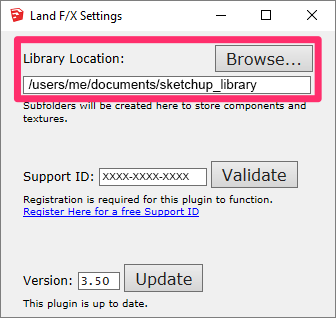 3. Confirm that you've chosen a Library Location folder to store downloaded content.
To select a folder, click the Browse button and navigate to the folder of your choice. You're welcome to choose C:\Landfx\Sketchup.
If you choose a folder other than C:\Landfx\Sketchup as your library folder, that folder must:
Not contain any files that are not related to the Land F/X SketchUp plugin (that is, it can only contain files that are related to the SketchUp plugin)
Have Read/Write permissions
4. Check whether the plugin is up to date.
If a newer version is available, click Update to update to the latest version.
Don't have the Land F/X SketchUp plugin? Download it here.
5. Plants still not showing up, or not appearing to? Or appearing overly small or far away? Here's what to do.