Issue
If you've lost your project data or reinstalled Land F/X on your system and are missing your project list, you can import your Land F/X data from our automated backup systems.
Solution
You'll find the backup file for your project in the same directory as the drawing that's associated with that project. These backup files are created automatically each time the DWG file is saved. These files are backups and should not be used normally to import or transfer project data.
To import the backup file:
Open the drawing file (DWG) that's associated with the project you want to import.
Open our
Projects
tool:

F/X Admin ribbon, Project List button

Admin Data toolbar
F/X Admin toolbar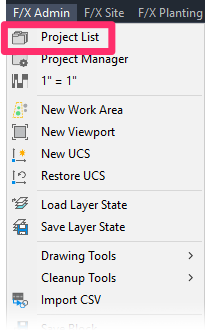 F/X Admin pull-down menu
or type FX_ProjectFiles in the Command line
The Land F/X Projects dialog box will open. Click Restore.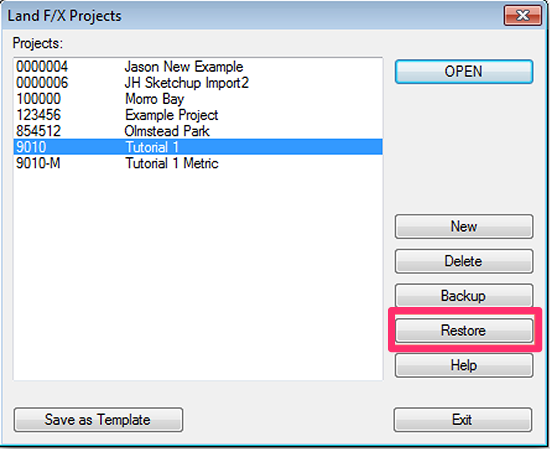 The Restore Project dialog box will open. Click Import.
The system will browse automatically to the folder containing the DWG file you currently have open.
Here, you'll see a file with a name ending in .lfx. Select that file and click Open. (Note that older project backups will be named auto_projdata.lfx, but newer projects will just have the project name followed by the extension .lfx.)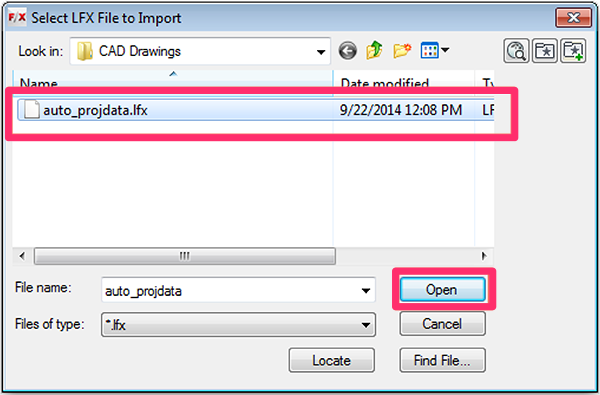 Your Land F/X project data will now be restored.