If you have experience reading our documentation, chances are you've run into an article or two about the importance of backing up your files and data. If you have our software installed on a Mac using Parallels, you can easily set up your computer to back up your work automatically using the Time Machine tool.
Included in all recent Mac operating systems, Time Machine performs periodic backups of your files to the external device of your choice. Once you've set up Time Machine, you'll have a secure – and automatic – backup system in motion, giving you a valuable safeguard against lost work.
Step 1: Selecting and Installing an External Medium
To back up your files and Land F/X data using Time Machine, you'll need some sort of backup medium, such as an external hard drive. Here are our recommendations:
Using Time Machine to back up to an external hard drive is one of several backup methods you should have in place. For more information, please see our Backup Recommendations.
Once you've obtained an external medium, you'll need to hook it up to your computer in order to use it with Time Machine. Most external hard drives connect to your computer via a USB cord. Plug it in, and you're ready to set up Time Machine.
Step 2: Setting Up Time Machine
Time Machine is available through your Mac System Preferences. Click the apple icon in the top left corner of your screen, and select System Preferences from the menu that opens.
In your System Preferences screen, select the Time Machine icon.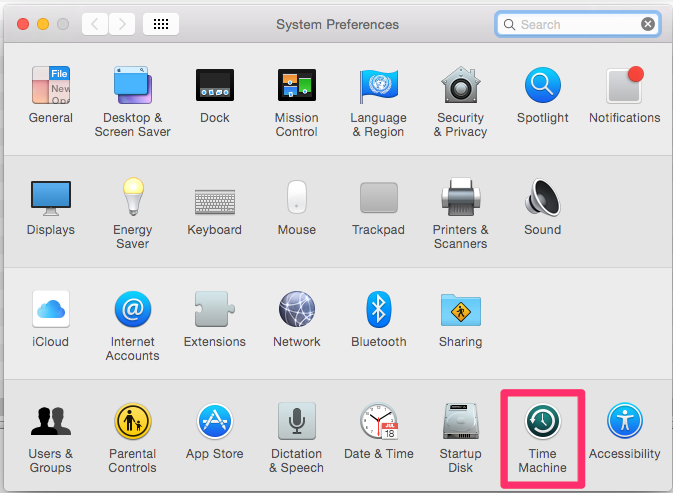 The Time Machine window will open. Click the Select Backup Disk button.
If you connected your external hard drive (or the medium of you choice) correctly, you should see its name in the list that opens.
Select your external medium from the list. Then click Use Disk.
Back in the Time Machine window, you should see the name of your external medium as shown below. The Time Machine toggle in the left part of the window should now be turned on. We recommend checking the option to Show Time Machine in menu bar.
That's it – you now have Time Machine set up to back up your entire computer automatically on a daily basis. Think of Time Machine as a personal assistant that drags all your files onto an external medium automatically.
Time Machine will keep the following items on the external device you select:
Hourly backups for the past 24 hours
Daily backups for the past month
Weekly backups for all previous months
If your backup medium becomes full, Time Machine will begin to delete the oldest backups, making room for the newest ones.
Step 3 (Ongoing): Backing Up Your Land F/X Data
Time Machine essentially takes a snapshot of your file folder structure, including all the files within the folders. If you need to restore a CAD drawing, for example, you can simply open your external hard drive and navigate to the most recent backed-up version of that file.
Although Time Machine technically backs up your Land F/X data (by taking a snapshot of your Parallels virtual machine), it's important to note that this is not an ideal backup method. For this reason, you should also implement a periodic backup regimen for your Land F/X data. This practice will ensure that you don't lose the plant palettes, Preference Sets, and other important settings you configure using Land F/X. Please follow our steps for backing up your Land F/X data regularly.