If you run into issues while designing using our software, you can submit a technical support ticket directly from AutoCAD (or F/X CAD).
Because we'll need to look at your drawing and the associated project in order to address the issue, you'll need to use our technical support system to attach the drawing and project to the ticket as a zip file.
We cannot diagnose your issue without the appropriate LFX (.lfx) data files – your Land F/X project and Preference Set. It's extremely important that you also verify that you've included these items in the zip file you send us, along with your DWG drawing file. We ask that you use our Support tool to send in your drawing and project. This tool automatically creates a zip file of everything we'll need in order to address your technical support issue.
We now offer the ability to submit a ticket to our system from the Land F/X Portal. See our documentation on submitting a ticket from the Portal for information and instructions. Note that you'll need to register for the Portal first.
Before submitting a ticket for a specific drawing, make sure you have the correct Land F/X project assigned to your drawing. If you don't already have a Land F/X project assigned to the drawing before submitting your ticket, we will not be able to look at your Land F/X data to resolve the issue.
How to open an existing Land F/X project
Once you're sure you have the correct Land F/X project assigned to your drawing, open our Support tool:
F/X Admin ribbon, Support flyout
Several toolbars
(F/X Admin toolbar pictured)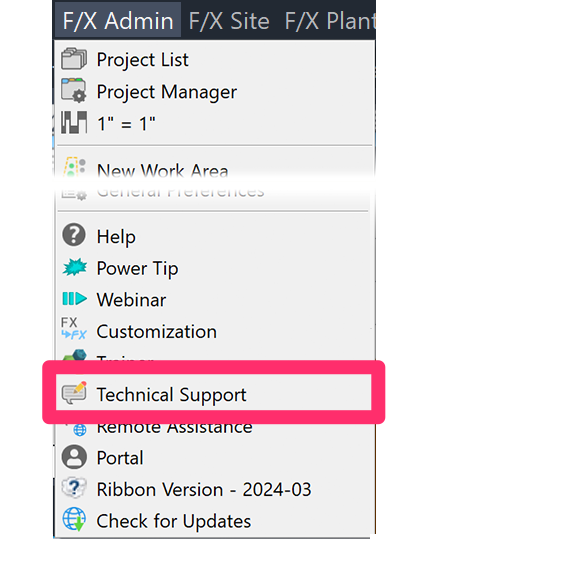 F/X Admin menu
or type PTechSupport in the Command line
You'll see the message pictured to the right.
Click Yes to copy the DWG to the desktop so you can upload it into our technical support system.

If you don't already have a Land F/X project assigned to the drawing, you will not be prompted to copy the DWG to the desktop.
You'll see the message pictured to the left.
Click Yes to save the drawing.
You may see a message that this drawing contains custom objects that are not supported in previous version.
If so, you may click Close to continue. We will be able to open your drawing.
You'll receive a notification that AutoCAD has created a zip file on your desktop that also includes the project data you've used in the drawing.
At this point, a browser window will open. Take care to fill out the following information: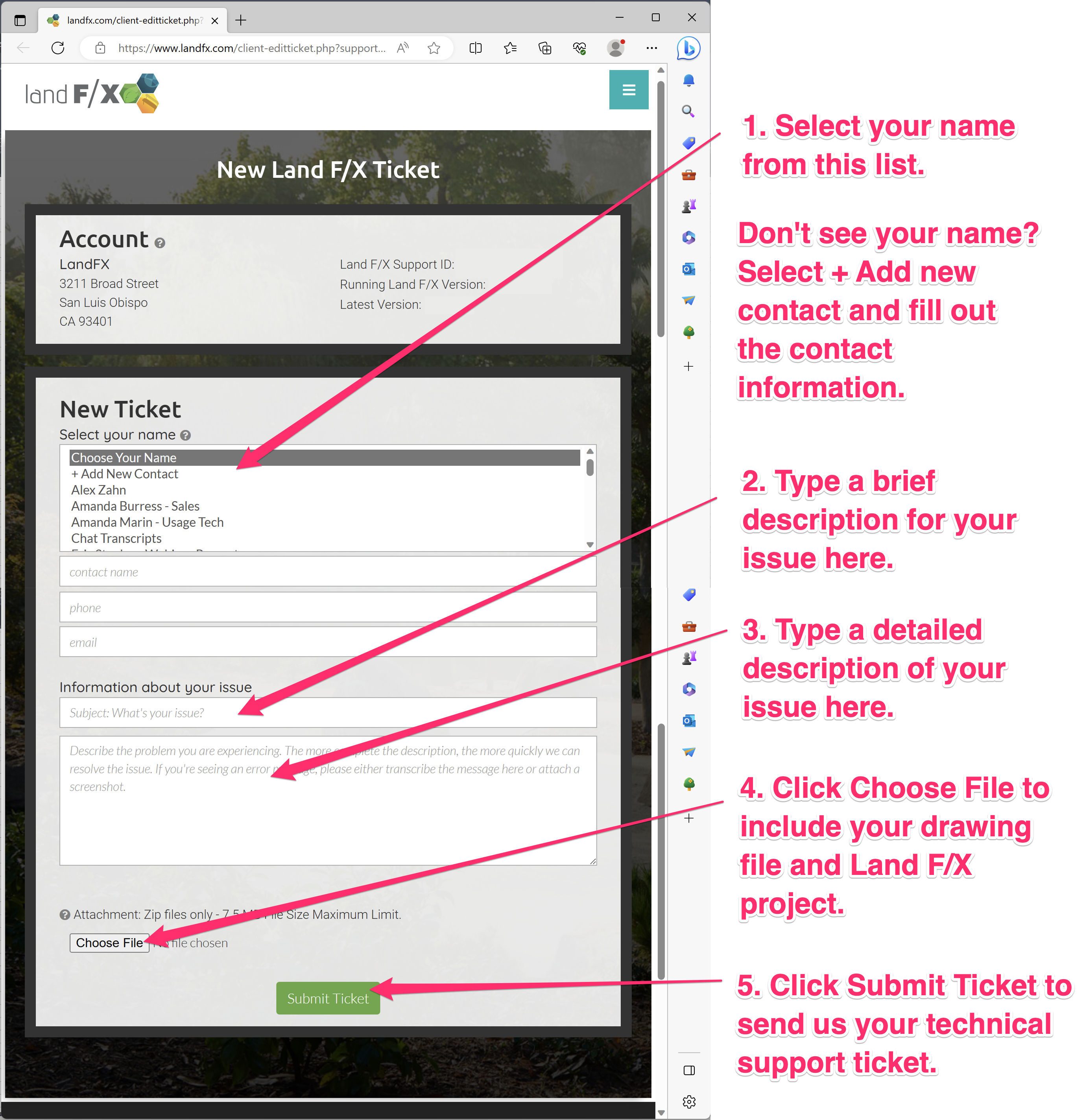 We've added a checklist (item 3 above) of the following items with the goal of helping you resolve your issue quickly without having to submit a ticket:
We have an extensive collection of Knowledge Base articles with solutions to a multitude of common issues our users experience. Odds are, you can find your issue and the solution there. You can even search for your issue at the top of the page you're reading right now!
Attempting to duplicate your issue in a blank drawing can help you determine whether your issue is isolated to the drawing where it originally occurred. It's also valuable knowledge for our support team.
Restarting AutoCAD and/or your computer can resolve a number of common issues.
Updating to the latest version of our software can also fix a number of issues.
Please try all four of these items before submitting a ticket – in many cases, you'll be able to solve the issue on your own without having to wait for a response from our support team!
If the screen pictured above does not appear, you can once again select the Technical Support feature as show above. This time, when asked whether you want to export the drawing, click No. The screen shown above will open, and you can fill out the technical support ticket.
Our technical support team will receive your message and your drawing, and we can begin addressing your issue.
Attaching additional files
If you need to send in any other files, such as screenshots, or even a video recording that shows your issue, you'll need to attach them as zip, or compressed, files. Here's how.
Remember: Our ticket system can only accommodate file sizes of 7.5 MB and smaller.
Zip file too large to send?
Our ticket system cannot accept zip files larger than 7.5 MB. In many cases, you can shrink excessively large zip files of drawings by removing unnecessary Xrefs.
Our ticket system will automatically create a zip file on your desktop titled LandFX Export.zip when you complete the steps outlined above.
Find the file on your desktop named LandFX Export.zip, and double-click it to unzip it.
You should now be able to see the contents of this zip file, including all Xrefs attached to your drawing. Right-click the unnecessary Xref files, and select Delete from the menu that opens.
Your zip file will now be smaller, allowing you to use it in our ticket system.